Sony ACID Pro 7: Digital Audio Workstation Software Review
Sony Acid Pro 7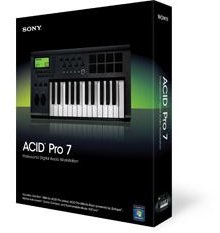 Sony ACID Pro 7 is a professional grade digital audio workstation that boasts powerful audio editing features that can be learned easily by both professionals and novices alike. It may take the novices some time to learn all the features immediately because of the sheer number of audio editing tools and features ACID Pro 7 offers, but that's why it is considered a tool for the professionals. The price of ACID Pro 7 is not for novices either because it's clearly priced for professionals who are mostly using this application for professional music production. In this review, we will find out if it's worth its professional grade price.
Features (5 out of 5)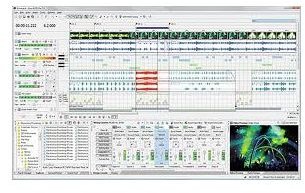 The feature list of ACID Pro 7 is like a laundry list of essential audio editing tools and then some. Because it started out as a loop-based digital audio workstation application, it has numerous audio editing features that are specifically designed and optimized to be used on audio loops or audio snippets. The major features of this program include multi-track audio recording, midi sequencing, support for VSTi virtual instruments, multiple bus output, video tracking and inline track editing. These are definitely features that may not be suitable for beginners, and that's just the major features.
Another major feature of ACID Pro 7 is the new and improved mixer. Previous versions of the software had a mixer that was too basic, something that has already been surpassed even by some free digital audio workstations. The new and improved mixer now makes it easier for users to balance, route and carry out other fundamental audio mixing tasks. One innovation of ACID Pro 7 can be found in this new mixer. The zoom function lets users change the size of multiple opened tracks at the same time all with the simple action of moving the slider.
Aside from improved features from previous versions, there are also new features added to this version. Support for multiprocessing, the ability to freeze midi tracks and a new plug-in bundle have all been introduced in this new version of ACID Pro. A new algorithm called zplane's elastique Pro timestretching also makes its debut in ACID Pro 7. This algorithm complements the existing timestretching capability, which makes a lot of professional audio editors quite excited.
This software feels a lot more like a full pledged digital audio workstation than its predecessors. Multiple input buses and real time rendering makes multi-track recording easier than the versions that came before it. A better beatmapping feature rounds out the major improvements and major features of ACID Pro 7. For its extensive list of audio editing features, we give this application a perfect score.
User Interface (4 out of 5)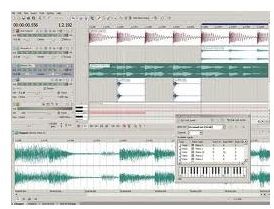 The user interface is way too busy for people who do not have any experience in any digital audio workstations program. There is just way too much going on for novices to keep up. This user interface definitely expects the user to be an advanced audio editor already.
The numerous elements on the screen are quite neatly arranged. For advanced users, this layout can be very intuitive provided that they spend a little time exploring the software first before doing actual audio editing tasks. Even with multiple tracks open, the user interface doesn't look cluttered and chaotic for advanced users. For its strictly for advanced users user interface, ACID Pro 7 gets a rating of 4 over 5.
Performance (3 out of 5)
ACID Pro 7 may have a lot of useful audio editing features, but a slight problem lies in its performance. As previously stated, this software started out as an application for editing audio loops, and that is where its strength lies. It works best with audio snippets. Recording and processing small clips of audio is what ACID Pro 7 does best. Importing audio loops and seamlessly integrating it into the currently opened project is this program's specialty. Sure, it also does well with recording long and continuous audio files, but it may suffer from lagging and occasional hang times. You might think twice on buying this software if you are planning on working with long and continuous audio files. As far as recording and editing audio loops are concerned, ACID Pro 7 gives a topnotch performance, earning it an average rating.
Conclusion (4 out of 5)
The price of ACID Pro 7 may be justified if you are an experienced user of digital audio workstations, but if you're someone who is just starting out in audio editing, the price of this program at $299.95 might just be a little too steep for you. It works best with audio loops which it can record and process quickly. It also provides tons of tools so you can work with audio loops that can produce great quality audio files. However, stay away from this application if you're thinking of working more with recording and processing midi files or large and continuous audio files. ACID Pro 7 gets an overall rating of 4 out of 5 which is a good rating.
To find the best program for your audio editing needs, here are some Tips on Finding the Best Digital Audio Workstation.