Anvil Studio Review - Free Audio Editing Software
Overview
Anvil Studio comes with a plethora of options, and loads of impressive functionalities that even professional audio editing programs fail to deliver. You can play around with MIDI files, make changes to track while a song is being played, try some funky effects, and compose/record unlimited number of MIDI tracks – that too totally free of cost!
Rich Set of Features (5 out of 5)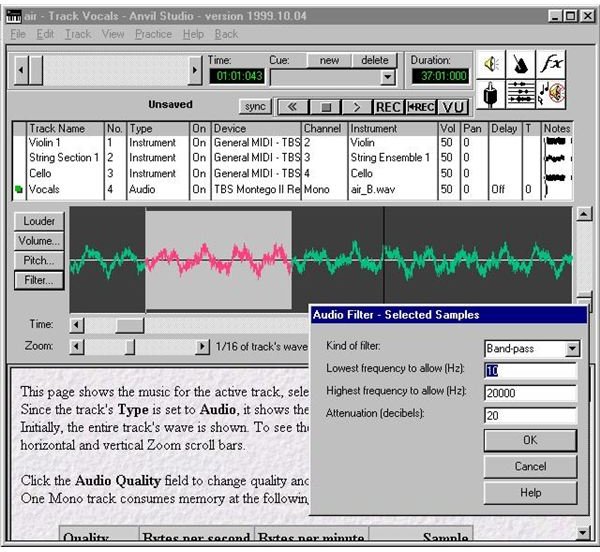 Anvil Studio is a feature-rich free audio editing and mixing program that comes with a rhythm editor, and piano roll that allows multiple-level loops (each loop may refer to a riff, note, or another loop), and facilitates users to play notes having durations as low as 1/128th notes.
It allows users to do dynamic editing while the song is being played, which makes it far easier to experiment with variations in rhythms.
You can use duplet, quintuplet, and even septuplet notes, enter notes from external MIDI device, make use of on-screen piano, guitar fret board, and keyboard.
There are various effect controls such as channel fading, pan, per-track mute/solo, and even gives an option to play notes as mouse moves over them.
On-the-Go Operations (4 out of 5)
With Anvil Studio, you can dynamically change track volumes, instruments, effects, mute the sound, and do much more, while a song is being played (and it continues to play while you perform any operation).
It facilitates lightening fast loading and scrolling of large MIDI files, and allows you to use tempo, lead-in, and accent beat attributes.
Additional Capabilities (4 out of 5)
Anvil Studio has a 'Repair Song' menu that allows you to fix issues on the badly-formatted MIDI files. And, you also have a choice to 'echo to SoundCard', while recording MIDI, be it from an external keyboard or any other MIDI input.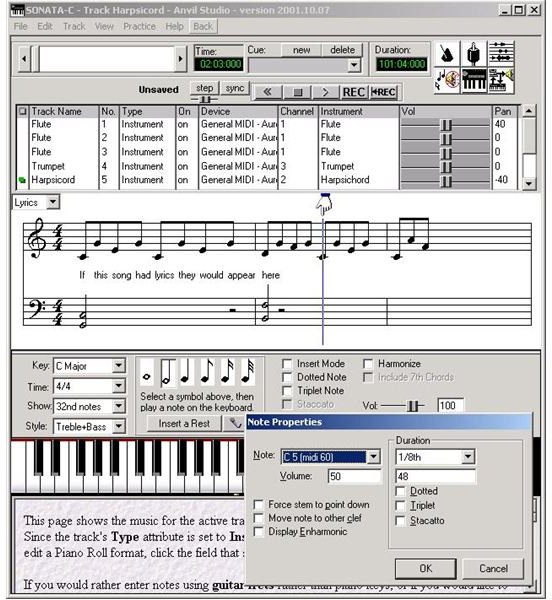 You can even use user-defined keyboard shortcuts, and exercise control over the program remotely via MIDI controllers like Modulation wheels, and foot switches.
You can make use of the File/Truncate menu for reducing the duration of .MID files, and File/Merge Song menu to copy desired tracks between .MID files.
What's more, Anvil Studio even allows you to add standard music notation such as slur, fermata, crescendo, decrescendo, segno, repeat, trill, D.C., D.S., coda, seconda volta, pp, prima volta, p, mp, f, ff, mf, and the list goes on, and on.
It also comes with built-in patch-library support for SoundFont®-compatible sound cards, and offers support to the Tascam US-428 External Mixing console as well.
Support to Various Platforms (3 out of 5)
Anvil Studio is a free audio editor exclusively designed for Windows users, and this is some bad news for users of MAC, Linux, and other operating systems. However, a good thing about the Anvil Studio is its amazing compatibility with even the age-old versions of Windows OS including Win XP, ME, NT 4.0, 2000, and Win 98; of course, it supports Windows Vista (only 32-bit though), and Windows 7 as well!
Support to Various File Formats (3 out of 5)
Anvil Studio is essentially a MIDI composer/recorder, and it supports only .WAV, and .MID files. It definitely lacks the much needed MP3/MP4 compatibility; however, one can't deny the sheer fact that it is fairly easy to find a number of MP3/MP4 composers/recorders, but not many freeware audio editing programs can handle MIDI and WAV files.
Need to Record Lengthy Tracks?
The Anvil Studio is available as a free audio editor that allows you to record unlimited number of one-minute audio tracks, and MIDI tracks. However, if you want to record lengthy tracks, you can pay just $19, and access its optional 'Multi-Audio' accessory that allows you to record and mix up to eight 60 minutes long audio tracks in real time.
You can download the free version of Anvil Studio here.