Quartz AudioMaster - Audio Editing Software Review
Features and Versatility (4 out of 5)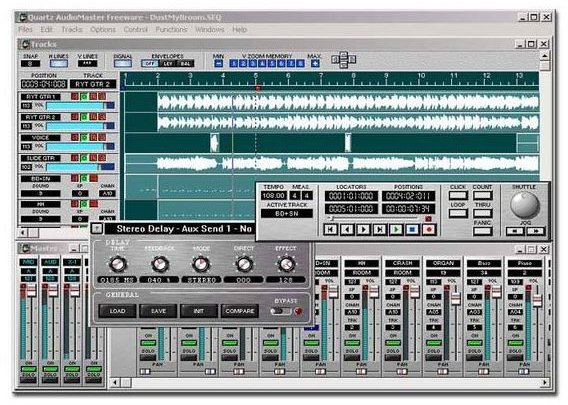 Quartz AudioMaster is designed for the users who need to record, mix, compose, share, and play music with just a bare basic sound card and a computer.
It features 128 midi tracks, 128 stereo audio tracks, supports various effect plug-ins, parametric EQ per track, real time controllers for Midi, video sync, 8 auxiliary buses, piano roll editors and all the other functionalities that are required for sharing the musical projects easily over the internet till your compressed multi track formats & virtual studios form a digital sound planet!
Quartz AudioMaster is a freeware midi sequencer. It has a number of options that are easy to control, and offer multiple functionalities too. Most of the online audio editing programs don't allow you to download/share music files; however with Quartz, you've also got the option to create music files, and share them as well.
Minimum Requirements
The requirements for using Quartz are very minimal, which include a Pentium processor of 166 MHz or higher, 32 MB RAM (64MB recommended) a color monitor with 24 bits and the sound card compatible with Windows OS. Depending on the hardware, the user has several options for installation; but the installation is a little tricky. And, the Quartz Audi Master is designed to support only the Windows Operating System.
The Good (4 out of 5)
The main advantages of the software are that it is available as a freeware, and it can be installed as well as used with great ease. It has multiple options, and is also compatible with older versions of Windows OS as well.
Quartz AudioMaster is absolutely free to use for personal as well as commercial purposes. It makes the first timers feel good about it, and allows them to record as many songs as they want.
Many things can be done for free; the software has a piano roll too. Quartz AudioMaster has a very cool interface, which is extremely user-friendly too. It is free from all kinds of malware, and spyware.
The Bad (3 out of 5)
Coming to the downsides of Quartz AudioMaster, it supports only Windows operating systems, and lacks support for Mac, Linux, and other operating systems. Far worse, it lacks supports for the latest versions of Windows OS, such as Windows Vista Ultimate, and Windows 7 too.
Bad things experienced by some of the users of the software are that they were unable to start the VM after the installation of the software. On several cases it has been reported that even after successful installation of the software, nothing works! Some of the folks say that they cannot uninstall the program, and they don't find any option for removing the program from the machine too. But, these have been rare complaints, and on most of the cases, the installation has been found to be pretty clean.
Overall Performance (4 out of 5)
Considering the overall performance of Quartz AudioMaster, it is an excellent freeware audio editing software that allows you to do a lot, without even spending a single penny. Its capabilities are comparable to that of many premium audio editing software, and it has a highly intuitive user interface.
The downsides to the Quartz AudioMaster are very few, and apart from the installation issues, there's nothing much that should bother you!
In a nutshell, the Quartz AudioMaster is a worthy free audio editing program, especially for MIDI sequencing, and adding some funky effects.
Quartz AudioMaster Freeware 4.6 is the latest version of this software; to download Quart AudioMaster 4.6, follow this link.
Note: There's a premium version of this audio editing program on the offer too.
You may want to take a look at some of the Best Free Music Mixing Programs, WavePad Audio Editor Review, and Dexster Audio Editor Review as well.