Free Audio Editor 2010 Review - Learn What This Audio Editing Software has to Offer
Free Audio Editor 2010 Review
Free Audio Editor 2010 is a completely free audio recording and editing software for Windows. You can freely download and use this program, and it's actually quite good. I used it to record some basic narration and was impressed by how easy it was to use. Here's a look at this wonderful free utility and some of its many features. It is certified by Softpedia to be 100% free of Spyware, Adware, and Viruses.
Features (5 out of 5)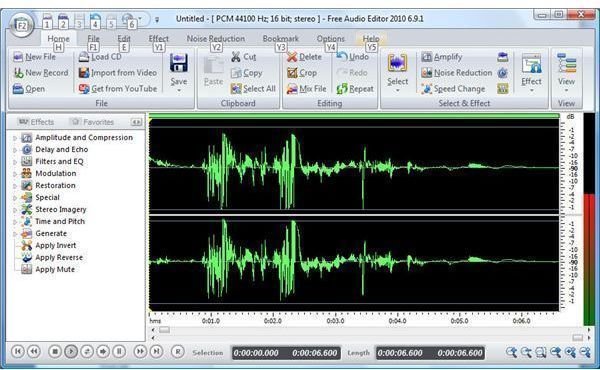 I was shocked by the number of features this free audio editor offers. When you make a recording, you can view it in either waveform or spectral mode and it will let you isolate left and right channels with the click of a button. A wide variety of effects and processing options are available to enhance your recording, and these include amplification, fading, noise reduction, a full audio equalizer, echo, and much more. There's really too many to list here, but I will say that I've seen less features in more commercial software. Whether you apply any processing or effect to a snippet of a recording or the whole thing, it only takes a couple of seconds.
WAV Files Only (3 out of 5)
The only downside to using the free version of this editor is that you can only save in WAV file format, which is uncompressed. This isn't that big a deal since you can use other programs to convert the WAV to MP3 or WMA, but that's still an extra step you'd have to perform. If you buy the deluxe version, you can save to compressed formats. If all you are doing is recording snippets of voice recordings, keeping the WAV format is just fine and you can still burn them to an audio CD using any kind of CD burning software.
Ease of Use (5 out of 5)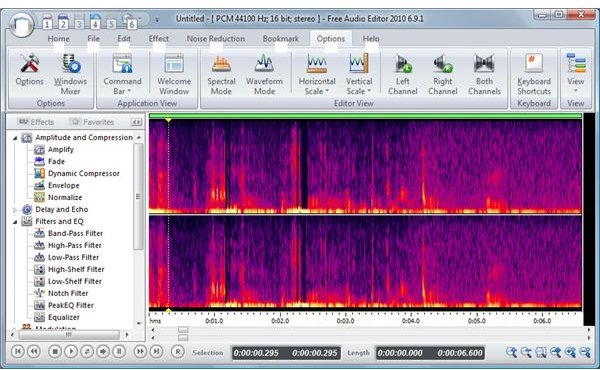 I found this audio editing software to be quite easy to use, but I also have quite a bit of experience in using audio editors and am familiar with the technical details of editing audio files. That being said, I think the program is fairly straightforward in how you record and edit sound. If you've never done this before, it may turn out to be an interesting learning experience when you see the visual equivalent of sound and learn how to tweak certain parts of it to get the best quality results. It's practically an art.
Overall (5 out of 5)
My overall impression of Free Audio Editor 2010 is that it's one seriously awesome program. I really can't believe how many features it has to be completely free. You could spend a lot more money and get fewer options. If you plan to use this on a regular basis, you should consider buying the deluxe version.
Why Give It Away?
The reason Free Audio Editor 2010 is free is because there is a deluxe version that has more features. It can be purchased for a very fair price of $29.95. With the deluxe version, you get the option to save to MP3/WMA/OGG formats, rip and burn CD's, run batch conversions on groups of audio files, and even use a text to speech converter. By giving away this free version, FAE Distribution is counting on some people to like it so much that they will buy the deluxe version. This business model has been used for many years when it comes to software.
To download Free Audio Editor 2010, just go to https://www.free-audio-editor.com and click on the big Download Now button you see on the front page of the site. You can also order the deluxe version from there.