Softdiv Audio Converter Review: Interface & Ease of Use
Introduction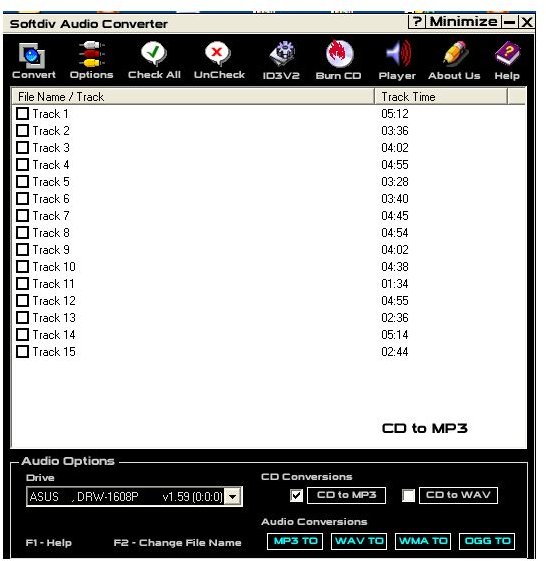 Softdiv Audio Converter 3.5 does more than ripping audio CDs. It can convert most of the popular audio formats especially MP3, WAV and OGG files. What's more, it comes inclusive of an audio CD player and audio CD burner.
If high-speed audio conversion is what you're after, then Softdiv Audio Converter is a program worth considering. Softdiv Audio Converter works with Windows 98SE, ME, XP, NT, 2000 and 2003. It's priced at $22 USD and a free trial download is available at the developer's website. The trial version is fully functional for the first ten trials.
Interface (4 out of 5)

Softdiv Audio Converter opens with a simple interface with black panels on the top and bottom halves. The middle portion where your audio tracks will be lined up is left white. A quick look tells you that there are no drop-down menus. There are either icons (top panel) or buttons (bottom panel) for you to execute most of the important functions of the program.
This minimalist design is certainly a welcome change from the layout offered in most programs.
The icons on the top part are all `action' buttons, meaning they are meant to activate a certain process, convert, burn CD, and play CD and so on.
You start work by utilizing the buttons on the bottom panel. The buttons are divided into two main parts - CD conversions and Audio conversions. Under CD conversions, you have CD to MP3 and CD to WAV. Under Audio conversion you can convert MP3, WMA, WAV and OGG to such formats as VOX, OGG, WAV, WMA and MP3
The two conversion modes are differentiated by the color of the buttons. For CD conversion, you have light gray buttons and for audio conversion you have deep cyan buttons. It certainly makes it easier for you to locate the input conversion buttons with this color coding.
Ease of Use (5 out of 5)
CD conversion is pretty straightforward. The moment you pop in your audio CD into your drive, the tracks in it will be lined up in the track list. You select the tracks you want to convert. You can choose all the tracks by clicking the `check all' icon on the top panel or choose individual tracks.
Once you've chosen the tracks you can select the CD conversion mode – either CD to MP3 or CD to WAV. Before you do that, you will want to set your options – output folder, quality and bit rate. Once you're done with that, you can hit the Convert icon. Any beginner with even a little experience of using a software program would be able to carry this out.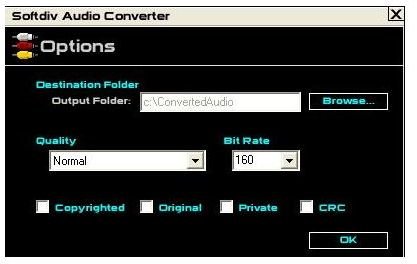 The only tinkering you may need to contend with is the quality and bit rate sections in the Options dialog box. Under Quality you decide whether you want to choose Normal, High or HiFi quality, CD or Radio quality. As for bit rate, the highest available is 320kbs and the lowest is 32kbs
You will probably not need any help using the program, but if you do, you can visit www.softdivshareware.com/audiotut.html to see some tutorials.
Performance (4 out of 5)
I tried converting a 4-minute audio track to test the developer's claim that an audio CD track could be converted under a minute. The conversion was finished in about forty-five seconds.
Converting a whole audio CD of 15 tracks with a total duration of 66 minutes took only 5 minutes with a Normal setting with a bit rate of 160 kbs. At a bit rate of 320kbs, the highest setting available, it took a mere 8 minutes to convert all the 15 CD tracks to MP3.
Once you start the conversion, you can't stop it. If you hit the cancel button, a dialog box pops up asking whether you want to delete the converted file. Whether you click yes or no, the converter jumps to the next track and starts converting it.
So, you will have to cancel the track one by one to terminate the conversion process. If you don't fancy doing that, then you'll have to wait for all the tracks to be completed before you can use any other function in Softdiv Audio Converter. This is rather irksome should you change your mind half-way through the conversion process.
Conversion to other formats - from MP3, WAV, WMA and OGG - follows a similar process – select your files, set your output folder and quality settings and convert. You may also want to fill in the ID3 tag before starting with the conversion.
Features (4 out of 5)
Burn CD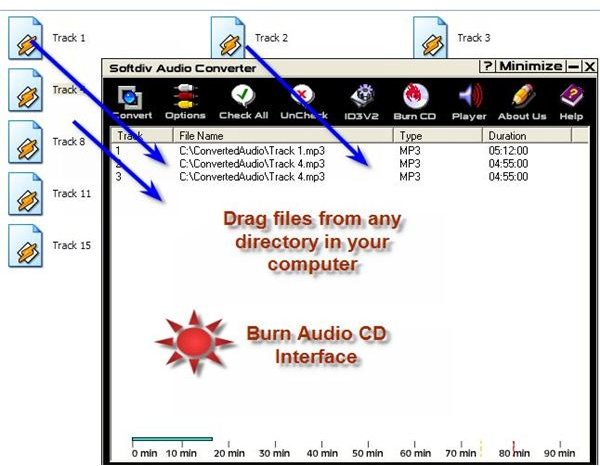 If you wish to burn an audio CD out of your compilation, you can only work with two formats – MP3 or WAV. That rules out OGG and WMA which the program supports.
To start, drag your files to the track list. To do this, open the directory where your files are stored and launch the conversion process. Alternatively, you can right click on the white space in the track list and select the files you would like to burn to CD.
You can burn your audio CD at a maximum speed of 40x. But that's not the speed you would want unless you want to end up with an error-stricken CD.
Audio Player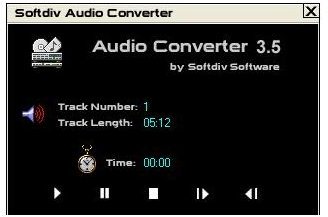 The Audio Player is another feature which saves you the trouble of having to switch applications after conversion. You could play your converted file or preview an audio file before converting it.
There are two types of players offered – one to play your audio CD and the other to play your supported audio clips. The audio CD player is pretty basic with only the Play, Pause, Stop and Next Track and Previous Track buttons. The same goes to the audio clip player with the exception of a bigger interface, visualization and playlist features.
Both don't offer volume controls or equalizers, but then you must bear in mind that they are not meant to be used as a dedicated audio player.
Value for Money (4 out of 5)
For $22, Softdiv Audio Converter is quite a reasonable price for an audio converter, taking into account the CD Burner and Player which saves you the trouble of having to switch applications after you're done converting your files.
Conclusion
Softdiv Audio Converter is an ideal program, if you're looking towards quickly converting your audio CD to MP3 or WAV formats. However, if you're going to use it as a dedicated audio converter, you'll be a little disappointed because the converter doesn't support, among others the AAC and FLAC formats which are being becoming increasingly popular.
You may also be interested in checking out Bright Hub's review of Softdiv MP3 to Wave Converter.