Softdiv MP3 to WAV Converter Review: An Audio File Converter & More!
Introduction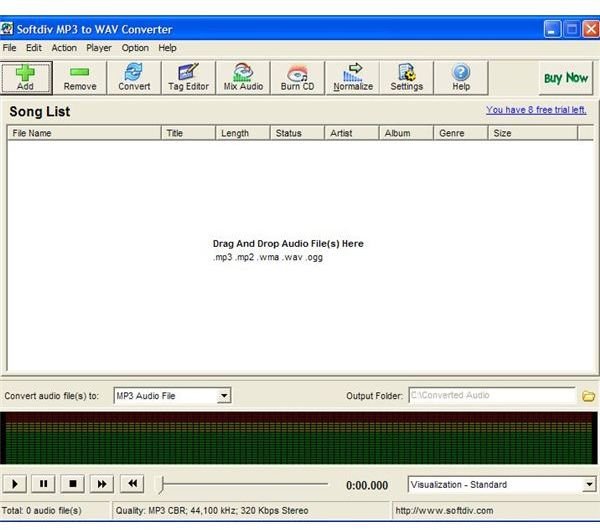 Softdiv MP3 to WAV converter does not only convert audio but also has the capability of burning audio CD, mixing audio and also editing audio information.
If you're looking to convert you favorite collection of MP3 numbers to audio CD for better audio quality, Softdiv MP3 to WAV Converter is a program worth trying.
It works with Windows 98SE, XP, NT, 2000 and 2003.
Its latest version 3.0 is offered for $34.95 (USD) with a 30-day money back guarantee. There's a free trial download (10MB) offered at Softdiv's website.
Your systems requirements should at least be Pentium 200 processor, 64MB RAM, and 20MB free hard disk space (which means the MP3 to WAV Converter software will work well with older computers).
That said, let's get on with Softdiv MP3 to WAV Converter review.
Installation and Interface (4 out of 5)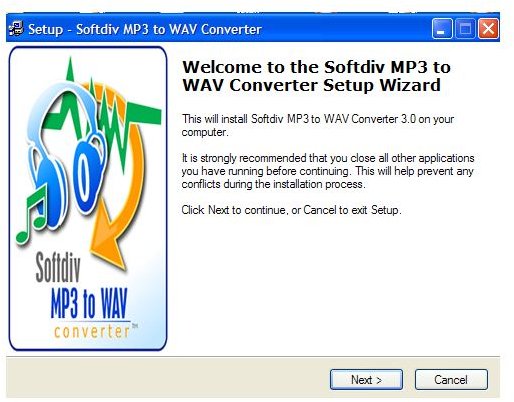 Installation took less than three minutes. It starts with the Installation of Windows Media Format 9 Runtime application. A windows pops up announcing you have 8 free trials left. The trials, however, don't come with any limitations as most software does.
Softdiv MP3 to WAV Converter has a pleasing interface with plenty of white space in the middle. It helps you progress through the program easily especially with the main functions of the program presented as icons on the top panel of the interface.
Formats Supported (3 out of 5)
Popular formats such as WAV, MP3, OGG and WMA are supported. Conspicuously missing are uncompressed audio formats like AIFF and AU and also lossless audio formats like FLAC and APE (Monkey's Audio).
You may be disappointed to learn that the program doesn't support popular formats like AAC and MKA.
Ease of Operation (4 out of 5)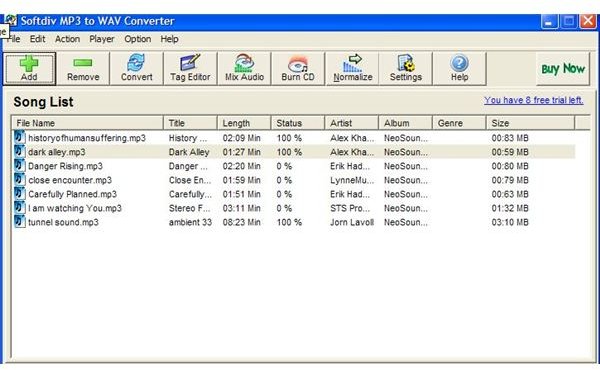 You start off clicking on the Add files button and drop your audio clips into the song list.
After choosing the format you want to convert to and setting the output folder, you're ready to go. There's also a preview button to check whether you've lined up the correct audio clips for conversion especially if you have several versions of a clip.
The properties of your selected clip are displayed at the bottom of the interface in case you want to check on the quality of your source audio.
You may also want to normalize your video before conversion especially if you've lined up audio clips with different recording levels. Clicking on Normalize will adjust the volumes of your audio files in the song list to a uniform level.
Features (4 out of 5)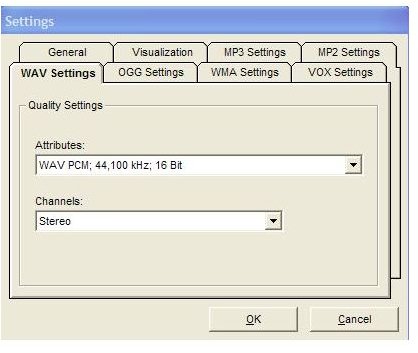 Softdiv MP3 to WAV Converter's features that are worthy of note are the Burn CD, Mix Audio and Settings.
The Burn CD feature is extremely convenient if you want to burn your converted files to audio CD. It saves you the trouble of having to switch to a disc burning software like Nero. However, burning your converted clips' to audio CD doesn't happen automatically. You will need to remove the source clips from the song list and import the converted ones.
For some reason the burn speed is set at 1.0x speed. It's not mentioned in the developer's website whether this feature is peculiar to the trial version, but my guess is it is.
I tried burning 15 tracks of MP3 files with a total playing time of 66 minutes. The conversion and burning took less than 15 minutes – satisfactory for a burning speed of 1.0x.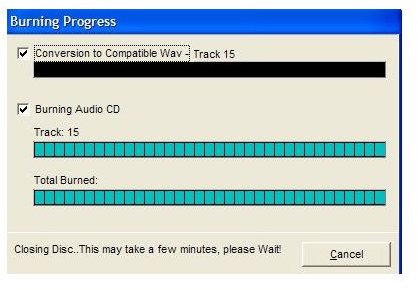 The Mix Audio feature allows you to join clips of different audio formats into a single file of a specific format. All you have do is line up the clips of supported formats and hit the Mix button. This feature will impress those who would like to join audio files to create a medley.
The Settings feature allows you to chose different quality settings for your audio output, useful especially for beginners who don't feel comfortable about tinkering with audio export settings. WAV settings, for example, has 16 Bit PCM Stereo at 48, 000kHz to 8 Bit PCM Stereo at 8,000 kHz.
Help & Support (3 out of 5)
Help is provided in the form of a user guide within the program and if you need detailed guidance on the use of Softdiv MP3 to WAV Converter, you can visit the developer's tutorial site where video tutorials (swf format) are provided. This is certainly a plus point as most software developers don't bother with providing video tutorials.
Value for Money (3 out of 5)
At $34.95 Softdiv MP3 to WAV Converter should be a good buy if one overlooks the lack of support for certain audio formats. However, the other features it comes with and the online video training provided should make up for the shortfall. Furthermore, the 30-day money-back guarantee should ensure that you'll have ample opportunity to fully try out the program without the risk of losing your cash on a bad buy.
Conclusion
Softdiv MP3 to WAV Converter may not satisfy the audio professional who needs to convert lossless or uncompressed video formats, but if you're a beginner wanting to convert popular audio formats and burn them to an audio CD all within a single program, Softdiv MP3 to WAV Converter is a program worth considering.