Magix Music Maker 16 Review: A New Digital Audio Editor from Magix
Overview of Magix Music Maker 16
Music Maker 16 is music production software that lets you create multi-track digital music in a variety of musical genres. There are a number of instruments, effects, and voices included, but if you are feeling more creative, you can also add and record your own sounds.
Music Maker 16 is made by Magix, and is the latest version of this popular digital audio editor.
Features and Performance (3 out of 5)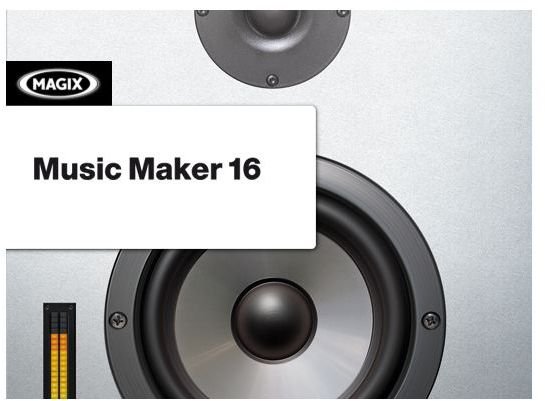 So, what is new in Music Maker 16? The Magix website states, "The new sound package features new loops and samples from every musical genre, e.g. rock, pop, dance, hip hop, disco, house, techno, chillout, ambient, film music, minimal electro, and many more! Over 1,500 professional sounds provide the ideal basis for your sound experiments."
However, there are only 5 genres of sound loops included, (rock, hip hop, techno, house and chillout), and this did not seem enough to me, especially when some loops are variations of the same sound. While different genre loops can be combined in probably hundreds of different ways, I think that this software would have been a lot more attractive if it included a greater variety. After all, the loops are what the majority of users are going to be using as the basis for their compositions. The other genres from the quote above can only be included by using the midi editor and synthesizers, and this takes a significant step up in musical ability.
Yet, one thing that this software is not short of is mixers and sound effects. If the included sound loops are not quite what you are looking for, right click on one and select audio effects. Here you can add reverb, echo, distortion, warps, and any number of other effects to create a truly unique sound. There is also a MIDI editor, a drum and bass machine, an atmospheric sound machine, and other synthesizer effects you can use to add to your compositions. Files can be exported in a variety of formats so that you can use them in any number of applications. You could even make your own unique soundtrack to incorporate in other Magix titles like Xtreme Photostory on CD & DVD.
Magix Music Maker 16 also allows you the chance to record your own sounds. You can either sing, or play an instrument, into a microphone that is connected to your computer. The program will then save the recording in a format that can be used, mixed and edited as part of your composition.
Ease of Use (5 out of 5)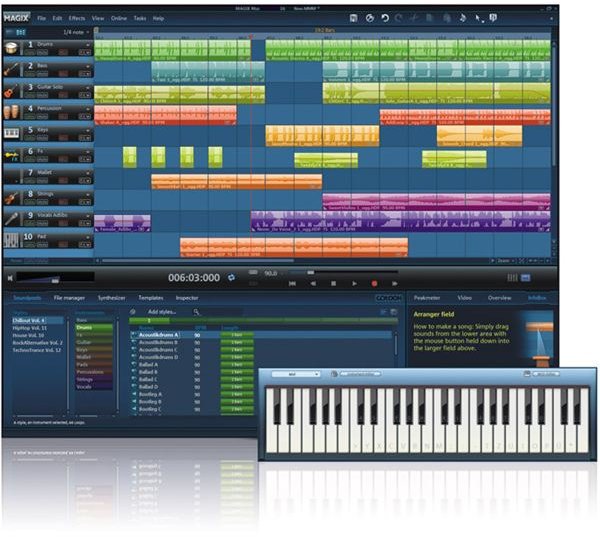 When using Magix Music Maker, I found that it was relatively easy to create new musical compositions. My background, however, does include a certain amount of musical knowledge. I can play the violin, have taught myself some guitar, and I always agree with Simon Cowell. I feel confident that I know what sounds right, and what does not. If this sounds like you, then you will have no trouble using Music Maker 16. Those with less musical ability will still be able to use the program, and create some great sounds, but they will probably not utilize as many of the extra synthesizers and mixers that more advanced users would.
Creating new tunes can be as simple as dragging and dropping. Choose the sound loop you want to use from the sound pool manager, and drag it onto your workspace. There are a total of 16 tracks that you can assign a particular instrument or sound effect to, and that is more than enough for what you will likely want to do. Pressing 'm' on the keyboard will bring up the sound mixer, and you can play with the levels of each individual track by moving the sliders up and down. If you combine enough sound files and instruments together, you can soon create a unique sounding mix that you will be proud of. Here is an example of something that I made with the included sound loops. I don't think that it will earn me a recording deal, but it gives you an idea of what can be done without too much effort.
Value for Money (4 out of 5)
Magix Music Maker 16 is available in two versions, and both are available for download from the Magix website. The standard version currently sells for $49.99 and compared to other digital audio editors like Gold Wave, the price is probably about right, but the limited number of ready made sound loop genres in the standard version remains a disappointment.
The premium version retails at $89.99. Music Maker Premium comes with 3,500 sound loops and samples, (compared to 1,500 on the standard version), and has additional audio effects, mixers, and synthesizers that will give you even more control over your composition. The price puts it above that of the competition, but the additional sound loops will give you more variety in creating your music.
Currently there is a $15 discount if you register with Magix, and this makes both versions a much more affordable option.
Overall Rating (4 out of 5)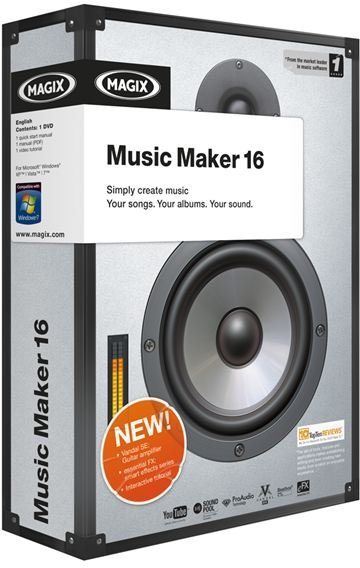 I enjoyed using Magix Music Maker 16. It is a very capable digital audio editor, that has multiple options for remixing and refining the various sounds you can create. I am sure I would have enjoyed it more with a greater number of sound loops to experiment with, so if you think you would likely use a lot of these in your compositions, then I would recommend paying the extra for the premium version.
The mixers and synthesizers give you an almost unlimited control of each track and the audio quality of compositions you create is very good indeed. Reverb, echo, distortion and more can be dialed in with very little effort, while the ability to record your own sounds, and change the ones that are already created for you, means that this software has a high degree of flexibility.
Magix Music Maker 16 can't promise you a top ten hit, but it does provide an enjoyable experience for aspiring musicians looking to create something new and unique.