LMMS Review: Linux MultiMedia Studio
What is LMMS?
LMMS, or Linux MultiMedia Studio, is a piece of software geared towards music composition and production on the Linux platform. It provides tools and features for free on the Linux platform that are only available in paid applications in other platforms. It still has issues with plug-in and MP3 support, but in general, it looks to have what it takes to bring the premium experience of commercial software to the Linux platform for free.
User Interface (3 out of 5)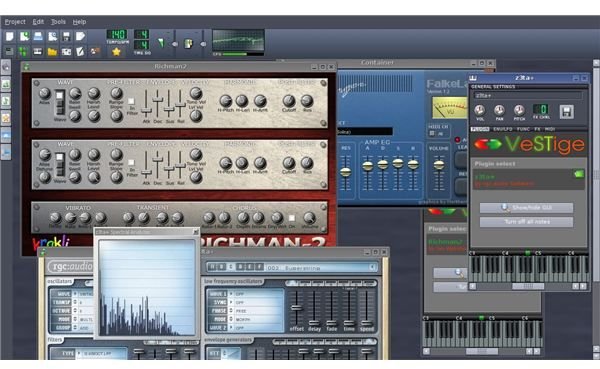 For beginners, the user interface of LMMS may be a bit daunting since it is not just an application that consists of one window. It is a collection of windows which different features and editors. The main window is the song editor which lets users record, edit and mix tracks. This is where audio files are loaded and effects and edits are applied in a clean and intuitive manner. It may look a little overwhelming at first, especially for users who are still learning how to use audio editing software, but the interface is clean and organized enough that a few sessions of practice editing will make them attuned to the layout and the arrangement of buttons and other elements on the screen.
Music creation right on the software is also possible thanks to the MIDI interface. This interface is simple enough to let users import MIDI sequences straight from their MIDI devices Another helpful window is the piano roll window which lets users edit tracks by simply inserting notes and resizing note values in a visual manner. It may take some time for users to get familiar with the user interface, but once they do, it would be a very comfortable experience. Its user interface gets an average rating.
Features (3 out of 5)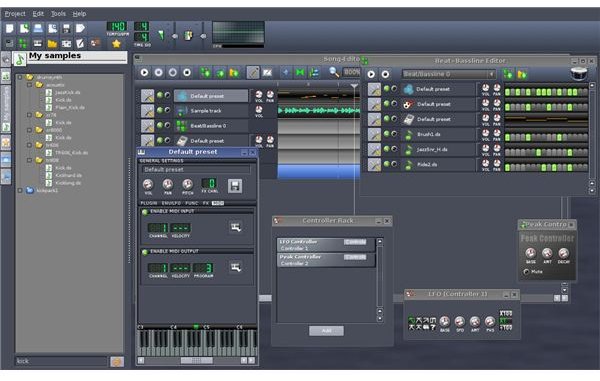 The included samples in LMMS are quite varied, offering users an almost unlimited number of possibilities in combining different samples to produce a unique sound. Mixing and combining different samples is made efficient thanks to the automatic transposition feature which adjusts the pitch of a new sample to the existing samples in an editing sessions, which means every time a user adds a new sample, the program automatically transposes it to the existing track without manual adjustments from the user. This makes experimentation more fun and very efficient.
Four software synthesizers are also available to give users the ability to manipulate their samples. Different filters and frequency oscillations can be used to produce different sounds. This range of effects may seem a bit much for beginners, but for people who have experience in working with synthesizers, it is a virtual playground. One downside to all these easy manipulation options is that there is no undo option. This means experimentation may not be the most efficient thing to do especially if you are used to just throwing effects into tracks at will to see what works or not. If something does not satisfy you, you will have to start again from scratch. This is a huge hurdle for people who likes to experiment but it may not be a huge deal for more calculating users. It still gets a 3 out of 5 for its range of features.
File Format Support (3 out of 5)
LMMS supports the OGG, WAV and MIDI file formats. This is enough to let users import and export any kind of original audio recording or existing audio file to and from LMMS, but the lack of MP3 support may be a deal breaker for many. MP3 is considered the most widely used audio format due to its characteristic of small storage requirement with above average audio quality. If you are producing original tracks for your own listening pleasure through your portable music player, the lack of support for MP3 is a huge downer. However, if the lack of support for MP3 does not affect how you record, edit or publish audio, then LMMS is a good software option. It gets an average score.
Performance (2 out of 5)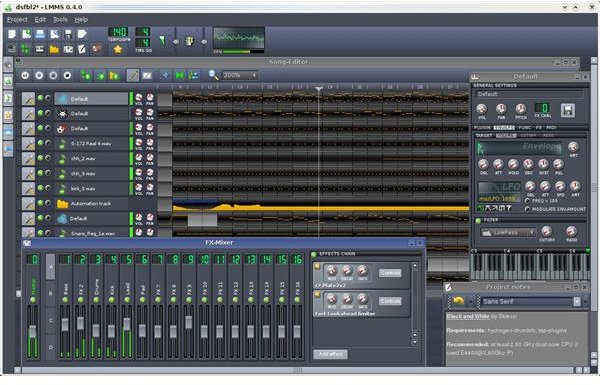 With a user interface that is responsive and a workflow that is intuitive and fast, LMMS is almost a perfect beacon of software performance perfection. However, it is not. This is thanks to its inability to provide a smooth plug-in performance. Simple scripting does not work with LMMS, so its plug-in structure depends on the native Linux plug-in specification as well as the Windows plug-in specification VST. Using plug-ins via the VST specification often results in sluggish performance that can sometimes result in an almost frozen state for your operating system. Some more work is needed to make the plug-in structure of LMMS better. In the meantime, its flexibility is hindered by this lackluster performance which gets a rating of 2 out of 5.
Conclusion (3 out of 5)
LMMS may be a great tool for music composition and audio editing on Linux machines, but its lackluster plug-in support and total non-support for the MP3 file format still makes it an inferior piece of software compared to other programs that run in other platforms. It gets an over-all rating of 3 out of 5 stars.
References
https://www.linuxjournal.com/content/introducing-lmms-linux-multimedia-studio
Photo Courtesy of Sourceforge.net - https://lmms.sourceforge.net/screenshots.php[](https://lmms.sourceforge.net/screenshots.php)