How to Use Different EQs in Soundtrack Pro for Audio Mixing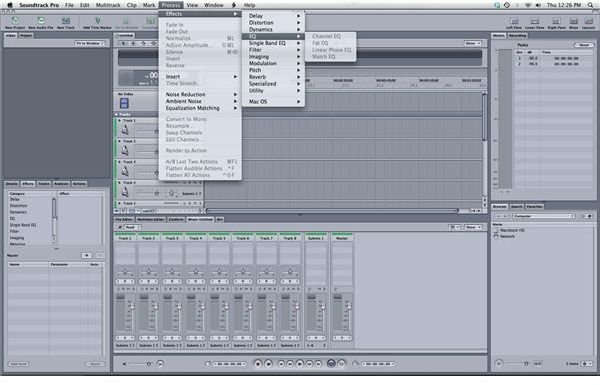 Soundtrack Pro Audio Alteration
The main reason to use Soundtrack Pro, which is the full service audio mixing software in the Final Cut Studio, is to make serious alterations to the audio tracks that you may have associated with a video project or standalone audio project. Here you can make corrections to things that had interference or were not recorded correctly, you can distort them and can become creative with Soundtrack Pro audio effects, or output them in different formats. The basic process of altering audio with different electronic or algorithmic formats is called audio equalization, or audio EQ. In Soundtrack Pro there are EQ options that are standard to audio mixing, such as high pass and low pass filters. Here is a basic Soundtrack Pro tutorial on how to apply EQ to audio projects.
Applying Soundtrack EQ
If you want to begin applying the different EQ options to your Soundtrack Pro project make sure that items are selected and then go up to Process. Select Effects, which is the top option, and then go down and select EQ. Here you are going to have four Soundtrack Pro EQ options: Channel EQ, Fat EQ, Linear Phase EQ, and Match EQ. Each one of these is going to be relatively different when applying them to your audio files.
The Channel EQ is going to be your most versatile as it brings in eight frequency bands and you can perform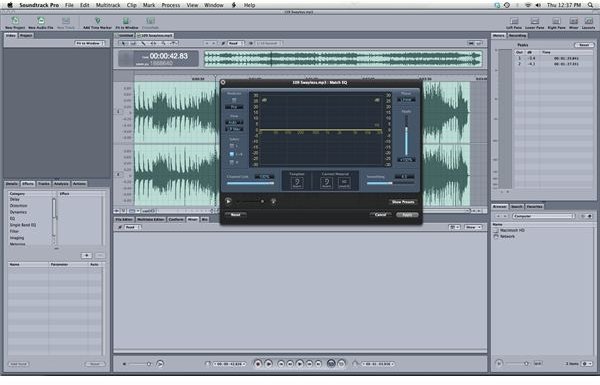 much of the actions that things like high pass and low pass filters would. This is often times the first place that someone will go when trying to apply an EQ in Soundtrack Pro. The Fat EQ is also used for a variety of purposes and multiband, but only has five frequency bands while the Channel EQ has eight. The difference between these types of Soundtrack Pro EQ depends on what you are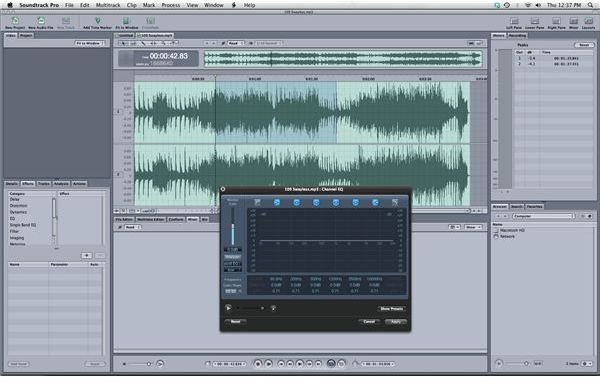 trying to do in your Soundtrack Pro project. The Match EQ can be used to really look at an audio file and compare it to another one, which is very important for mixing in Soundtrack Pro. This is often used during audio mixing for ADR and Foley work for films where things really need to match, but you can really use them for any kind of audio post-production. The Linear Phase EQ is often used to repair distortion, but what you apply is really up to you.
Subjective Use
All of these Soundtrack Pro EQs have an adjustable interface that is graphically centered, which means it is less focused in on exact mathematical calculations. This means that you can adjust the EQ in whatever way you want, listening to how it affects the audio. This allows for a much more creative approach to sound mixing.