The Best Online Music Mixing Games for Kids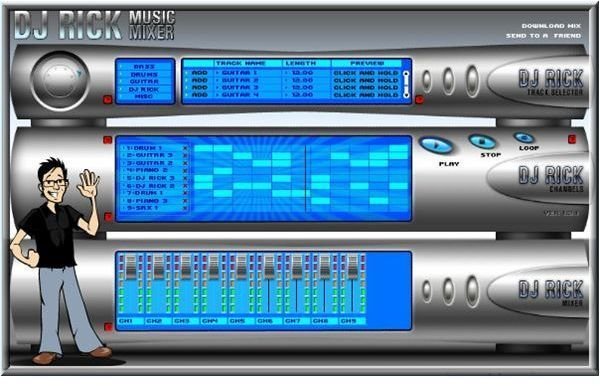 What are Music Mixing Games?
Music mixing games provide an easy way to do recorded sound blending like DJs. It is where learning all sorts of instrumental sounds are not done through reading but actual listening. More than that, players just need to follow interactive guides like selecting their virtual bass, drums, guitar or xylophone to do their preferred arrangement then immediately listen to the final effect.
The following are websites that offer music mixing games:
DJ Rick's Music Mixer
In DJ Rick's Music Mixer, you can grab up to nine different sounds coming from bass, drums, guitar, saxophone, and piano. Each instrument has 4 to 11 down lines of choices. Another list is called DJ Rick where 11 words like "clink" or phrases like "shout outdoor" are recorded to add unique effects.
The window for this mixer has 3 different boards. Players do not need to log in or register. Boxed instructions automatically pop up as the page loads. It's as simple as choosing the instruments then clicking the mini boxes on which part you want it to be played. One sound has 12 seconds running time and it can be played up to 11 times.
Fisher Price: The Musical Instruments Game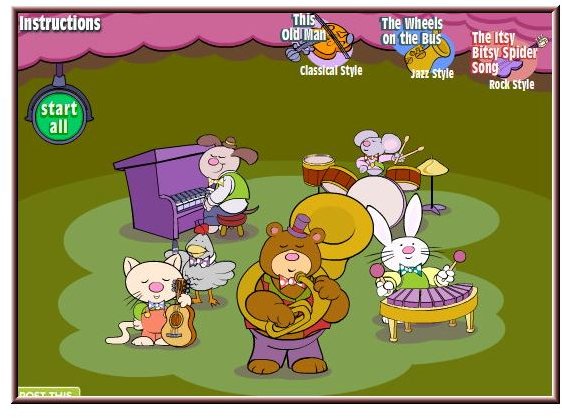 Children will truly love this Musical Instruments Game by Fisher Price. It allows children to blend instrument sounds and the familiar children songs with the help of a bear blowing the tuba or a rabbit on the xylophone. Some other cute animals are playing drums, clarinet, piano, guitar, and others. Its homepage provides 4 familiar songs for the little ones accompanied by an animal band on Folk, Rock, Jazz, and Classical set of musical instruments.
Kids will just need to click the animal to start or stop playing the instrument.
PBS Kids: Maya and Miguel Global Groovin'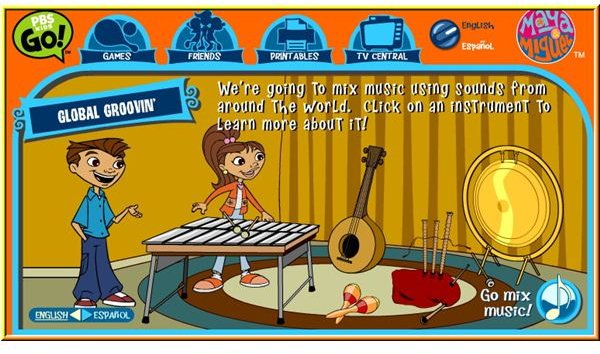 Another music mixing game is the Maya and Miguel Global Groovin'. Global Beats is the special feature of this mixer site. It has Middle Eastern, African, Chinese, and Brazilian beats that can be added to the blending. Instruments featured in here are xylophone, bouzouki, bagpipes, gong, and maracas which are cultural. This makes PBS Kids, Maya and Miguel Global Groovin' educational because kids are being exposed to the international synthetic music. The cute side of this game is its inclusion of tin can, train, elephant, and water sound effects. Blended sound is as long as 13 seconds of playtime but it can be repeated.
Music Mix-up Game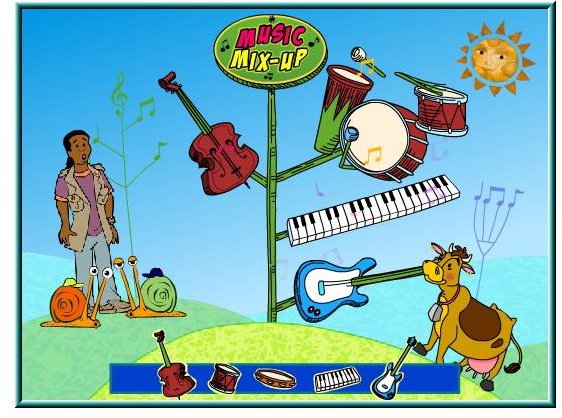 Music Mix-up Game is quite basic. There are five instruments right on the front page. These are base, drums, tambourine, piano, and guitar. Once you click an instrument an avatar guy will start singing along with the sound. Entertainment is enhanced by the presence of a dog, cow, monkey, frog, and snails. Full length of the song is up to 1 minute and 30 seconds with the funky upbeat flow all throughout.