Roland Guitar Synthesizer: Buying Guide & Recommendations
Using a Roland guitar synthesizer means you are employing one of the most trusted names in instrument modelling in the world for your recording, music mixing and live performance projects. Here are the top choices for you in terms of synthesizers from Roland.
Roland GR20 and GK3 Guitar Synthesizer System
Using the GR-20 and the GK-3 divided pickup with your guitar gives you the opportunity to improve your guitar playing sound that will put the focus on you and your skills during live performances or recording sessions. It is designed to be easily installed and used as it does not require any drilling to be done on your guitar because it attaches to your device with no fuss. Once attached, all you have to do is pick the type of sound you want and the sound variation you need. Once you have it figured out, you can immediately start playing it.
It is powered by an advanced sound engine that makes full rich-sounding patches possible via 48-voice polyphony sounds. This gives you a range of sounds that will let you create anything from simple compositions with simple instrumentals to sophisticated string ensemble compositions. Aside from this wide range of sounds and ease of use, it also offers quick editing, digital pitch detection, patch link and an easy to use user interface. You can buy it from Sam Ash Direct for $729.
Roland GR55 Guitar Synthesizer with GK3 Pickup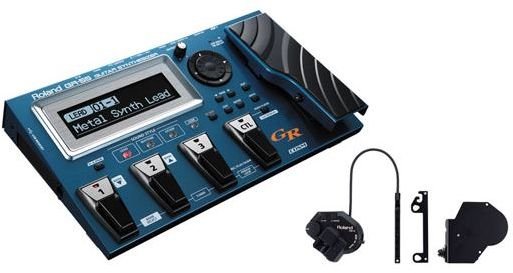 This guitar synthesizer boasts the fastest speed available as well as the best accuracy, all of it because of its pitch-detection technology. It offers a range of synth voices, amps, basses and guitars all available virtually. This capability allows you to use tones and textures that is hard to produce using any other type of instrument whether it is digital or analog. It is capable of using up to 4 sound sources at the same time and you can accompany it with hundreds of preset sounds that cover a range of musical types.
This wide range of sound options and great performance opens up possibilities for new sounds. Its COSM guitar-modeling engine gives users a type of accuracy that syncs with their performance thanks to the synthesizer's detection of velocity, pitch and behaviour. You can purchase it online from Americanmusical.com for $799.
Roland GR-33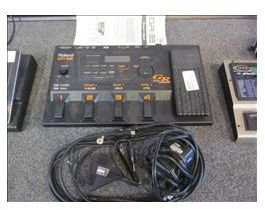 The GR-33 is designed to give whole new layers to guitar sounds thanks to its sound engine that produces sounds each layered with two tones. This engine produces sounds that range from vintage synths, nylon-string guitars, fat analog basses and electronic sound effects. Giving your guitar new ways to produce sounds is exactly what you will get with the GR-33.
It has a total of 384 instrument sounds that come from the worldwide standard Roland group of sounds, 40 Multi-FX, chorus and reverb processing and an onboard arpeggiator. This set of features and capabilities make MIDI sequencing and digital sound production via guitars easier and more efficient. Get it from Musicgoround.com for $319.99.
Roland VB-99 V-Bass System
This synthesizer for bass guitars focuses on giving bass guitar players a way to produce bass sounds that are not possible with normal bass playing techniques. It has a processing engine that offers polyphonic effects, bass and amplifier models, string modelling technology, dual independent signal paths and new controllers that are not found in older models of the synthesizer. Exporting sounds from the device is made easy by its USB output. MIDI sequencing is also made easy thanks to its bass-to-MIDI converters.
The instrument models included here include vintage basses, modern basses, synth basses, amps and electric guitars. Switching and layering of dual independent stereo signal paths makes it possible for two different virtual sounds to be implemented at the same time. On top of it all, the VB-99 has a compact and lightweight design that makes it ideal to be used on different types of stands, racks and even simple tables. This is available at Zzounds.com for $1,499.
Roland VG-99 V-Guitar System
Also from Zzounds, this model of the VG-99 focuses on guitars and it features most of the capabilities of the V-Bass systems including multiple instrument modelling capabilities, MIDI converters, USB output, and advanced performance controls. It has a simple user interface that makes live performances easier and more efficient. It also includes a software application for a smooth and integrated sound editing experience. You can buy it for $1,499.
These Roland guitar synthesizer options are all designed to empower users in getting more out of their instruments in terms of types of sounds and ease of use. Any of these devices can be used to produce sounds and pieces of music that can be unique to one's musical tastes and talents.
References and Image Credits