ION Electronic Drums Buying Guide and Recommendations - ARCHIVED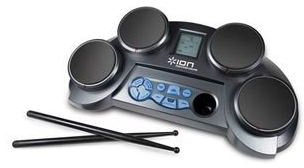 Editor's Note: This article was originally published in June, 2011. Since that time it appears that many of these products are no longer currently available to purchase new. We have made a note where this seems to be the case. The article has been placed in our archive and left up for informational purposes.
ION electronic drums are designed to allow drum players an easy and comfortable experience when learning or practicing playing the drums. They can even be used to play games on gaming consoles like Rock Band.
ION iED16 Electronic Drum Set
This tabletop digital drum set is designed for people who are still learning how to play the drums or people who are still developing their drum skills. It features a built-in follow-the-lights learning tool that lets users learn to play the drums by actually practicing different drum beats. It includes 50 drum, percussion and cymbal sounds as well as 50 patterns with which users can play along. Practicing normal drums may prove to be annoying for your neighbors, but this digital drum set eliminates that kind of annoyance by letting you plug in your headphones so only you can hear your sick drum beats. The built-in speakers let you blast your beats as loudly as you want too. Its compact design lets you bring it anywhere you go and you do not have to worry about power because it can run on batteries as well as wall sockets.
Editor's Note: It appears that this product is no longer available new at Amazon, but you can purchase it used.
ION Audio Discover Drums MKII Tabletop Electronic Drums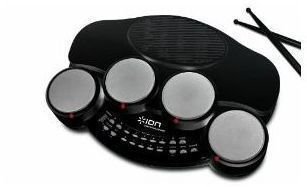 The MKII Tabletop drum has four drum pads that let you pick between ten different preset drum settings to give you a variety of sounds. This kind of versatility and range of choices make learning playing the drums easier and more fun. It features a follow-the-lights practice tool that helps you improve your drum playing skills or teach you how to develop them. It includes 49 patterns that you can play along with whether you are just having fun or trying to improve your drum playing capabilities. It includes drumsticks so you can play it out of the box. In addition to this set of features, you do not have to worry about causing unwanted noise in your house or your neighborhood because it has a headphone jack that lets you isolate your drum playing sounds all to yourself. You can get it for $35.90.
ION Audio Sound Session Complete Electronic Drum Set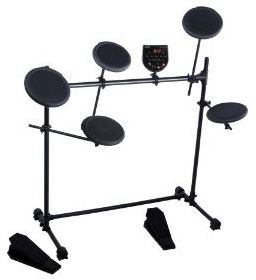 If you want to learn the drums want the actual feel of playing a full drum set, this electronic drum set at $154.49 can give you that opportunity. It is set up to with two feet pedals for the hi-hat, five drum pads that offer a great response time and sounds that accurately reproduce the level force you exert on them. It includes 108 drum, percussion and cymbal sounds as well as 40 preset patterns that range from ballad to rock, giving you a wide variety of sounds with which to play along. You can play back your drum patterns using the sequencer, giving you a way to determine where you need to improve your drum playing skills. The two previous drum sets are great learning tools, but this one gives you a more advanced and realistic drum playing feel that will help you transition to a full drum set easily.
Editor's Note: Product is currently unavailable.
ION Drum Rocker Premium Drum Set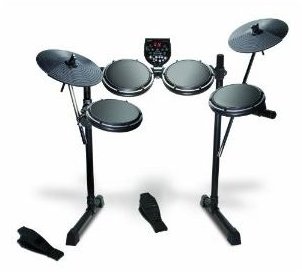 Designed for the Nintendo Wii gaming system, this is an officially licensed drum set for the Rock Band Wii console game. It features low noise and velocity-sensitive drum pads that are extremely durable. Its fully adjustable setup can be expanded with a second bass pedal and a third cymbal. Since you will be using this to play a game, you are expected to hit it as hard as you can without causing damage to it. It offers the same drum set feel as a full drum set. If you are not playing Rock Band, you can still use this drum set to enhance your drum playing skills thanks to the included 15 drum set presets and over 100 different instrument sounds. You can play along with 41 patterns so you can have fun even without playing the Wii game. This product is available online for $239.88.
Editor's Note: This product is no longer available new. You may be able to purchase it used in some locations.
Drum Rocker Kit for Gaming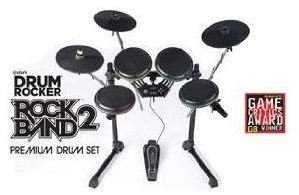 Like the previous drum set, this one is also officially licensed to be used with the Rock Band game. This one is compatible with the Xbox 360 gaming console. It is designed to provide a realistic drum set feel to users. It features positioning flexibility that ensures the user is as comfortable as they can be when using the drum set whether they are playing the game or just jamming to improve their drum playing skills. Its velocity-sensitive pads make sure that you get a response sound that is equal to the level of force you exert on it. It also offers the right kind of tension in its pedals to give users an authentic feeling of playing a real drum set. You can get it for $235.62.
Editor's Note: It appears that this drum kit may no longer be available new. However, you can probably find used kits from Amazon or Ebay.
The five ION electronic drums represent the best experience you can get from drum sets from ION Audio. They range from basic learning drum sets to more advanced ones. A couple of these are even compatible to be used in playing console games. Whatever their purpose is, they are all designed to offer great sound quality and comfort. All items are available for online purchase from Amazon.com.
References
Photo Courtesy of Amazon.com
This article has been placed in our archives.