What to Look for in a Virtual Drum Machine: Reviews & Buying Guide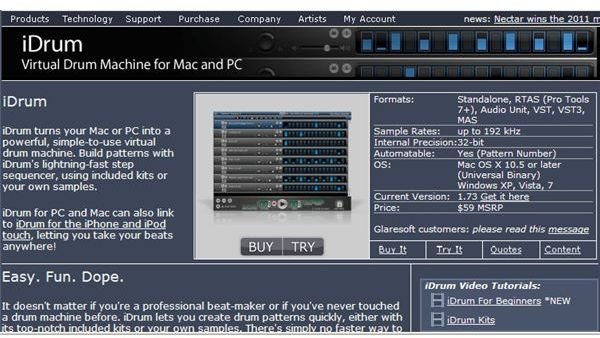 If you are looking for an online drum machine, you have to determine your musical needs first. The types of these applications range from simple online beat makers to sophisticated software that includes audio editing tools. If you are simply trying to learn drum dynamics, you can settle for free solutions, some of which are available online with no download required. However, if you want to create drum beats and incorporate them into your own original music, full featured drum machine software are more ideal.
iDrum
This virtual drum machine can be installed as a standalone drum machine application or as a plug-in for host applications like Audio Unit, VST, MAS and RTAS. It is capable of automation as long as the user provides a pattern number and it can be run on both Windows and Mac OS X machines. It has a clean user interface that gives the user a clear view of the different drum sound elements without cluttering the screen. You can try it out for free for ten days. After those first ten days, you will have to buy it for $59 to continue using it.
VirtualDrumming.com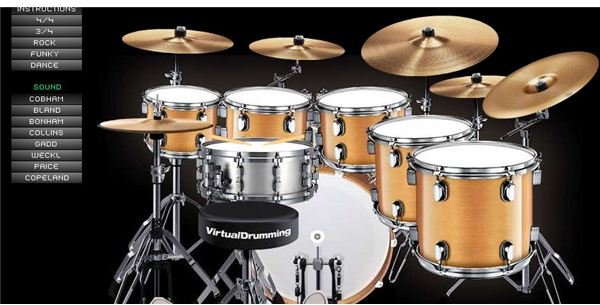 If you want to learn how to learn to play the drums, you can try out this solution. You can learn the dynamics in playing the drums by activating and de-activating real time hi-hat, snare drum and kick notes. It provides pre-set patterns that range from Rock to Dance so you can have a basic starting point from creating your drum sounds. It is not a very advanced piece of software if you are looking to create and record drum sounds with sophisticated settings, but if you are simply trying to understand the different drum elements and how to interpret drum sheet music, this is an ideal way to do it.
OneMotion Drum Machine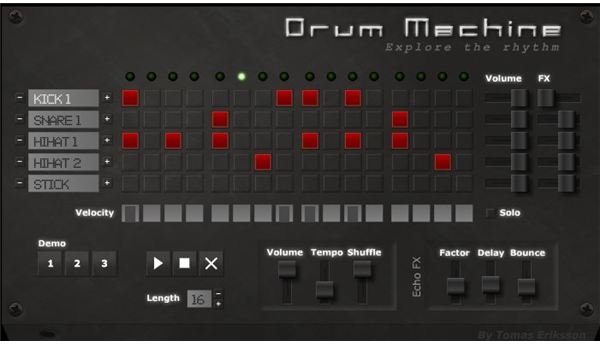 If online and free is your preferred way of using a online drum machine, this is your best option. It features a basic set of tools for experimenting with beats and drum sounds. You have a set of controls that may not be as advanced as downloadable software, but it is enough if you want to create simple beats and sounds. You can control the volume, the kick, the snare and the hi-hat. In addition to that, you can also apply some basic effects like Factor, Delay and Bounce. Make sure your browser supports Flash if you are going to use this.
DUBturbo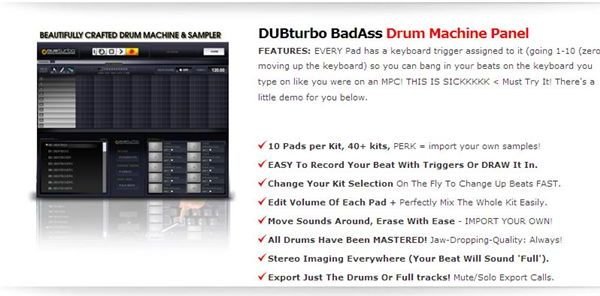 This piece of software combines an intuitive user interface, loads of features and high quality sound that is worthy of being used in professional music distribution. Its drum machine panel lets you assign a key on your keyboard for each pad, letting you play the drums just by hitting the keys on your keyboard. You can create different drum beat sounds in this panel. Editing and exporting sounds are also made easy. You can buy it for $29.95.
Beat Thang Virtual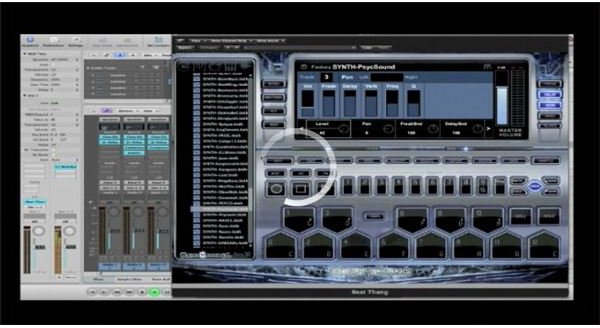 If you love playing around with music in addition to making drum beats, this application is a complete package for your needs. It has over 3,000 original sound effects and samples that you can use in creating your own music. This is not just a virtual drum panel. It lets you arrange complete songs, apply special effects and even create your own drum kits. You can buy it for $97.
Conclusion
These five virtual drum machine options cover all your options from simple beat creation to advanced music production. Check out their feature set to see which one fits your needs.
References and Image Credits
iDrum, https://www.izotope.com/products/audio/idrum/
Virtual Drumming, https://virtualdrumming.com/drums/windows/virtual-drum-machine.html
OneMotion Drum Machine, https://www.onemotion.com/flash/drum-machine/
DUBturbo, https://www.dubturbo.com/
Beat Thang, https://www.beatthang.com/