The Best Speech Synthesizer: Reviews & Recommendations

Cepstral Text-to-Speech
Cepstral is a company that focuses entirely on speech synthesizers and they are good at what they do. They offer text-to-speech software for five major languages: English, Spanish, French, German and Arabic. Their software is powerful and covers a variety of mediums including usage on desktops, handhelds and telephones. They can also develop custom voices specifically for the needs of a given user to optimize their speech synthesis experience. Cepstral is a high-end text-to-speech company and is very well suited for the needs of a corporation or other large-scale endeavor. If you are looking for something advanced that will fit your exact needs, this is just the place to be. Otherwise, keep reading for more options.
eSpeak Text-to-Speech
eSpeak is an excellent choice for anybody who needs a lightweight and easy to work with text-to-speech option. While most speech synthesis uses samples of real human speech, eSpeak uses "formant synthesis" to achieve the same goals without audio samples. The result is a program that is barely more than one megabyte large, which will download in no time at all. The only downside is that the speech quality may be inferior to some other options, but it is still usable. In addition, eSpeak is a free, open-source option, meaning that there are people from around the world working on developing the software at all times. Given the array of languages offered, eSpeak is perfect for the casual speech synthesis user who needs a quick and easy option.
FreeTTS
FreeTTS (Free Text-to-Speech) is a free speech synthesis option designed to run in the Java programming environment. This means that it can be used within a Java application, and is therefore extremely useful to any web developers or programmers who are looking to utilize text-to-speech in their work. At its core, FreeTTS does not offer a ton of functionality. Beyond the basic engine that it runs on, it only offers three male voices from which to choose. However, it allows the user to import many voices from other sources, thus empowering the user to customize it to their own standards. In addition, given that it works in a java environment, three voices may be more than enough for basic web uses.
Caltrox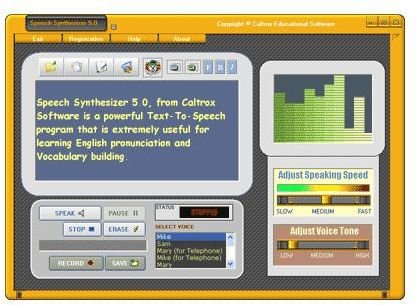 Caltrox Speech Synthesizer is a Windows-only program that is designed specifically for use by children. Its interface is graphical and intuitive, thus making it easy to teach to a young child with speech synthesis needs. One great feature of this software is its ability to read any text from a Word, PDF or RTF document. It can also record its speech output as an audio wav file, which is a very useful feature for anybody who wants to record speech from the program. While not entirely free, it is very affordable and makes a perfect choice for any situation that involves children using text-to-speech software.
Festival Text-To-Speech Demo
The Festival Text-To-Speech demo is perfect when you need the quickest possible speech synthesizer option. No download is required, and it features over fifteen different voices. The main downside is that the demo only allows 70 characters to be input at once. However, given how quick and easy it is to use, it is the perfect option for when quality is less important than speed and ease of use. If you have a bit more time, you may want to look at some of the other options in this article.
References
https://espeak.sourceforge.net/
https://freetts.sourceforge.net/docs/index.php
https://www.caltrox.com/products/speech.htm