Roland Electronic Drums: Top Five Recommendations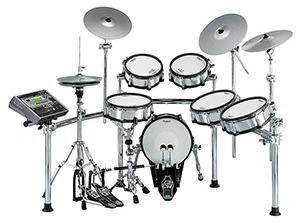 Roland Corporation's electronic drums offer great audio quality while giving drummers natural and comfortable experiences. Here are some of the best kits in Roland's electronic drums arsenal for both beginners and professionals.
TD-20KX
This electronic drum is part of the V-Drums V-Pro series. It features a design that is meant to be seen on the stage thanks to its shiny V-Pads with an industrial brushed metal look, its V-Cymbals colored silver and its drum rack that is made of rock solid chrome. Its looks is only rivaled by its wide range of expressive and powerful sounds, care of its TD-20X drum module. Its strong and sturdy body supports its strong and incredible sound quality, which is perfect for big and loud performances on stage. You can buy it for $8,425.88.
HD-1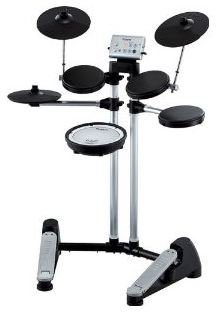 Part of the V-Drums Lite line of Roland electric drums, this kit offers a compact and stylish musical experience for a considerably low price of $599. It is a budget drum kit that is ideal for people who are just starting out with their drum playing hobby or career. With its cushioned tom pads, kick beater and snare head, it promises a much more quiet experience that other types of drums, making it perfect for use in homes and in schools. It is also very easy to use, which is a characteristic that makes it perfect for people who are just starting to learn how to play the drums. Its compact design is also a benefit for drummers who do not have a lot of room in their place for a drum kit.
TD-4K2-S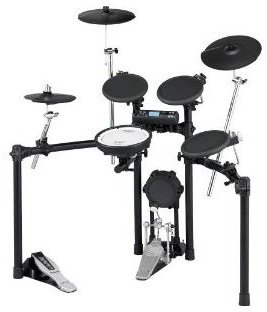 This is part of the V-Drums V-Compact series which tells you that it is a very compact drum kit that is perfect for practice in studios, homes or anywhere else you want to use it that does not require a lot of space. Its size also makes it highly portable, which is good news for you if you want to play it in different venues. It is designed for easy use, making practice with this drum kit ideal, especially with its built-in features like Coach and the Quick Rec/Play function. Its playability is quite appropriate for beginners as well as professionals who simply want to do some practice beats in between recording sessions or concert tours. You can purchase it from Amazon.com for $999.
TD-4KX2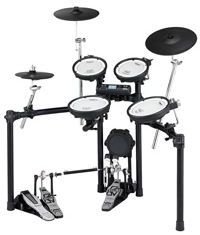 Like the TD-4K2 drum kit, this one is also part of the V-Drums V-Compact series of drum kits, which means it also focuses on its size without compromising playability. It also features the same beginner-friendly features of the TD-4K2 such as the Quick Rec/Play function and the Coach feature. Its V-Cymbals inspires a natural swing motion while its bas drum head provides reliable playability and a great feel thanks to its cloth design. You can buy it for $1,299.
TD-12KX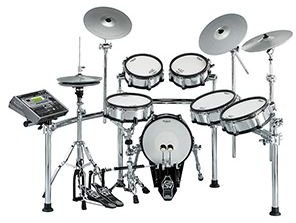 Part of the V-Drums V-Stage series, the TD-12KX is designed for recording and high impact performance purposes. With strong hardware, big pads and useful V-Edit capabilities, this drum kits is perfect for live performances on stage or for professional audio quality recordings. Its floor tom pad offers a natural feel and look that can be felt with the entire kit, making sessions with it comfortable and a joy. You can purchase this from the Drum Shop for $3,999.
These Roland electronic drums are a combination of compact drum kits for practice and learning sessions and loud drum kits for playing on stage or in recording studios. There's a drum kit for everybody and they all sound and look great.
You may also want to check another article on the top five Yamaha electronic drums.
References
Roland, https://www.roland.com/products/en/TD-20KX/index.html
Amazon, https://www.amazon.com/Roland-HD-1-V-Drums-Electronic-Drums/dp/B000UJH2HA/ref=sr_1_1?ie=UTF8&s=musical-instruments&qid=1302662669&sr=1-1
Amazon, https://www.amazon.com/Roland-TD-4K2-S-V-Compact-Drum-Set/dp/B004MMIZTK/ref=sr_1_1?ie=UTF8&s=musical-instruments&qid=1302662847&sr=1-1
Key Music, https://www.keymusic.com/en/product/Roland-TD4KX2
Roland, https://www.roland.com/products/en/TD-12KX/index.html