Top 5 Online Drum Machine Websites: Create Digital Drum Beats for Free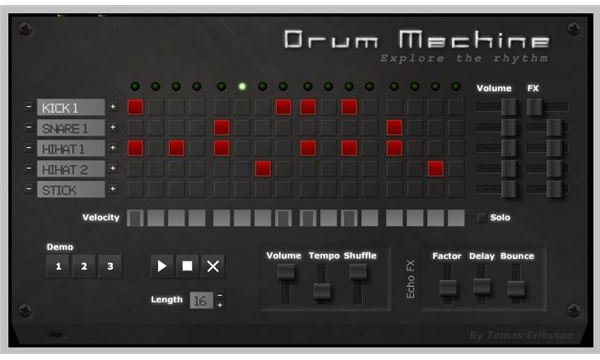 Introduction
An online drum machine provides users with tools, controls and sounds that let them produce drum beats, loops and sequences without the need for downloading a desktop application. The following are recommendations for online drum machines, each providing information on what you can expect along with a short review.
One Motion Drum Machine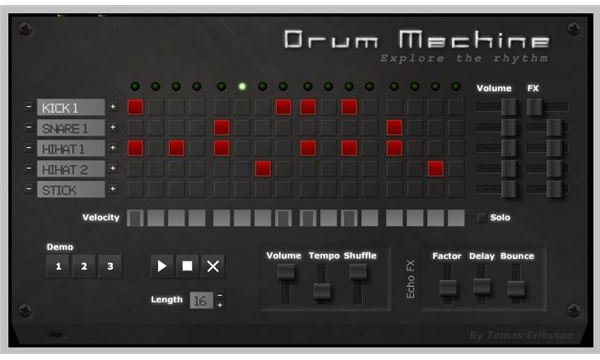 One Motion Drum Machine provides basic controls to mix and match different drum elements to develop different kinds of drum beats. It features one kick, one snare, one stick and two hihats. You can control the volume, the FX, the velocity, the tempo and the shuffle of different drum elements. There are even Echo FX controls that lets you control the bounce, the factor and the delay of the effects. It's not an exhaustive set of controls and effects, but as a basic online drum beat mixing tool it does its job, thanks to its intuitive design and its three demo settings that show you possible configurations of the different controls. This makes it a good way for beginners to learn the basics of mixing drum loops.
Monkey Machine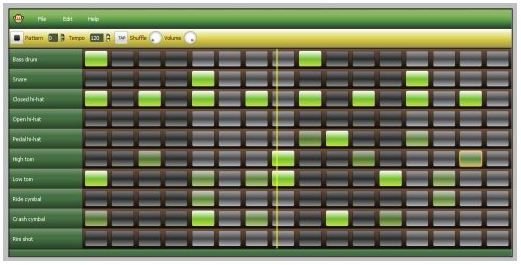 Monkey Machine offers more features than One Motion's drum machine. It has an online drum beat database that provides you more than 10,000 drum beats that you can download, as well as over 20 drum kits. Aside from these features, Monkey Machine also allows its users to download their drum beats as MIDI files, something that would be extremely useful for people who want to continue working on their drum beats without going online.
Virtual Drumming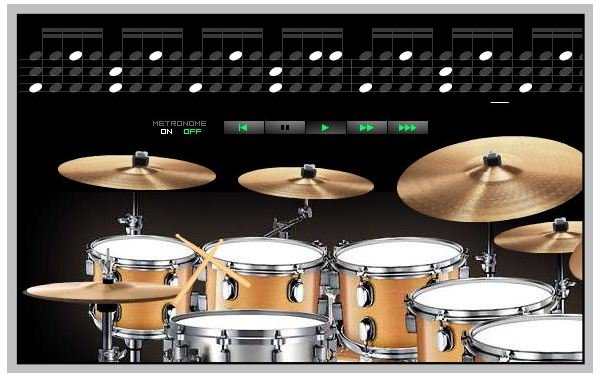 Virtual Drumming drum sequencer is designed and optimized to teach users the basics of playing the drums, including reading sheet music and the different elements of a drum set. The sounds available for your drum sequences are limited, but as a training tool, it is very easy to understand. For those of you who are looking for an online drum machine that has more sophisticated controls and effects, this may not be for you. However, if you are a beginner, you can start learning how to play the drums, especially with basic drum patterns like Rock, Dance and Funky available with a click of a mouse.
GrooveLab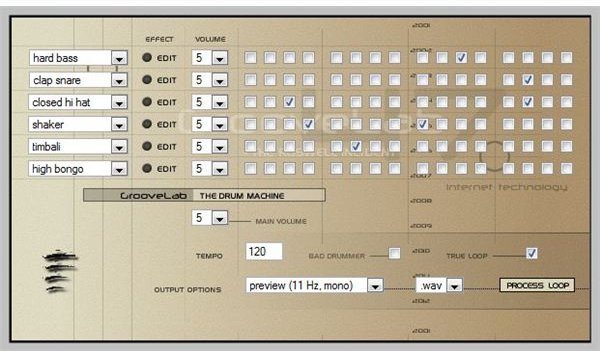 For people who are already used to using drum machines, especially online ones, GrooveLab is a versatile tool for developing drum beats and sequences, thanks to its six different effects. Each of these effects have several settings that allow for more choices in sounds. If these variations are not enough for you, you can adjust their echo delay, echo volume, vibro speed, vibro depth and overall volume. The drum sequences you produce can be exported as wav, aiff or au files. For beginners, however, this online drum machine provides hardly any instructions to make learning easier. With a little experimentation, though, users can still learn how to use it with minimal effort.
orDrumbox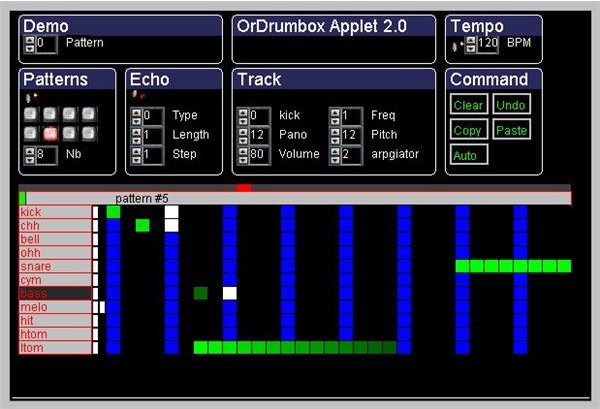 orDrumbox drum machine provides very basic drum sounds with a few effects that can be modified using some basic controls for tempo and volume. For all intents and purposes, it only provides a preview of what you can do with the orDrumbox desktop application which offers more features and drum sounds. If this online drum sound is right up your alley, you will most likely enjoy the desktop application more.
Planning to buy a real drum? Then you might want to check this buying guide and list of recommended Yamaha Electronic Drums you can purchase online.
References
https://www.onemotion.com/flash/drum-machine/
https://www.rinki.net/pekka/monkey/
https://virtualdrumming.com/drums/windows/virtual-drum-machine.html
https://www.artopod.se/groovelab/groovelab/groovelab.html
https://www.ordrumbox.com/online.php