How to Find the True Invoice Cost of a New Car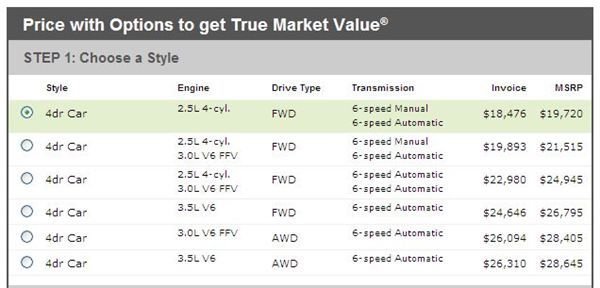 What is True Invoice Cost?
Simply put, true invoice cost of a new car, truck or SUV is what the dealership pays the auto manufacturer for the car and includes model package pricing, added options or accessories, advertising, and destination charges (shipping), and fuel charges. Sounds simple right, but if your local dealership salesperson won't show you the invoice, where can you find the true invoice cost?
Popular Auto Websites
Most of us run to Kelley Blue Book, the NADA website, or Edmunds to find invoice cost (the image to the right shows Edmunds pricing on Ford Fusion models). I compared a 2011 Ford Fusion (base) 2.5 liter, 4-cylinder, 6-speed manual transmission, 4-door sedan, with no added extra options. Here are the results from all three of these auto websites:
Kelley Blue Book – Invoice - $19,226 – MSRP - $20,470
Edmunds – Invoice - $18, 476 – MSRP - $19,720
NADA – Invoice $19,226 – MSRP - $20,470
Both Kelley Blue Book and NADA offer the same cost for invoice and MSRP, while Edmunds offers an invoice cost of $18,476 and MSRP of $19,270, so who's right?
In this case, Kelley Blue Book and NADA are including the $750 destination (shipping) charge, so if you use Edmunds invoice price of $18,476 and add a $750 destination charge, you do indeed get a true invoice cost of $19,226. So, all of these websites seem to be offering the same invoice cost. It's important to note here that no matter what website you choose, all invoice prices are based on your zip code—the reason for this is that destination (shipping) charges vary from region to region. I used my New Mexico zip code for the Ford Fusion and the destination charge was $750—it could be more or less depending on how far your closest dealership is to the railway that ships the car from the manufacturer and the trucking company that delivers the car from the railway to the dealership.
Dealer Invoice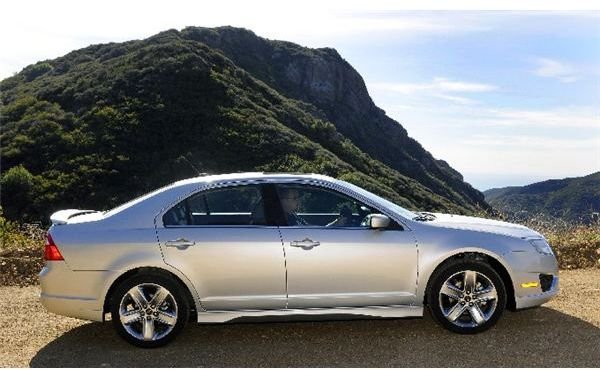 I wanted to compare apples to apples, so I pulled out the invoice for one of my 2011 Ford Fusions (base) that was exactly the same as the one researched on the auto websites.
2011 Ford Fusion (2.5L, 4 cylinder, 6-speed manual) - $19,226
Destination Charge - $750
Fuel Cost to Dealer - $47.52
Advertising Costs - $353
Total Invoice Price - $20,376.52
The difference between in true dealer invoice cost from my invoice and what we found on the auto websites is $1,150.52. Since my invoice and the auto websites agree on the base invoice of $19,226 and the destination charges of $750, why is mine (a true dealer invoice) higher than those auto websites?
Not included in the auto websites is the fuel cost of $47.52 and the advertising cost of $353. If you subtract those numbers from my total dealer invoice price ($20,376.52 - $47.52 - $353 - $750 (destination charge), you get $19,226, so in fact, those auto website are pretty close, but are all of them as reliable as a true dealer invoice?
Auto Websites vs. Dealer Invoices
Only Edmunds offers information (through a disclaimer) on advertising costs that also vary from region to region and it's impossible for any auto website to obtain that information—the manufacturers don't release this information and it is a cost the dealer must pay when purchasing the car from the manufacturer. None of the auto websites allow for a fuel cost as that's also not released to auto websites.
Best Option for Finding True Invoice Cost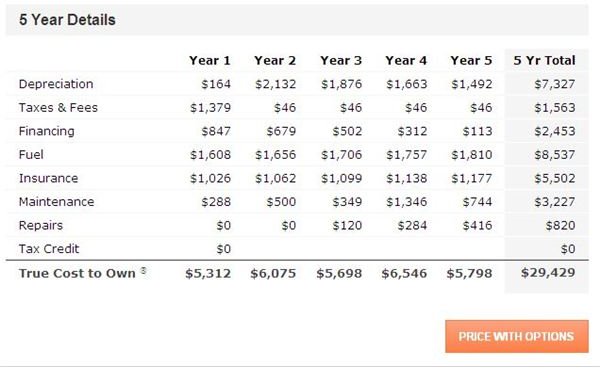 I have been in the auto industry for 16 years and if you're looking for true invoice cost, Edmunds is your best bet as they do let you know that advertising costs are not included in the estimate. Edmunds also offers the latest rebates and incentives for all models along with a great feature unique to them called True Cost to Own® (TCO). As you can see in the screenshot to the right (click to enlarge), for the same 2011 Ford Fusion model, Edmunds offers a nifty TCO for you for a 5-year period that includes costs such as depreciation, taxes & fees, financing, fuel, insurance, maintenance, repairs, and even if a tax credit is available on a certain model—you won't find this on other auto websites and this could be a deciding factor for you when researching and pricing cars that will fit your budget.
Please continue on to Page 2 to learn more on how to find dealer cost of a new car along with super secret buying tips and how much of a markup there really is on new cars, trucks, and SUVs.
True Dealer Markup

Many consumers still believe that dealers make tons of money on new car sales. With our 2011 Ford Fusion example, you can see that if a customer bought the car at full MSRP of $20,470 and the dealer cost is $20,376.52, the dealer makes a whopping $93.48 on the car sale alone! Most dollars made at dealerships are through financing markups, extras such as extended warranties and added car options, and the largest department that actually pays for all dealership overhead is the service and parts department—that's where the true money is made in owning and operating a dealership.
Because of the low markup from invoice to retail price in cars—about 1%-2%, in trucks it's 2%-5% depending on model chosen, and SUVs are marked up approximately 2.5%-3%, there really is not a lot of room to haggle the price down too much. Considering the cost of service labor and parts, which has a markup that is often as high as 25%, you can see the service and parts department is the winner on consumer markup.
Haggling for the Best Price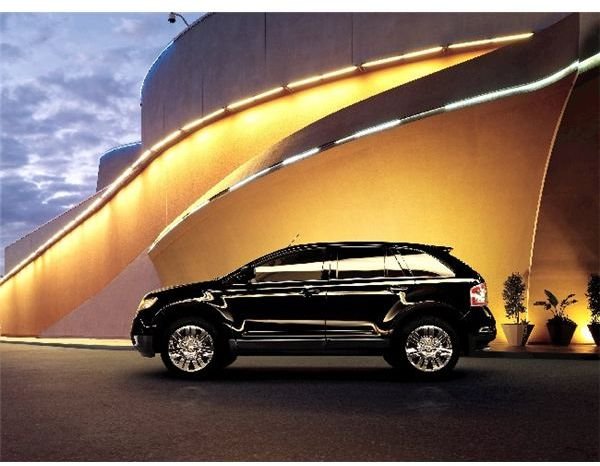 Now that you know about the true invoice for a new car and how to find dealer cost for a new vehicle, you're ready to brush up on your haggling skills! The average car buyer still wants the best price they can get on the model they want so keep these tips in mind when haggling for the best price:
Invoice – Ask to see the dealer invoice and have the salesperson point out dollars such as fuel and advertising. Look at the true different between invoice and MSRP—if the dealer is making around $100 bucks, that's a pretty fair deal. Plus, all dealers get what is called holdback on every car and that's impossible to determine because holdback is different for every car, truck, and SUV model out there. On our Ford Fusion example, holdback is $697, so actually if you paid MSRP for this car, the dealer would make around $100 plus $697 so $797, and that's still a pretty good deal when considering that a salesperson's commission and other overhead expenses are paid out of that $797.
Financing – Learn here on Bright Hub how to finance a car without paying top interest rates through the articles – Tips for Purchasing a New Car: What the Dealer Won't Tell You, and How to Finance a Car.
Extras – As a car dealer, I do believe in extended warranties, so get one, if you finance your car, it will only increase the monthly payment around $10-$15 bucks a month. If you pay cash, for a new car, the dealer's cost for an extended warranty and the retail price is wide, so ask the salesperson what their cost is and haggle from there—you could save hundreds. Also, most dealers use what are called window sticker addendums where they add to the retail price of the car with things like rustproofing, local fees, and dealer delivery fees—tell the salesperson you don't want to pay for anything listed on the addendum—these are just imaginary fees the dealer wants the buyer to pay.
Compare Apples to Apples – When performing car research prices on the Internet, keep in mind that none of the websites you visit will know the advertising costs or fuel prices that are included in the dealer cost. Do choose Edmunds over the others, they simply offer more for the consumer to research including their True Cost to Own feature. Make sure you are choosing the exact same model as the dealer has on their showroom floor—even a small added option like a special exterior or interior color can add to the cost of the car.
Trade-Ins – If you are trading in a car and want to get a value on that used car before you visit the dealership, keep in mind that the prices you see on Kelley Blue Book and NADA are NOT the same prices that dealers receive in their valuation books—the used car values in books that dealers pay for Kelley Blue Book and NADA valuation books are lower than the ones you'll find on the web. So, don't expect the dealership to offer you exactly what you want for your trade-in if you researched it on the Internet, unless you pay for the valuation books dealerships do.
So, beyond asking to see a dealer invoice, now you know how to find the dealer cost of a new vehicle—or at least get pretty close. Honest dealers won't mind showing you the invoice so move on to another dealer if they won't. The true invoice price of a new car is really not much more than the retail price you see on the window sticker—if you pay attention to window sticker addendums, financing options, and extras. Happy shopping for you next new car!
References
Image Credits:
Screenshots by author courtesy of Edmunds.
Ford Fusion, Ford F-150 Raptor, and Ford Edge courtesy of Ford Media Room. Jean Scheid is a registered member of the Ford Media Room.