How to Avoid Impulse Buying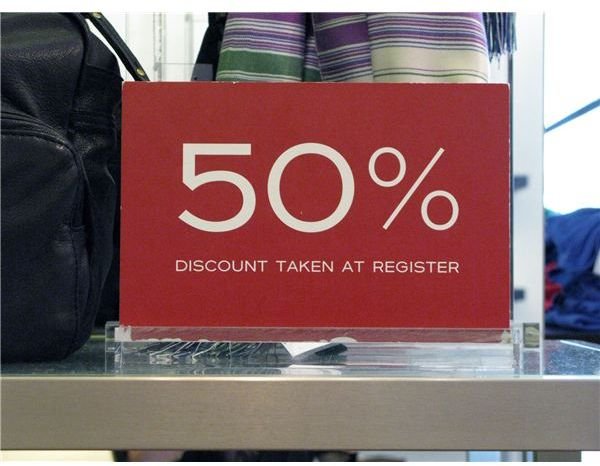 Impulse Buying Defined and How it Harms a Budget
Impulse buying is any purchase that isn't planned. Deviating from a planned shopping list is an impulse purchase. Retailers understand that buyers are attracted to "special price" and "on sale" promotions – they count on shoppers to buy those items. Unfortunately, people who fall prey to impulse buying will often break their budget or go deeper into credit card debt.
In order to reduce personal spending, shoppers need to avoid impulse buying. There are several methods to reducing impulse purchases making it easier to stick with a budget and reduce personal spending.
Reduce Impulse Buying at the Grocery Store
Impulse buying in the grocery store adds up. It may seem like a great sale price on the crackers you passed while trying to get to the dairy aisle for a gallon of milk, but did you really need four more boxes of crackers?
There are several ways to reduce impulse buying at the grocery store. Making a list and not deviating from it is the simplest. Keep a running list in the kitchen of items you run out of. Then, check the weekly advertisement from your favorite grocery store – are there any items on sale that you normally buy? It isn't necessary to buy an item just because it's on sale.
If your weekly grocery budget is $75, take only that amount of cash with you to the grocery store. Carry a calculator and no credit cards. Keep track of the amount of money that goes into the cart so there won't be any surprises at the cash register.
Long-term prevention of grocery store impulse buying includes properly stocking your pantry. If your family uses ketchup at every meal, it makes sense to stock up when it is on sale. However, this stocking up should be part of your weekly or monthly grocery budget.
Another tip to prevent impulse buying at the grocery store is to limit the trips. People are often overwhelmed by all of the sale items they have to pass by on the way to the eggs or bread. In addition to saving gas money by not driving to the store for forgotten items, you run less chance of buying something you didn't plan for.
Avoiding Everyday Impulse Buying
We face impulse purchases everyday. A stop at the convenience store for gas might turn into gas, bottled water and potato chips. If you are only putting $10 worth of gas into your car every workday, plus buying water and potato chips you have spent an additional $10 per week. Wouldn't it be cheaper to fill up your tank on payday, buy a refillable water bottle to carry and a large bag of potato chips for $3 at the grocery store?
A stainless steel water bottle can be purchased for under $20 and will pay for itself in one month creating a savings of at least $220 per year from impulse buying.
Avoid Holiday Impulse Buying
Stick to your holiday by creating a list and carrying only cash. If you must use a credit card, take the budgeted amount as a cash advance. The interest rate will usually be less expensive than a credit card purchase.
There are still a few retailers who offer layaway service for their customers. The small fee they charge for the convenience will be much less than the interest charges on a credit card. Armed with a shopping list, go to the store and do all of your gift shopping well in advance of the holiday. Make the required payments and pick up your purchases a few days before the holidays, paid in full with no impulse buying that results from several trips to several stores.
Refuse to Buy Big Ticket Items on Impulse
Reducing impulse purchases of big ticket items requires strength and planning. If the refrigerator dies and can't be repaired, that's not an impulse – it's a necessity. However, do you really need an eight-person hot tub just because it is on sale?
Require yourself a "cooling off" period on any item over a set amount such as $100. Wait at least one week and weigh the benefits versus the true cost. Yes, you might have available credit on the card or cash in the savings account. Can you guarantee that your job will still be there in 60 days or when the payment comes due? What is the interest rate on that credit card? How much of an additional monthly credit card payment can you really afford?
The AARP has great advice for how to avoid impulse buying here.
Please be sure to check out the other tips and strategies in Bright Hub's collection of personal and household budgeting guides.
References and Photo Credit:
This post is part of the series: How to Reduce Personal Spending and Balance Your Budget
There are several methods to balancing a personal budget via cost-cutting methods and tracking every expense. This series will explore those topics in detail providing a guide to everyday savings.