A List of Perfect Gifts for a Police Officer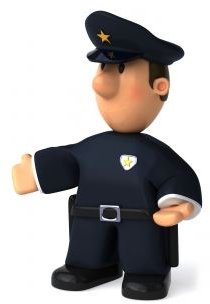 Gifts for Police Officers
Police officers can be very simple to buy gifts for once you think about what they would like or use on the job every day. These men and women are out saving lives every single day they are at work. Anything that can help them on the job is something they will appreciate. They will also enjoy things that have to do with their job or that can show off to the world that they are a hero offering such an important service to their communities. Police officers put their lives on the line and should be appreciated for doing such a great duty. Here are some great ideas for police officer gifts for this holiday season.
Personal Gift Ideas
Police officers are just normal people, but many of them enjoy things that have to do with their job. Here's a list of a few things any police officer would know came from your heart.
Figurines or Christmas tree ornaments of police officers
Mouse pads, blankets, or t-shirts that are personalized
Plaques or trophies that say "Worlds Best Police Officer"
iTunes gift card (This can be used to buy some wonderful police applications)
Boots for work
Shoe inserts since they are on their feet all day long
Special knife with a seat belt cutter attached for working accidents
Silk tie or other nice clothing for when they attend court or classes not in uniform
Organizer for their car (They make these for trunks or to sit in the passenger seat)
Non-Traditional Ideas

These ideas can't really be put under the tree but they're still awesome police officer gifts and will show them how much you care. Officers obviously care about the community since they work hard in it everyday to make it a better place.
Let your children and other kids donate their stuffed animals to the police station. They keep them in their car to give out to scared children.
Donate money to the local FOP (Fraternal Order of Police) in the police officers name.
Donate items or money to a local charity they care about such as a woman's shelter.
Start Badge Exchange Collection
Many police officers love official badges from different agencies. Find out if you can buy or receive some of the local badges from their department. Contact other departments in the area by email, phone, or mail. Ask them if they are willing to trade you one of their badges for one from your local department. You can now give your police officer the badge collection you have started for them. You can frame it or put it in a scrapbook. This also makes a fun thing to give every year. You can get them a new one each year to add to the collection.
Image Sources
Police Officer - https://www.sxc.hu/photo/1262266
Handcuffs - https://www.sxc.hu/photo/1316049