Black Friday: Where the Name Came From & Shopping Tips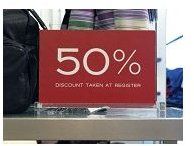 The day after thanksgiving is notorious for being one of the biggest shopping days of the year. Whether or not you care about the history, you should care about the savings available to you, because of all the retailers that jump on the Black Friday bandwagon.
For those that prefer to shop online, don't forget to take advantage of the following Monday. Many online retailers noticed an increase in online shopping the Monday after Black Friday. They further take advantage of this increase by offering many discounts to their customers. Here's what you need to know about the day, as well as some tips to help you take advantage of some of the best deals of the year.
Black Friday History
The name actually comes from the stock market crisis that gripped the United States on September 24, 1864. The original use of the term had nothing to do with shopping or Thanksgiving. Later on, Philadelphia newspapers used the term to describe the rush to stores one day after Thanksgiving and the beginning of the Christmas shopping season. According to Time Magazine, retailers experienced profits on that day and on business accounting reports the profits were represented by black ink. Until that time of year, many retailers experienced losses, which were marked by red ink. Retailers have replaced paper records with software programs today, but the concepts of "being in the red" or "being in the black" are still used today to describe net profit and loss.
What Black Friday is Today
Today, Black Friday means a day of extraordinary deals and savings if you're able to get to them. Consumers are willing to wait in line many hours before stores open, with the hopes of getting a large discount on a hot ticket item. Retailers have seized on the opportunity to close out the year with a profit, by offering irresistible discounts. Savvy consumers often wait to buy certain items, such as electronics, appliances and computers, only on Black Friday as a result.
The Growth of Black Friday
It's grown so much, that it has been dangerous for some shoppers and workers. For example, there's an infamous incident of a worker getting trampled to death at Wal-Mart as customers rushed in when the store opened. Other injuries have been reported at retail stores, and there have even been shootings at Black Friday sales. These incidents have not deterred customers from crowding stores though, and retailers haven't slowed down the trend to save the best discounts for this day either. What that means is that you need to be savvy about shopping on this day. The following tips will help you be effective and even avoid the crowds entirely.
Tip # 1 – Stay Home
You don't have to be among the crowd, waiting in lines for hours and hoping that the store has enough of that "must have" item in stock. Black Friday can be discouraging to single parents, disabled persons and others who find it difficult or impossible to wait in line. There's no need to be discouraged, and you can stay home by choice and not of necessity. You can take advantage of Black Friday deals on the Internet.
For example, Amazon has a lightning deal that starts at midnight on Thanksgiving Day. You can preview the items prior to midnight, but the discount price won't show until the sale on that item starts. Amazon rotates sales throughout the day, so you can buy when the sales start. Other retailers also offer online Black Friday deals. Visit the retailer websites that you're interested in to research information about the sales they plan to offer. Be sure to find out when the sales start, because like the crowds outside brick and mortar stores, there will be a rush online to purchase items.
Tip #2 – Plan Your Route if You're Going to Stores
If you do decide to go to the stores, then you have to plan your route carefully. That begins with prioritizing the purchases you plan to make. Write down a list of the items you want to buy and the stores you want to get them from. If you don't have specific items in mind, then write down the stores you want to check. That's not a good strategy though, because some retailers don't offer much more of a discount for Black Friday than any other sales event. Prioritize your list and plan your route accordingly. Don't overdo it, because you can expect lengthy checkout lines. Three to four stores at most is a reasonable number to find anything that you would want left in stock.
Tip #3 – Budget Before You Go
You will cancel any efforts to save money if you overspend or buy things that you don't need. The purpose of shopping on that day is to get what you need at huge discount prices. It shouldn't be a day to splurge and buy the newest thing advertised, unless you need it. Write down what you need and the amount it will cost, and make sure you have the money to pay for it. You don't want to go into debt on Black Friday. Think of how to maximize your cash on that day, and you can only do that if you formulate a plan, also known as a budget.
Tip #4 – Develop a Plan for Shopping at the Store
You don't want to get sidetracked when you're online or at the store. The goal is the get the item you need the most, or that offers that largest discount, before you move on to other purchases. For example, if you need a laptop for your home business, then you need to head to that department first. If you're shopping online, you need to go the computer store first before checking out a clothing store. Write down your plan for which items you'll pay for first at each store, so that you don't end up with items that are no longer available.
Tip #5 – The Deals Don't Stop at the Store!
If you missed what you were looking for in the store don't give up hope! Don't forget to check online to see if the product is available. Then check to see if they will be offering a discount on the Monday after Thanksgiving, known as Cyber Monday. Many online retailers offer discounts starting at 12 AM. Plan ahead by checking to see if the item you want will be on sale, and then buy early before the product runs out!
Happy Shopping!
References
Image Credit: Robert Linder
[Time.com: A Brief History of Black Friday](/tools/Source: http:/www.time.com/time/business/article/0,8599,1942935,00.html)