Perfect Christmas Present Ideas for That Special Fireman on your Shopping List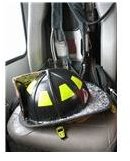 When trying to come up with ideas, use your imagination. Think about things that they can use on the job or that will mean a lot to them. Remember that while they, of course, like many of the same things anyone else would enjoy, you can make the gift more personal by remembering what they do for a living. Firemen are very dedicated to their job and it is a large part of their lives. Firemen are every day heroes, risking their lives to protect others.Think about the kind of gifts they'll appreciate and be able to use on a day to day basis, even though they spend a lot of time on the go.
Gifts From the Heart
Gifts from the heart are perfect for the fireman on your shopping list. To work in this job field, they obviously care about people. There are so many things you can do they will appreciate. Your special someone will be thankful you thought of them and did one of the following in their name:
Donate money to a charity that is either for firemen in general or for the families of firemen who lost his or her life in the line of duty.
Give your time to help with a fundraiser for the fire department or for a family who lost their home to a fire.
Donate clothes, toys, or other belongings to a family who is in need from losing precious items in a fire.
Gifts for Under the Tree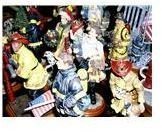 There are a lot of different things you can buy for a fireman that they will love unwrapping on Christmas morning. These Christmas present ideas may be just what you have been looking for. These are all inexpensive gifts that anyone can afford. Feel free to personalize anything that you purchase with the name of their fire department or the logo that they use. You can also find out their badge number and add it to your gifts to make it even more personal.
T-shirts about being a fireman
Figurines of firetrucks or firemen
Personalized blanket with the logo of the fire department that they work for everyday
Items such as a seat belt cutter, knife, or boots that they can use at work
Framed fireman poem (You can print this out yourself and save money.)
Mousepad with the logo of the fire department on it
Wii Game called Real Heroes: Firefighter (A Bright Hub review of this game can be found here).
Gifts for Taking Care of Themselves
Firemen need to take care of themselves and stay in shape to make sure they do a good job while out in the field. Here are some great ideas for Christmas presents for a fireman that can help them take care of their bodies.
Local gym membership
Hand weights to use at home
Membership to a local sports gym or store
Punching bag to hang up at home for workout
Be creative this Christmas when thinking of the fireman in your life. Choose one of these perfect Christmas gifts, or try some homemade craft ideas they're sure to enjoy.
Photo credits: