Cover Your Costs With These Fundraising Ideas for Dance Teams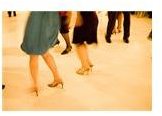 Fundraising ideas for dance teams can be useful to try when regular funding just isn't enough. Costumes, uniforms, and participating in competitions can be expensive, so holding various fundraisers can help offset costs. Get together as a team and decide which option will work best and bring in the most money in your area.
Dance Marathon
Hold a dance marathon at a local school or other location that has a wide open dance floor; ask for the place to donate the space instead of renting it out. In addition, ask local DJs if one would be willing to donate their time for the marathon. You can have the event open to everyone of every age or only to a specific school; for example, just the elementary school students or just the high school students. Send around flyers to the schools announcing the marathon and have each person return with a permission slip and money if they plan on attending. This offers the opportunity to bring in more money for those that pay and don't go or want to just make a donation but not participate. Make sure to also offer an option to pay at the door. Charge something almost everyone can afford, such as five or ten dollars per person. In the Bright Hub article about How to Raise Money for Schools, Jean Scheid suggests holding a themed dance.
Flash Mob
For those that have never heard of a flash mob, it is basically a large group of people that get together in a public place, do some type of quick performance, then disperse. This is a good option for a high school or college to do. Hand out DIY flyers and go by word of mouth to advertise the event. After getting permission from the school, have each person attending pay five or ten dollars to show up at the school gym and learn a short, choreographed routine. The entire event should take at least five hours between learning the routine and performing it, so offer baked goods and water to the performers. Choose a place where the flash mob will be seen, such as in the hallway during school hours or in an open quad area.
Dance Day
Many, if not all, of the members of the dance team probably have some form of professional dance training. If this is the case, have the members teach others how to learn some new dance moves. Offer it to a certain age group, people of all ages or different ages during specific times. Request the use of a large area, such as a school gym, then charge ten to twenty dollars for each person that wants to attend. One option is to teach a single choreographed routine; another option would be to break everyone up into specific sections, such as ballet in one corner and hip-hop in another where each group learns a different routine. They can all perform for each other at the end of the day or just learn the routines for their own benefit.
Fundraising ideas for dance teams don't necessarily have to involve a lot of money upfront. In many cases, having talent is enough to offer people something they would want to pay for. It is important to advertise as much as possible and in any way possible as Mike White suggests in his Bright Hub article on fundraising activities. To make sure the event goes smoothly, plan it out as carefully and as far in advance as possible to help increase the chance your efforts will work without any problems.
Sources:
Image credit to Stewart Butterfield
Sample contents.