What Are Some Alternatives to Wedding Cakes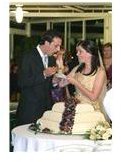 Don't Want a Wedding Cake?
The wedding cake has become traditional in American culture, from the images of the bride and groom shoving cake in each other's mouths to TV shows such as "The Cake Boss," but this doesn't mean there aren't alternatives to wedding cakes. In fact, some brides simply don't want a cake at their reception. Perhaps these brides don't like cake, they simply want to avoid traditional wedding practices, they feel no one will eat cake, or they don't like the fees their wedding reception hall charges for serving the cake. If the bride, groom, or family members suffer from Celiacs Disease or must stay on a gluten-free diet, cake has a lot of wheat and that may be another reason to skip the normal cake for the special day.
Maybe the bride and groom don't want to deal with the cost, which is an average of $543.00 for a basic wedding cake. For whatever reason, they may not want cake, and may be considering various wedding cake alternatives-- and there are a few great ones out there to choose from.
Presenting Delicious Alternatives
A wedding cake does offer reactions from wedding guests because of its beautiful presentation, and that reaction can be simulated with any of these alternatives to wedding cakes. For example, a bride and groom may decide that they want to chill wine or champagne glasses and fill them with any of these marvelous desserts:
Thick, creamy, chilled whipped cream topped with colorful, flavorful berries.
Various parfaits in a plethora of colors and flavors, including white chocolate, key lime, biscotti, and more.
Tiramisu, which can be a hugely popular alternative to cake. Tiramisu also comes in a variety of flavors, including regular, hazelnut, raspberry, and more.
Puddings, like coconut, rice, or wild rice puddings.
Mousse, including chocolate and lemon.
Crème Brule, again in a variety of flavors like regular, espresso, and more.
Flan, which can be presented in its original caramel or other flavors.
In each of these examples, glasses can be artfully presented for the same "wow" factor, and the dessert is delicious. Some of these items- like in season berries or pudding- can be less expensive, while others, such as a fancy mousse or tiramisu, may cost more depending on your catering package.
Bite Sized Pastry Alternatives
In addition to these glass desserts, you can serve uniquely shaped cream puffs, and other individual pastries as alternatives to wedding cakes, including:
Soufflés with custard
Funnel cakes
Baklava
Cinnamon rolls
Cannoli
Rum balls
The cost of these items will vary depending on the item and on who makes it. If you have a caterer prepare the foods, you can expect to pay more for soufflés than for a standard cake. Cinnamon rolls, on the other hand, could easily be prepared yourself from pre-prepared roles (especially for smaller weddings) or by a caterer at a relatively low cost. Cannoli can even be purchased at an Italian bakery.
Store Bought Alternatives
It May Sound Odd But….
Many brides have also stacked tiers of store-bought items, including:
Twinkies
Krispy Kreme Donuts
Moon Pies
Ding Dongs
HoHos
Sno Balls
These can be a cute option for a fun or casual wedding and can be one of the best money saving tips as you can prepare them yourself for a few cents per item. Guests will still enjoy the desert, perhaps even more than a more formal cake, and you don't have to break the bank or your wedding budget on a fancy cake that might not even taste as good as a favorite donut.
Don't Forget Chocolate
You may consider offering chocolate-dipped fruit as an alternative to cake. Others have offered chocolate fountains and truffles, as well as cookies and brownies decorated with the couples' initials. Basic chocolate offerings can be less expensive, but fancy items- like truffles- can be much more costly than a standard cake.
Pies
You can offer some custom-made and lovely pies as alternatives to wedding cake. White chocolate cream pies, peanut butter pies, and other flavors are sure to be a hit with the crowd. Again, the cost will depend upon who makes the pie and on what ingredients are used, with fruit tending to cost more than chocolate creams or peanut butters.
No matter which cake alternative you choose, you may want to retain the cake-cutting ceremony during your reception, as it is a celebrated time for couples to cut the desserts and feed each other.
References
Image from Morguefile.com
Reference: Cost Helper.com