Tricks to Throw a Great Cheap Party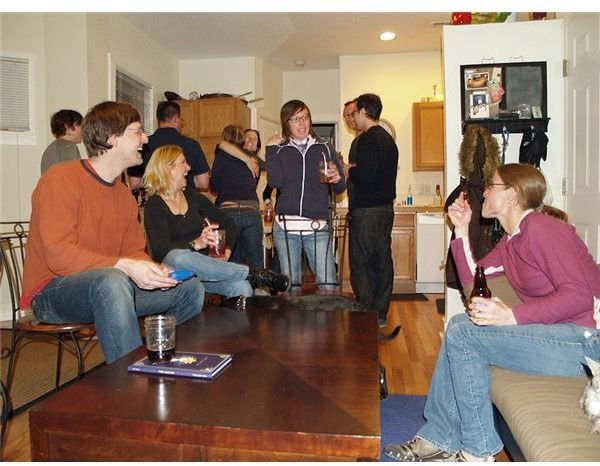 Cheap Party Invitations
Everyone wants to be known as a great party host or hostess, but some people don't even try because they are afraid of the expenses that come with party planning. There's no need to stand back from the party hosting arena—all that is needed to do is to learn how to make a perfect cheap party and suddenly, planning great parties is easy and inexpensive.
One of the biggest money savers can be done before the party even starts. Rather than sending out paper invitations, do e-invitations. Paper invitations cost money to buy, take a lot of time to write out and address, and then cost money for postage on top of everything else. Furthermore, people don't tend to RSVP as much with paper invitations. With e-invitations, the invitation is only written once and then fired off to all invitees. People RSVP because all they have to do is click "yes" or "no". This tip can easily save $50 or more.
Cheap Party Food and Decoration Themes
Food is one of the largest parts of a party's budget. To save money in this particularly expensive area, hosts can try a few different things. One great idea is to keep your buying local. In-season fruits and vegetables taste better and are less expensive. A vegetable and dip tray from the grocery store is expensive because of its convenience, and no one knows how long the food has been sitting there waiting to be purchased. Go to your local farmer's market, stock up on fresh fruits and vegetables, and serve on a pretty platter. Your guests will be able to taste the difference.
Another option is to tell guests that you are going to have a food sampling party. Everyone notices a strange or exotic food at the grocery store that they'd like to try, but few want to spend the money on a whole serving of it. A food tasting party gives people the chance to try those foods. By having everyone bring a new, fun food to your party, your food costs stay low and everyone gets to experience a wide variety of food.
If you'd like to give your party a theme, don't be tricked by the advertising—you don't need expensive decorations for your party to look great. For instance, consider a luau party in summer! Bananas in colorful bowls serve as centerpieces, and you can get grass skirts and leis for your guests. Grass skirts and leis can usually be found at a dollar store, along with inexpensive tropical glasses, decorative paper plates, and tropical paper cups.
A casino night is another fun option. Set up your tables with plain tablecloths and provide poker chips, decks of cards, and play money. These are all items that can be found very cheaply. Large paper dice cutouts, red and black balloons, and glow-in-the-dark decorations set the mood of a bustling Vegas casino.
Throwing a party can be easy and inexpensive if people know how. Saving money and time gives the host or hostess the opportunity to relax and kick back with friends while knowing that their party will be remembered for a long time.
References:
https://www.essortment.com/all/cheappartyidea_rota.htm
https://www.ruidoso.net/convention/theme_party_ideas.htm
Image Credits:
Wikipedia Commons - David Shankbone