A Guide to Fun Office Fundraising Ideas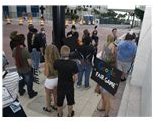 Not all fundraisers need to be serious or professional. You can have fun and a few good laughs along with raising some funds when you are doing it with your office colleagues to support any worthwhile charity. You'll need a bit of organizing and pre-planning to make your office fundraiser a great success while having a whale of time.
Planning for It
Plan how long it should be; whether it should be a quick one-day fundraiser or if it should be extended over a week ending in a grand finale of a fun-filled Friday. Determine entry fees per activity; you can make it $5 per activity and plan for some inexpensive prizes and try to to keep the incidentals low. Check whether vendors and suppliers who may be willing to sponsor the prizes.
Brainstorm for Ideas
After deciding the date, ask around in the office for innovative ideas to make it as fun-filled as possible. Make a list of feasible ideas. Try to have activities that will foster the community spirit and good cheer.
Basic Ideas
Here are some great and fun office fundraising ideas to help your event be successful:
Spelling/Quiz contest - Have the staff divide up in teams with a $5 entry fee/per head for a spelling/quiz contest. The winning team gets a free dessert coupon which can be redeemed on the final day.
Hold an Auction - Get everyone to donate a small item - if possible ethnic handcrafts - and auction creatively to get a good price for each one.
Themed Lunches - Pasta or spaghetti lunches in the office cafeteria that are charged per head and per dish.
Treasure Hunt - Plan a treasure hunt, after hiding an inexpensive prize with hints hidden at various places throughout the office and charge an entry fee; who finds the treasure gets the prize.
Hoopla Rings - All participants, with an entry fee, try to throw a number of rings over a target and who throws the maximum rings gets the prize.
Innovative Ideas
You can also try some of these innovative and fun office fundraising ideas:
Temporary Tattoos - Arrange to have funny and exotic temporary tattoos fixed for a fee placed on participants. They should be placed on the cheek or forehead to add to the fun.
Ugly Duckling - All participants, for a fee, should come dressed with the most ill-matched ensemble, in shocking color co-ordination. Have three senior colleagues to judge and offer an award to the most ugly-dressed colleague.
Bursting Balloons - Tie up blown balloons by threads swinging loose and free at a slightly higher level and ask the participants to burst them with hands tied behind their back holding a pencil by the teeth (a new pencil with sharp ends is best).
Photo Competition - Collect baby photos of all the colleagues and display on a board allotting numbers. All participants, for a fee, will guess which colleague matches the photo number on the display board. Whomever gets the maximum correct guesses wins the prize.
Walk the Ramp - A mock fashion show where a male and a female colleague will be paired off two by two. Female colleagues can help the male colleagues to dress up like ladies and walk the cat walk to win a prize. Senior colleges can be the judges. Offer a tinsel crown and scepter for the winning model and a scissors and measuring tape for the stylist as prizes.
Essential Tips:
Be sure to follow some of these essential tips:
Take a lot of snaps of all activities to have mementos of the day, include everybody so none feels left out.
Thank-you note cards to all participants.
Make it good clean fun and no malice or sarcasm to mar the party mood.
End with full dinner - of course paid per plate per person.
Donating our time, earnings and talents to make a fundraiser a great success is good way of sharing what we have with the less privileged. And to have a great time doing it encourages us to be more generous and to reach out to others fostering team-spirit and feel-good camaraderie among office colleagues. You'll be sure to have a profitable event if you utilize some of these fun office fundraising ideas.
Image Source: Wikimedia Commons