Picking the Best Mac Financial Software for Your Needs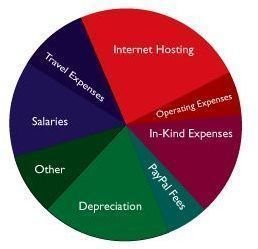 Getting Started and What Can You Afford?
If you've decided you're sick and tired of trying to keep track of your money with pencil and paper, before you rush to the store or to a popular website like Amazon to buy the latest and greatest software, stop to consider the following:
The best Mac financial software in the world is not going to help you if it requires more money than is appropriate for your personal spending plan. If you give up in frustration because it's just too hard to learn the program, then your best Mac financial software package will simply collect dust.
Before spending a dime, consider just how much you can really put toward this purchase. Also consider your level of computer skills when reviewing the available programs.
Image Credit WM Expenses Pie 2006 / Wikimedia Commons
Popular Options
When discussing Mac financial software, people often think of Quicken or QuickBooks. These programs are popular, but keep in mind that QuickBooks has entire training classes devoted to its use and even levels of certifications. Quicken may be easier to use in some cases, but may still be too complex for your needs.
Quicken Essentials for Mac - This is a popular option but some Amazon users give this program rather poor ratings due to alleged bugs and other issues. One advantage is that this version of Quicken categorizes transactions in an interface designed by Mac users. Despite some of its dismally poor ratings, Quicken Essentials for Mac was ranked #58 among best-selling software products as of 2010. If you purchase this version of Quicken, expect to spend around $50.
QuickBooks 2010 for Mac - This is yet another software brand name option that receives rather poor user ratings on Amazon. Also, the 2010 price of approximately $140 may limit some people from purchasing this program. It appears that this version of QuickBooks may also be more appropriate for people running a small business than managing a household. However, self-employed entrepreneurs may like some of this program's features such as time-tracking and management capabilities.
Not-So-Obvious Options
Some of the best Mac financial software, at least according to Amazon reviews and user ratings, may very well include some not-so-obvious options. Just a couple of possible choices are as follows:
iBank, produced by IGG Software, first hit the financial software market in late spring 2007. This also serves as investment portfolio software if you're dealing with stocks, bonds, mutual funds, and retirement accounts along with your banking and credit cards. The program also includes features such as check printing and password-protection of select data. You can also import data from both PC and Mac financial programs and export information to a variety of tax software programs. As of 2010, iBank cost approximately $50.
Moneydance 2010 may be a dream option for someone who not only uses Macs, but also Windows and/or Linux-based computers. One huge advantage Moneydance is its ability for users to download a free trial option before spending about $40 to buy the fully-licensed program. "Macworld" also awarded Moneydance 4 out of 5 "mice" and noted that the program is a great potential alternative to Quicken.