Renter Insurance for Businesses: Is Renter Insurance for a Business Necessary?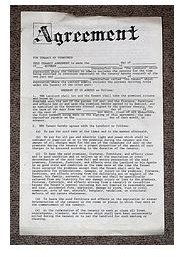 What Is Renter Insurance?
No matter how big or small your business, if you rent your business space from a landlord and have a rental contract, chances are you will need to obtain renters insurance. Renter insurance for businesses not only covers losses to your equipment, inventory, and work-related items, it also protects your business and your landlord against personal liability in case an accident occurs on the premises. Renter insurance can be quoted from almost any insurance company and the price will depend upon the type you purchase.
Image Credit: Agreement by Caro's Lines/Flickr Creative Commons
What Types Should You Consider?
To find out what type of renters insurance you need, first read your rental contract. If your landlord states they will not be responsible for any loss to your business equipment or other business items, you will need insurance to cover those. Your rental contract may also state you need to name the landlord as an additional insured. What this means if someone does get hurt while at your business, you are also insuring the landlord against personal liability for the accident.
More than not, your rental agreement may also say you are responsible for the upkeep, damage or failure of equipment such as plumbing, electrical, windows, or other building items. Most of the time, but not all, landlords are responsible for structural and roof problems because when they rent a space, they are claiming it is safe to rent and will not fall apart causing your business or you any damage.
To begin, make a checklist on what items of value you have in your business. You should list all equipment, inventory, rented, owned or leased credit card machines, cash registers, shelving or displays, signs, proprietary paperwork, safes, furniture and fixtures including computer equipment. Try and set a replacement and actual cash value for each item.
Your list should also include items like plumbing, electrical or anything else your rental agreement states you would need to repair if damaged. Ask the landlord for a list of what you are responsible for and to place a value on each item.
How to Obtain Renters Insurance
Once you have your checklist and list from your landlord, visit your insurance broker to get a quote on renter's business insurance. Only obtain what is required, especially if you already have business liability insurance. Ask if some of the items on your renter's insurance checklist will be covered under your business liability policy.
There is a difference between actual cash value and replacement value. Actual cash value will only cover what an item was considered to be worth at time of loss. Replacement value will pay for you to replace any loss of an item at the replacement cost or what it would cost to replace it, hence this is more expensive.
Shop for more than one quote and avoid insurance companies who attempt to talk you into coverage you don't need. Keep in mind that the higher the deductible, the lower the monthly premium cost will be. Another important tip to keep in mind that most business insurance policies offer "per-incident" clauses, meaning you will pay a deductible for each incident. For example, if you had a computer stolen one day and a fire destroyed a portion of your business the next day, each of these is considered a "separate incident," meaning you will have to pay a deductible on each loss.
Summing Up Renters Insurance
Every business has value, even if the space where it resides is rented. Before you obtain various quotes, make sure you have a good checklist of your business assets and a list of what your landlord expects you to maintain if damaged. By obtaining renter insurance for businesses, owners can have peace of mind they will be safe if theft, forces of nature, fire, or accidents come their way.