Cash For Clunkers: Find out The Rules and Details for the Cash for Clunkers Program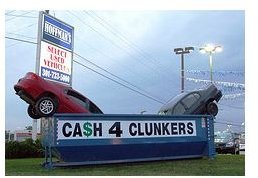 Cash for Clunkers: The Rules
The Cash for Clunkers program which runs until October 31, 2009 is an effort to get vehicles with a combined fuel efficiency of 18 gallons or lower off our highways. Initially, the government slated one billion for the Cash for Clunkers program but is expect to increase those funds to a total of three billion to help get more fuel efficient vehicles on the road. Good at both US and foreign automakers, only certain new vehicles are dedicated to the program; but there are many to choose from. The new vehicle purchased must get a combined fuel efficiency of 20 miles per gallon or higher. The Cash for Clunkers rules can be found at Cars.gov or we have posted them here. Beyond the new vehicle fuel efficiency stipulation, your clunker trade in must qualify under these rules:
The vehicle must be in drivable condition - no backyard junk cars.
The vehicle must have been continuously registered and insured in the state where you reside for at least one year.
The vehicle must have been manufactured no more than twenty-five years prior to qualify.
The vehicle must have a combined fuel efficiency of 18 miles per gallon or less.
Depending upon the new model you choose to purchase you'll receive savings of either $3500 or $4500 which is paid directly to the dealer. If the new vehicle you are purchasing also has manufacturer rebates, they can be applied to lessen the cost of the new vehicle even further.
Are There Problems With the Program?
There have been some concerns by dealers who have taken in clunkers and have not received their money from the government. This problem, a computer glitch that made it difficult for dealers to input sold and qualified vehicles, has been repaired. Dealers are now able to utilize the Cash for Clunkers computer entry system run by the DOT and receive funds within ten days from the date of input. Some dealers are still wary that if this program continues will it receive a total of three billion in promised funds; however, the Obama administration and the DOT remain dedicated to the program. This program will not only help consumers afford more fuel efficient vehicles, it is a great effort to stimulate the auto industry which took a hard hit in the economy downturn. To find out if a dealership near you is participating in the Cash for Clunkers program, call them and inquire.
What Happens to Your Clunker?
The Cash for Clunkers rules state that when the dealer receives either the $3500 or $4500 money from the government, they must utilize $50 of that money to have your traded-in clunker picked up by an authorized dismantler (junkyard). While the junkyard is allowed to sell certain parts of your clunker before it is destroyed, they are not allowed to sell the engine block. It is totally acceptable for you to take custom wheels or rims off of your clunker before you trade it in, but you are not allowed to remove any parts that are part of the original manufactured vehicle. Because concerned dealers are worried about receiving their government reimbursement in a timely manner, some dealerships are not participating in the program. If your dealership is not participating, find one that is; there are many. To be clear, the reason some dealers are not participating in the program is because dealers do not own the new vehicles on their lots. They are financially floored with a finance company. Once the vehicle is sold and leaves the lot, that financial company expects full and immediate payment for that vehicle. Dealers are afraid that their finance companies will not wait the ten days until they receive government funding to pay the financing company in full and their line of credits will be closed. The government and finance companies have been reassuring dealers almost daily that this will not be the case. However, some dealers are asking customers to sign a statement guaranteeing if the government money does not come through, that the customer will pay the either $3500 or $4500; or return the new vehicle. The problem here is that the clunker you traded in is most likely gone. To be safe, visit a dealership that does not ask you to sign a guarantee and read the Cash for Clunker Rules. Find out more about new car buying and what the dealer won't tell you by reading, Buying a New Car, What the Dealer Won't Tell You. Photo Credit: Cash 4 Clunkers by Grudnich