Learn How to Renew Certificate of Deposit in Microsoft Money

How to Renew a Certicate of Deposit in Microsoft Money
Microsoft has announced they are not supporting Microsoft Money anymore. However, if you have a copy, you may still find this article useful.
No matter what the economy, CDs (certificates of deposit) serve a stable, yet sometimes an over-conservative method of investing. Many small business owners as well as finance oriented homeowners continue to use Microsoft Money for home budgeting and investments. Microsoft recently announced that by the end of June 2009 it will stop selling Microsoft Money, but continue to support software upgrades and fixes through January 2011.
This being said, there is still ample utility in organizing and renewing one's CDs on his or her home computer after link-ups with local or national banks have been set-up securely per initial install features.
In an effort to simplify the process of renewing one's CD, this article aims at offering an easy to read process in renewing one's certificate of deposit investments on Microsoft Money (software has changed since the 90s so this guide works best for 2000 to present).
Initially, when one opens an account via an online or local bank via Microsoft Money's installation and network connection, a CD is purchased for a period ranging from three months to several years (standard CD timeframes). The process for renewing is as similar to the initial registering of one's CD.
When purchasing a CD, make sure it is logged in Microsoft Money. This process is as simple as entering the investment as a buy in the investment account set-up. After the CD matures for a payout, you access your account register via the MS Money tab. Next, you select redeem CD within the register.
Whenever the bank or financial institution adds interest related monies to your account, enter it into the account register as reinvest interest.
Before you renew the CD, check the different market rates to see if your institution is still offering competitive interest dividends. Quite often, banks change these rates in a dismally low fashion so you have to keep your eyes and analysis sharp. Daily examinations of bankrate's CD offerings is one method to keep abreast of interest rates.
When you have decided on a renewal within Microsoft Money, enter it in the account register as redemption of the old investment (your CD that just matured) and a buy of the new CD you decided upon after doing market research. Tip: Online banks tend to offer higher CD rates. Additional Tip: Sometimes CD rates will not be much higher than internet money market accounts; hence the whole CD research process becomes counterproductive.
The critical question a savvy investor should ask his or herself is whether the tenths of an interest difference in a CD (and the stipulated penalty if you cash in too early) is comparable to the liquidity of having a simple money market account?
Microsoft Money Troubleshooting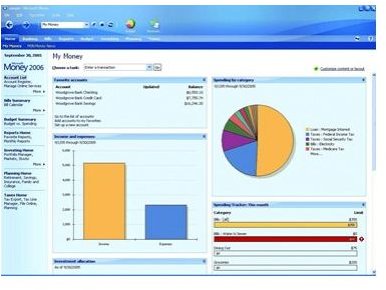 Additionally, when tracking the renewal of a CD on Microsoft Money, problems sometimes persist regarding interest payment values. The central point to remember is that Microsoft Money requires numerical values in all dollar-amount fields. If an interest payment is received (based on your first purchase) make sure you have zero or "0.00" rather than tabbing down to the next selection.
If you are still experiencing problems with renewing a certificate of deposit in earlier versions of Microsoft Money, please see Microsoft's support page.
In sum, when renewing CDs for current versions of Microsoft Money, the first step is to enter the redemption amount for interest gained on your CD that has matured and two, enter buy for any other CDs you purchase, including the renewal. This amounts to a total of two transactions.
Microsoft Money Discontinued.
Microsoft Money has been discontinued as a stand-alone and online application because of the prevalaence of online options for bank linking and personal finance management. Specifically, mint.com has provided an excellent alternative to Microsoft Money in that it auto links banking statements and conducts price comparisons for certificates of deposit.
For more information on mint.com as an alternative for renewing and comparing certificates of deposit, please see this article.