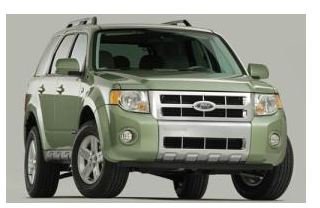 Be a Smart Online Car Shopper
Each day more and more online websites are offering car auctions where you bid to win the car. Dealers and companies like Auto Trader are also jumping on board. With so many places to choose from, what are the best tips for buying a car online?
CarFax - No matter what car interests you online, whether it's on eBay, from a dealer or another online website, before you bid or make an offer, ask for a CarFax report. Most sellers or dealers will give you one. If they don't you can visit CarFax and get a report on your own as long as you have the vehicle identification number or VIN number. CarFax charges $29.95 for one vehicle report; however, in the long run it's not that much to pay to find out if the car has had prior damage or a salvage title.
Compare Pricing - Search more than one website for pricing. Make sure you are comparing apples to apples. In our photograph of a 2009 Ford Escape Hybrid, you wouldn't want to compare it with a 2009 Ford Escape non-hybrid. The prices will be much different.
Apples to Apples - Consumers can be confused on how to compare apples to apples when buying a car online. Your best bet is to compare cars by visiting Edmunds and inserting the model and options on the vehicle. Edmunds will give you a retail value that is accurate and give you something to negotiate with.
Buying From a Dealer - If you are buying from a dealer or dealership, if it's a new car, ask the dealer to email or fax you the dealer invoice so you can truly see if you are getting a good deal. Dealer's should expect to make no more than $500 over their invoice price. That's the norm for online dealership car sales. Don't pay more than that.
Used Car Buying - It is essential that the company or seller you are buying the used vehicle from has a clear title with authorization to sell the car. Ask the seller to email or fax you the title. If a seller tells you they need the funds to payoff the car to get the title, skip that seller and find another one.
Things to Keep in Mind
The old saying, let the buyer beware is especially true when it comes to buying a car online. Use common sense, investigate, and take the time to research the vehicle you want to buy. Truly, you won't have anyone else to blame if the vehicle you buy turns out to be damaged, unrepairable or costly to repair. Here are things to keep in mind when buying a car online:
If the seller tells you the vehicle has extras that have been added, ask to see the invoices for those extras.
If you live close enough to the seller, ask if you can have a technician take a look at the vehicle before you buy it.
Test drive the vehicle first before you hand over those funds.
Skip the cars that have a shaky CarFax report; there are many others out there that don't.
If the vehicle you want to buy does need some repairs, get at least three estimates.
When comparing model prices, make sure to include the mileage. High mileage can affect the vehicle price.
Ask to see the repair history of the vehicle.
Find out about any warranty that may come with the vehicle whether it's new or used.
If you are buying a used or pre-owned vehicle, invest in a service contract to cover costly repairs.
Ask the online seller if they will pitch in toward your airfare to get the vehicle or shipping costs to ship the car to you.
Buying a car online is perfectly safe these days if you follow these tips for buying a car online.
Photo credit: Jean Scheid/Enchantment Ford