Finances and Downsizing: Could a Tiny Home Be the Right Investment for You?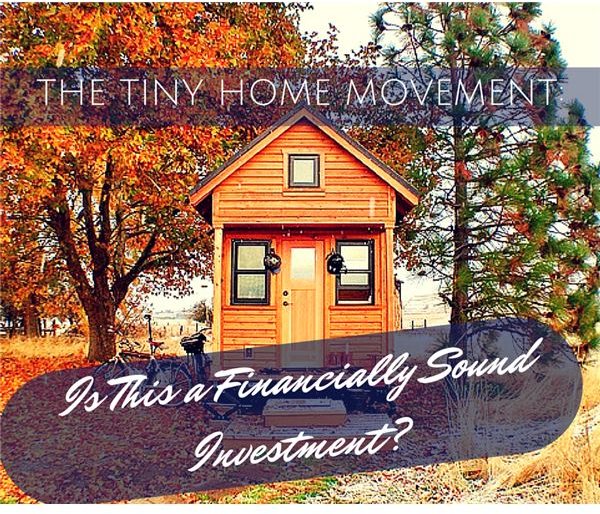 Tiny Homes Hitting the USA
Europeans in bustling cities have lived in tiny spaces for hundreds of years. If you want to live in a highly populous city such as London or Paris, you must quickly become accustomed to living in a space of a few hundred square feet.
Now the tiny house momentum is sweeping across America. But before you make the jump, there are many things to consider before committing to a tiny home.
First – what is a tiny home? Obviously, a home is a place where you live, but what defines the term "tiny?" A tiny home could be a mobile home or RV – many retirees choose to sell their "normal" sized home and travel the country in an RV. Others choose to hire a tiny homebuilder to build a custom home that just happens to be a great deal smaller than a traditional home. Others choose the DIY route and build their homes themselves.
Legality
RVs and mobile homes are perfectly legal as long as you are parking them in a park or community that allows for long term living. Typically, RV parks will only accept RVs or mobile homes built by a certified manufacturer. Some custom tiny home manufacturers are seeking certification so people can set up their homes in these mobile home parks.
Parking in spaces that are not specifically zoned for RV and mobile homes put you at risk of being asked to move your home. Since tiny homes are a relatively new fad in the US, many cities and towns don't have laws and ordinances that specifically cover these types of dwellings.
Before moving your home to a new city, check with the local city offices to see if they have any specific rules pertaining to tiny homes. Many cities will have a minimum dwelling size for their city. You may also want to talk to neighbors. If you are considering moving your home into an established neighborhood, consult with neighbors to see if they are okay with you moving a tiny home next door. Property values tend to go down in neighborhoods with smaller houses, so checking with potential neighbors before you move can save headaches down the road.
Investment
Most people investing in a tiny home are doing it for the active lifestyle tiny home living brings them. However, if you are thinking about money, tiny homes can be much more affordable than having a huge mortgage hanging over your head.
The bad news is that resale value of tiny homes is not very good. The market for tiny homes is considerably smaller than the traditional home market and thus with less demand, prices stay low.
When building or buying a tiny home, be sure to consider the cost of utility hookup – electricity, waste and water will all come with a price.
In wrapping up, whatever you decide to do, just make sure you do your research. Talk to the municipality and neighbors before moving, make sure you have utility hookup and parking space rental fees worked out to make sure owning a tiny home makes sense for you.
References