College Net Price Calculators: Decide If You Can Afford College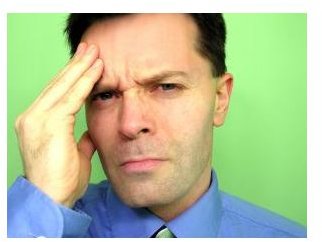 It's Time to Fret
Are you worried about how you're going to pay for your teenager to begin college next year or the year after? You can take some comfort in the fact that you're not alone. Some families living in the middle to lower income brackets worry over everything, but the truth is that people who fall into the upper middle class have to sweat it out, too. We all spend at least as much as we make, so it's unbearable to consider straining the family budget with that horrible four-letter word, c-o-l-l-e-g-e t-u-i-t-i-o-n.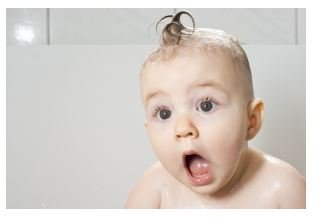 I guess that's not four letters, and it's not even one word, but you get my point. When my first baby was born, I thought she was expensive, but holy cow! I didn't even know the meaning of the word. Yes, diapers and formula cost money, but those were nothing compared to the senior year in high school. After all, you can buy a lot of diapers for the cost of designer jeans and a Vera Bradley suite of bags. Well, you might say, the jeans are reusable and the diapers weren't; but you certainly don't get off buying one pair of jeans. Or shoes. Or anything.
Costs associated with a teen ratchet steadily upward as he or she nears the senior year, and if you're like me, you're probably gritting your teeth or pulling out your hair from fretting. During this most expensive time, you certainly get no break from shelling out bucks for your teen's regular extracurricular activities, including lessons and costumes or sports gear or instruments.
However, the senior year really kicks off with the price of the senior photo package. Then you have to cough up something for the class ring as well as the multiple sittings for the best possible ACT or SAT scores. Don't forget the college application fees, the cap and gown—which we have to pay for in November—and, since it's the senior year, the deluxe edition of the yearbook. And then, there's the graduation party. I'm sure I've forgotten something!
A Way to Make an Educated Guess
Thank goodness for the college net price calculators that have popped up everywhere. If you're wondering why they've become so prevalent, it's because of the Higher Education Opportunity Act (HEOA) passed in 2008, which was basically a revamping of legislation dating back to 1965. The HEOA requires any college that participates in federal student aid programs to post one of these calculators on its website. And I'm liking them!
According to the law, the calculator must be "developed in a manner that enables current and prospective students, families, and consumers to determine an estimate of a current of prospective student's individual net price at a particular institution." (P.L. 110, sec 132(h)(1)) The net price is defined as the parental cost after subtracting any scholarships or grants. If your child will live on campus, that amount will be included, and grant money does not apply to that specific cost.
EFC, FAFSA, and Other Worrisome Words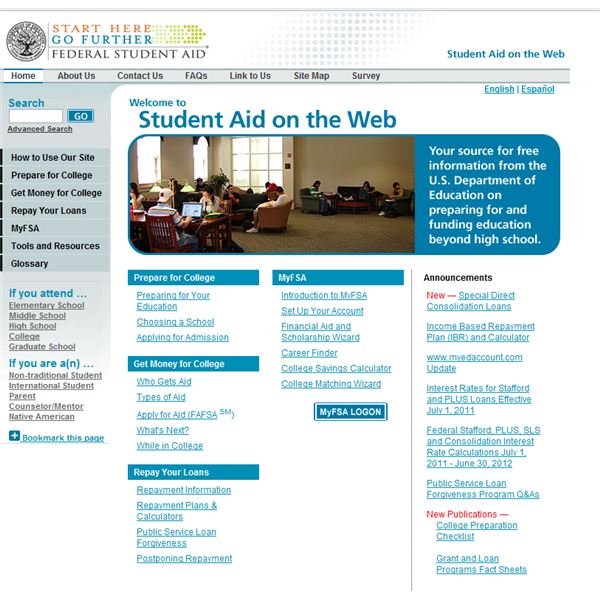 To understand how one works, you have to know what an EFC is. EFC means Expected Family Contribution, and it's a number assigned to you by the Department of Education when you submit on your child's behalf a Free Application for Federal Student Aid (FAFSA). Your EFC number is not the amount you have to pay; it represents where you fall on the scale. The lower your number, the less you are expected to pay.
When you complete a FAFSA, you will provide figures for your total household income, the number of dependents in your household and additional information. The Department of Education then determines just how much of your child's education you must pay for. At the time you submit your FAFSA, you will receive your estimated EFC, although the final number is not provided until you get a response to the FAFSA. Amounts from loans and work-study programs are not included.
By the way, here's a word to the wise here for parents looking for the FAFSA website. The correct URL is https://www.fafsa.ed.gov/. Do not be fooled by websites named FAFSA.com or FAFSA.net.
The net price calculators you'll find on the websites of various colleges are pretty similar. The government created a template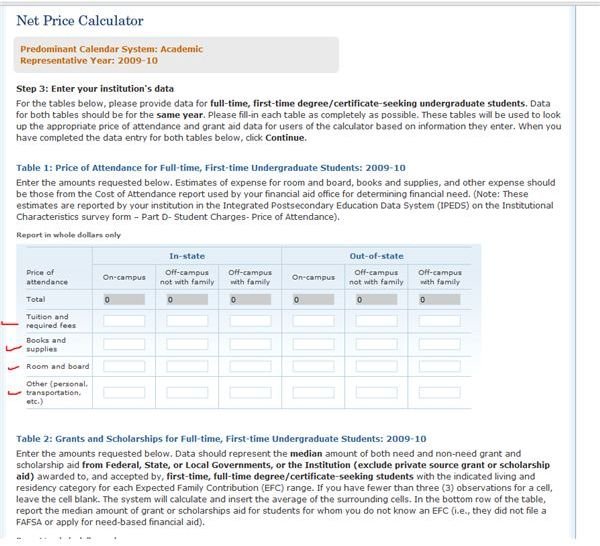 for financial aid officers to utilize as a basis for their college's calculator. Institutions are allowed leeway in style, and the template itself permits the institution to enter information that suits its specific metrics, such as estimated tuition, books, room and board, transportation, or in-state versus out-of-state costs. The screenshot to the right shows a page from the template as created by the government's National Center for Education Statistics.
Keep in mind you cannot even submit your FAFSA until January 1 or later. Even though you hear a lot of talk about filing your FAFSA early, you must have your income tax return ready before you can do the FAFSA. That's the very reason why the government mandated net price calculators: Students and families often want to finalize a college choice before the FAFSA can be submitted, but they really don't have a true idea of how much their various choices will cost.
How Do These Calculators Work?
The Institute for College Access and Success (TICAS) published a report critiquing calculators at 16 different colleges. The results showed that many of the calculators are easy to find and use, while others are tucked away. With some, it is possible to complete a quick check-off and get an answer, while others force parents to go digging for figures not readily at hand. TICAS also felt that some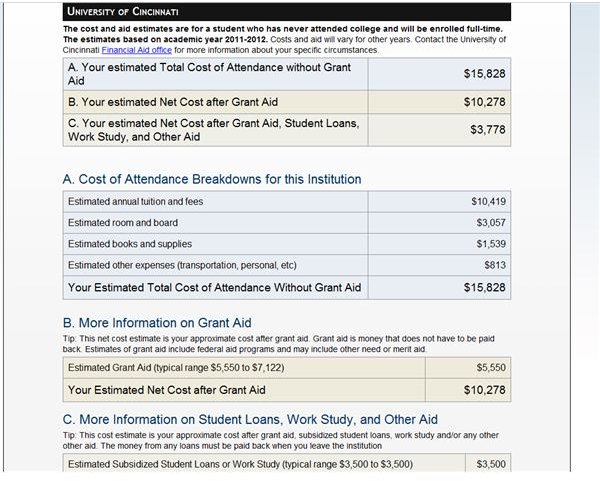 colleges skewed the results to optimize their own costs compared to those of other colleges. In some cases, TICAS felt that colleges asked for unnecessary information or failed to protect privacy. Unfortunately, you'll have to make do with whatever is available on your chosen college's website(s). I experimented with several to give you an idea how they work.
The first one I tried was at the University of Cincinnati. I visited the UC's home page, clicked on Admissions, then Financial Aid. I still couldn't find the calculator, so I put Net Price Calculator in the website's search bar, which brought me to the correct link. UC uses a calculator made available to it and to other colleges by CollegePortraits.org.
First, I had to click that I acknowledged and understood the legal disclaimer, which basically told me that the numbers I would get from the calculator would be estimates only and were not guaranteed—fair enough.
Questions included where the student will live, established state residency, and ascertained the basic demographics of age, marital status, and military experience. Next, I had to enter my income and the amount of taxes paid, then the student's income and amount of taxes paid. This calculator estimated grant money available to me at about $2,000 higher than other calculators—possibly one of those attempts to make the costs sound better than they actually will be.
The next two calculators were identical, clearly adapted straight from the NCES website. Grant money available was very similar on both of them; the cost of college for my child changed only because the University of Arizona charges higher tuition than the University of Akron.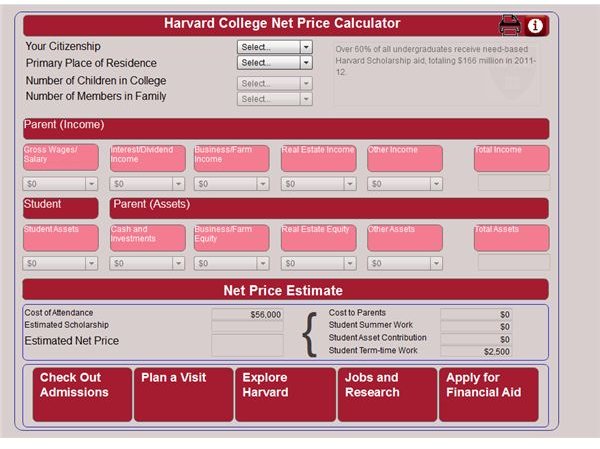 Next, I had fun at the Harvard University website. I tried inputting various figures: As a poor single parent making only $25,000 or earning in a little more at $50,000, my responsibility in both cases was estimated at $4,000. When I entered a salary of $110,000 with interest income of $2,500, my cost went up to $15,250.
The Harvard website pointedly stated that even if the parents are divorced, both parents are expected to pay toward the child's education, but the calculator did not prompt me for that information. In most cases, if you are a separated or divorced parent and your child lives with you, only your income will count toward the EFC.
I found similar results from the University of Pittsburgh's net price calculator. Ironically, Harvard offered an overall lower bill than any of the other universities. As I went to various websites, instead of going through various links searching for the calculator, I simply entered "net price calculator" in the website's search bar. None of the calculators asked for GPAs or ACT or SAT scores.
Here's a tip: When you file your income taxes, ask about getting a tax transcript from the IRS. You do not have to include one when you complete the FAFSA, but through the financial aid process parents are asked randomly to present this document.
I'll be using the calculator myself early in 2012—for my last expensive child—and I'll let you know how accurate it was for my family situation. I'd love to hear from parents who have used the calculator; how was your predicted EFC versus your actual EFC? If you've already gone through this process, please share your experiences below—they are bound to help someone else.
References