Creating Wedding Favors on a Budget to Help You Save for the Honeymoon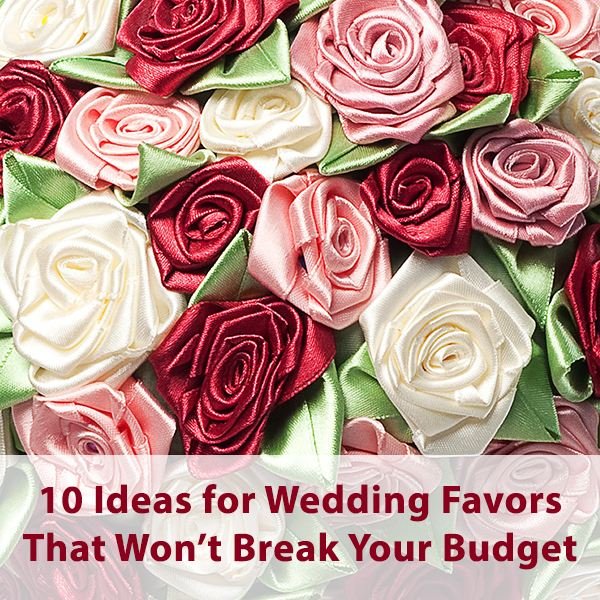 Do Yourself a Favor
The tradition of wedding favors has been practiced since 16th and 17th century English married couples presented laced and ribboned love knots to their guests; a "pre-thank you" for helping to celebrate the most important day of their lives. All over the world, wedding favors have been made and distributed using various materials, foods, themes, colors and have really reflected the culture of each bride and groom's background and upbringing. From Greece and Italy where they present chocolate or candy-coated almonds, to Malaysia and Russia where they hand out painted eggs and picture frames respectively, wedding favors have played a significant role in wedding planning and financing.
Over time, brides and grooms have had to prioritize and itemize the necessities to make their day as special as possible; from food selection to DJs and music to the place settings and favors that decorate the tables. In order to meet budget constraints, however, some things may just have to give.
But why the favors?
Homemade and purchased favors can be tastefully done with a limit in mind. By using inexpensive materials and putting your lovely bridesmaids to good use, you can produce the most beautiful, unique and classy wedding favors that suit your budget to a tee. So, do yourself a "favor" and follow these suggestions and ideas to make your wedding day a success!
1. Our Love Will Burn Forever
Candles are an easy and relatively inexpensive way to show your guests you care with a little elegance in mind. Candles not only represent unity of the couple, but are often a symbol of warmth and love when lit.
A good suggestion is to buy votive candle holders or tealight candle holders at a craft store (sometimes you can even find these at a dollar store or thrift store) and purchase the appropriate candle type to fit in it. You can then either wrap elegant fabric (faux silk, shimmery netting or lace) around them and tie with a ribbon or you could even paint and "stencil" them using stickers (shown in the photo below).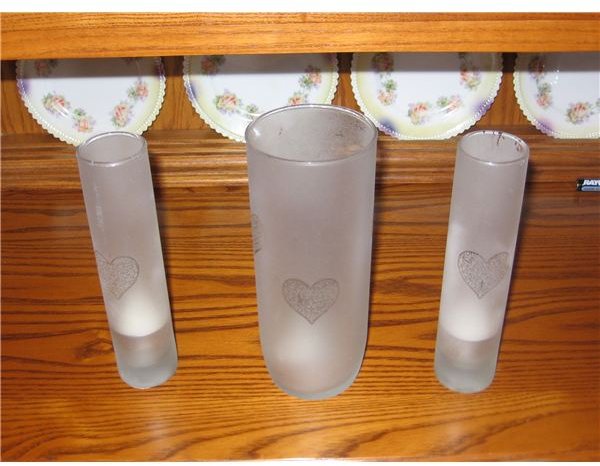 To make this favor, you will need:
Clear, glass cylindrical or votive candle holders (must be able to hold tea lights or votive candles)
Glass frosting spray (found at craft stores)
Stickers of choice
Tea light or votive candles
1. First make sure the glass is clean.
2. Put old newspaper or painter's plastic down on a table or floor (this would be preferably done outside or in a garage).
3. Place your stickers in the desired location(s) on your glass holder.
4. Spray on the frosting paint. Be sure to spray with the open side down so the paint does not get on the inside.
5. Let dry (I would suggest overnight.)
6. Peel of your sticker(s) and VOILA! You have just created a beautiful candle holder that will add both elegance and charm to your guests' tables both at the reception and in their kitchens.
2. Watch Our Love Grow
One of the most cost-friendly and eco-friendly wedding favors are flowers, bulbs and seeds. It is the simplest things in life that please people, and flowers/plants do just that.
You can purchase wildflower seed packets from companies like American Meadows and Wedding Packets where it can cost you less than $.50 a packet!
Places like Tulip World or even your local flower shop can provide you with a cheaper way to celebrate life through love. You can buy in bulk from these types of places and it could only cost you anywhere from $7-$10 for 20-30 bulbs at a time.
Purchasing the appropriate bulbs for the time of year or the upcoming season is a wise decision, so that your guests can plant them as soon as possible and it may go better with your wedding motif (i. e. decorations, flowers, etc.)
You could put the bulbs in a small gift box, a burlap bag (if it is autumn) or in a pastel-colored organza drawstring bag (which can also be purchased from craft stores or online).
Live, potted plants or flowers can also help to brighten the reception tables and bring joy to your families' hearts. Again, contacting your local garden centers are your best bet.
Another idea for a homemade favor is a potted, flowering pen. While not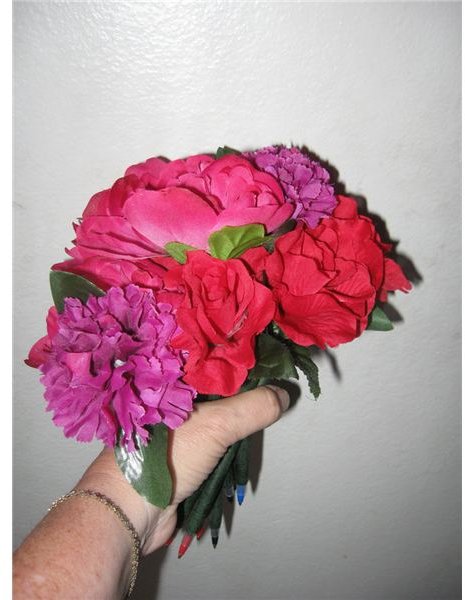 as eco-friendly, these still look cute on the tables! You would take ball point pens and wrap them with green flower tape. Then take the top off the pen and insert the stem into the pen casing and continue wrapping with tape so the flower stays secure. You could then purchase individual flower pots (from the dollar store) and craft, gardening foam (green or brown) to fill them with, and stick the pen in. It is really quite simple, cost-effective, and just plain darling!
3. Coasting into Love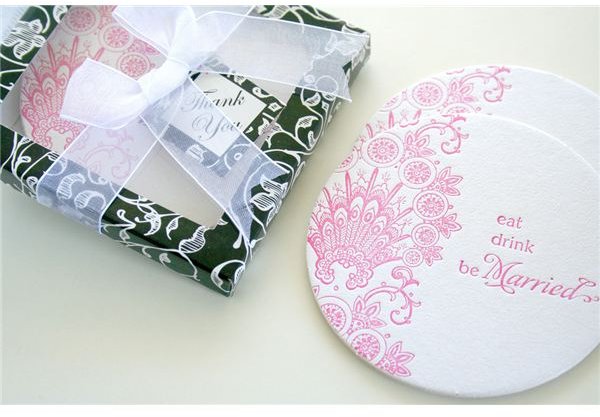 Making coasters is much cheaper than buying them, even from an online wholesale company. They can run around $7-$8 a piece. Instead, try making them by using scrapbook paper, card stock, or photos (keeping in mind they will be permanently affixed). Using decoupage glue and squares of ceramic titles (from a DIY store), you would brush on a layer of glue, then the paper or prints, then 3 more layers of glue until you get the right look, and then finally add a varnish or sealant to make them shine. When dried, you can add felt or cork to the bottom and you will end up with a unique and classy wedding favor.
You can also use scrap stone tile and rubber stamps or stencils with acrylic paint of an image and then seal it.
4. The Perfect Blend
Crafty meets economical with this wedding favor idea. Buy whole coffee beans in bulk. I would buy a blend that everyone may enjoy such as medium or medium dark with traditional flavor. Then fill mason jars with them (which can be purchased in all sizes from the dollar store, Walmart or in bulk online) and tie cute cafe-themed or wedding-themed ribbons around them with the saying, "The Perfect Blend" or "Warm Their Hearts with Love."
5. Preserve the Day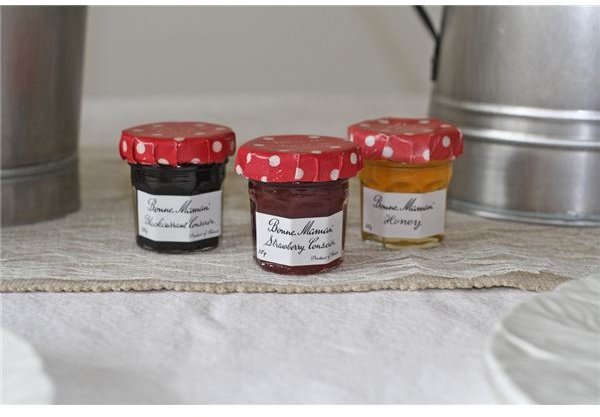 Mason jars can again be purchased (as mentioned above) to fill with homemade jam or preservatives. If you are a chef at heart, then this easy favor, while time-consuming, will help to save you a bit of cash. Canning jam will not only spark conversation amongst your guests but they will find it admirable that you took the time to make something from scratch. Tying ribbons or tulle around the jars or laying lace across the top will add a softer and refined touch.
6. Our Love "Shell" Last Forever
Often times, weddings will have a particular theme representing the couple's interests or time spent together building memories.
For a beach themed favor, you could make a sand ornament either from glass or from sand dollars themselves.
You could fill the glass ornament (which are inexpensive when purchased in larger quantities and during the off-season of Christmas) with sand and small shells. On the outside you could use a paint pen or glue and glitter and write your names and date on the outside. Thread a ribbon through the top and you have made a memento for your guests' Christmas trees. You can also buy sand dollars, which are very reasonable (costing only cents in cities by the beach and online through Quality Shells) and tie a ribbon through one of the holes making an ornament as well.
7. Recipes for a Happy Marriage
Making your own cookbook is easy, fun and cost-effective. It does require paper and ink, but there is nothing like asking friends and family to offer up some of their traditional recipes so that the bride and groom can start cooking for their new family. Nothing brings people together like food! Your relatives will love sharing and swapping ideas at the table while feeling a sense of pride.
Adding personal photos to the cover and within also adds a personal touch.
8. A Match Made in Heaven
Although smoking is being heavily regulated these days, matches are still considered a traditional wedding favor, and can come in handy on those stormy days when the power goes out. Personalized matchboxes can be ordered either in bulk or made at home using some generic matches (some places sell them for 10 for a dollar), thin card stock, a printer and scissors. All you need to do is remove the bottom (inner) box and then print out a label to size, and then glue it around the top of the ox by completely unfolding it. With a little glue and reassembly, you will have a clever little reminder from your special day.
9. Music Fills Our Hearts with Love
Celebrate the memory of your wedding day by making CDs for your guests of a selection of music played on that day. This will still cost you some money (for blank CDs, labels and cases, but it will be more affordable than purchasing them pre-made from an online company. It is nice to have a varied selection of songs so mix it up by adding fast dance songs, a few slow songs (including your wedding song) and a few songs that are popular and well-known by all. If your wedding had a theme (i.e. Hollywood or Broadway, Vegas, etc.), then you might want to include some songs in the style from those places. (i.e. jazz, big band, musicals, etc.)
10. Doesn't It Feel Great to Donate?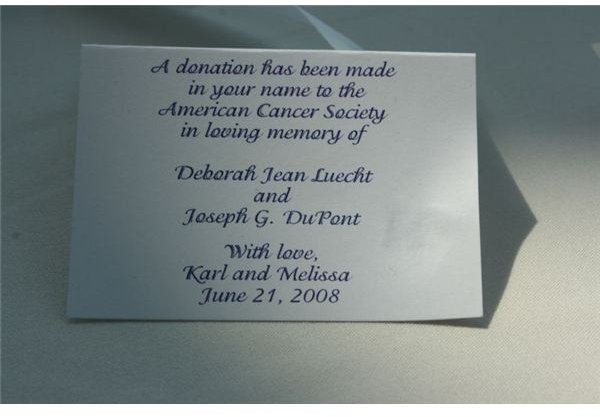 Donation cards are becoming the wave of the future in the wedding business. Due to the economic struggles of many engaged couples, they are now choosing to present donation cards as a hip and modern wedding favor. The nice thing about this idea, is that you can donate as much as you wish to the charity of your choice, and include all of your guests in the process by entering their names as part of the donation. This is especially honorable if you have lost someone in the family or know someone who is sick with a particular disease with an existing foundation (i.e. The American Cancer Society, American Diabetes Association, etc.)
On a personal note, my husband and I decided to give our guests personalized wine bottles with a donation card attached for the Foundation for Fighting Blindness, which is something near and dear to my heart. Our guests were impressed with such a gesture as the concept is very heart-felt by all.
A donation card will often read:
"A donation has been made in your name to the (charity) on this (day)."
All in Favor
Whether you are purchasing or creating your wedding favors on a budget, the options are plenty. Here are some added suggestions for saving:
When purchasing online or in stores, it is cheaper to buy in bulk. Your best bet is searching the Internet and through your local wholesale dealers, garden centers, etc. Even the Dollar Tree store products can be purchased in cases online.
Try to plan ahead so that you get discounts after the wedding season prior to yours. This way you can get all the best prices on what you are looking for.
Use craft store coupons to get those materials like the decoupage glue, paint, ribbon, etc.
The more you buy, the bigger the discount sometimes, so keep your eyes peeled.
The one thing to remember is, saving money can cost you time. Even though you may think that you have all the time in the world, it catches up to you fast, which means putting in some extra hours of craft time to get the bang for your buck. As I mentioned previously, put your bridesmaids and family members to work and you will be surprised at how many jars and candles you can crank out.
In no time, you will go from "All in Favor" to "Just Married", and will still have enough money in the bank to buy that extra bikini for your honeymoon.
If you have any more ideas to share, then please feel free to comment below.
References
Image: Donation Card by crosby_allison/Flickr under cc by NC-ND 2.0

Author's experience as a bridesmaid and bride

Homemade Wedding Favors, http://www.frugal-living-now.com/homemade-wedding-favors.html

Image: Frosted Candle Holders, courtesy of author

Image: Flower Pens by GraceFamily/Flickr under cc by 2.0

Wedding Favor Sayings and Wedding Favor Poems, http://www.the-wedding-information-site.com/wedding-favor-sayings.html#candles

Kabel, Michael. Giving Wedding Favors on a Budget, http://www.myweddingfavors.com/budget-favors.html

Image: Homemade Jam Jars by The Wedding of my dreams/Flickr under cc by NC-ND 2.0

History of Wedding Favors, http://www.yourultimateweddingfavors.com/history.html

Resources

DIY Frosted Baby Food Jars Tealights/Votive Candle Holders, http://community.babycenter.com/journal/jennanc22/2873265/diy_frosted_glass_baby_food_jar_tea_lightvotive_candle_holders

Unusual Wedding Favors, http://www.easytogrowbulbs.com/weddingfavorbulbs.aspx

Homemade Coasters, http://cravingsomecreativity.blogspot.com/2010/04/homemade-coasters.html

The History of Wedding Favors, http://www.bottleyourbrand.com/wedding-ideas/history-of-wedding-favors