Should I Sell My Wedding Dress or Keep It? What to Do With the Gown Once the Wedding Is Just a Memory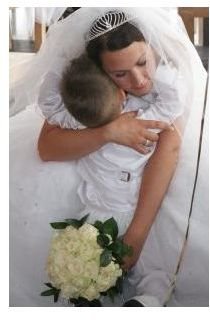 There is probably no greater thrill for most brides-to-be than the shopping expedition to find just the right gown for their special day. They spend hours or sometimes months poring over bridal magazines and catalogs, comparing fabric swatches, and visiting bridal shops.
Unfortunately, most never stop to think about what they will do with the wedding dress after the wedding. According to Indie Etiquette columnist Elise MacAdam, most simply end up keeping their dress.
"They keep it because they think they should and it gets old along with them," says MacAdam, who goes on to say that the sad reality is most will never find a use for their wedding dress after the wedding.
If you dread the thought of that oh-so-perfect but what do I do with it now gown taking up precious closet or attic space for decades to come, here's some ideas on ways to recoup some of your financial investment or preserve, reuse, recycle or repurpose it. While we can't make the final decision for you, we can give you enough information to help you make an informed decision.
Sell It
Do you want to sell the wedding dress but are unsure about how to price it? Preowned Wedding Dresses, which is a listing service that connects buyers and sellers, offers the following guidelines, which range in discount percentages depending on the condition of the dress:
If your dress is under two and one-half years old, consider pricing it 25 to 50 percent off retail.
Dresses that are between two and one-half to five years old should be priced around 35 to 60 percent off retail.
Gowns older than five years should be priced at 50 to 75 percent off retail.
According to the article "With This Ring I Thee Wed and Wed and Wed" (January 31, 2009), the average cost of a wedding gown was $1,075, so hypothetical you could be looking at recouping approximately $256 to $769 before paying any expenses related to the sale of the dress.
According to information found on Preowned Wedding Dresses, the average time it takes for a gown to sell using their service is 70 days.
Consignment Shops
Save yourself some time and valuable gas money by calling local consignments shops to see if they are currently accepting used wedding dresses. Ask about their requirements, pricing and payment policies and be sure to find out what will happen to your dress if it does not sell.
As a minimum, most consignment shops want fairly new items (roughly two to five years old) in contemporary styles that are cleaned and ready to wear. Some shops may ask to see the original sales receipt as a means of establishing price.
Auction Venues
Auctions sites like eBay offer exposure to potential buyers worldwide. You will need to register as a seller and fulfill all their requirements for listing your gown.
To help you get a faster sale, consider including lots of pictures of your gown taken from every possible angle. Write an attractive but completely factual description of the item and be sure to disclose any flaws, imperfections or damage. Selling the accessories pieces like the train, veil and/or headpieces and matching shoes might also help.
Repurpose It
Why not have your gown altered to fit you or a female relative? For instance, have a seamstress refashion it by altering the hem or sleeve length, removing the train , overskirts or crinolines. Remove the trimmings, wear it without the jacket or have a jacket made to accessory it.
Portions of the fabric, lace and other trimmings can be reused for many different purposes. For instance, many individuals repurpose the gowns into garments for infant baptisms, christenings, first communions or pageant gowns.
Because there is such a tremendous amount of yardage in a wedding gown, it can be used to create pillows, quilts, baby blankets or a bassinet canopy and bedding.
Donate It
There are several different options to consider for donating your gown. For instance, if the gown has been passed down from mother to daughter (or other female relations), it may have some historical value or significant because of its age. Contact your local historical society or history museum to see if they are interested in adding it to their collection of exhibits. Other individuals that might be interested in a wedding dress with a vintage style are civil war re-enactors or amateur theatre companies.
Organizations such as Goodwill or Salvation Army accept such donations and will use the sales proceeds according to their specific guidelines for such monies.
Making Memories Breast Cancer Foundation actively seeks bridal apparel donations and uses the proceeds to grant wishes for those who are not expected to survive their battle with breast cancer.
I Do Foundation matches couples with charitable opportunities. Your dress will be resold through one of their partners and twenty percent of the proceeds donated to your choice of a charity.
The Bridal Garden offers individuals a means to make a difference in a child's life. Proceeds from the sales of used gowns are used for the education of New York City children.
The Mary Madeline Project is a compassionate ministry that repurposes wedding gowns into infant burial gowns. These gowns are donated to hospitals to be provided to the bereaved families of these babies.
Destroy It
Destroying the gown after the wedding is a trendy but expensive option. Brides have been known to jump into swimming pools or mud pits, roll in the snow or engage in other destructive activities. Typically, the wedding photographer takes lots of pictures to immortalize this portion of the wedding events, which is called "Trash the Dress" or "Rock the Frock."
Wear It Again
Many women start a family tradition by wearing their dress for a special occasion like an anniversary or the renewing of vows. A repurposed dress is perfect for formal events such as the Captain's dinner on a cruise ship, black tie affairs, and formal balls. You can keep the original color or have it dyed to another shade.
Preserve It
If you find that, after all, you simply cannot part with your wedding gown, consider having it cleaned and preserved. According to an article in The Wall Street Journal by Deborah Lynn Blumberg, the cost for the preservation process can run from $136 to $356.
If you decide on this option, talk to several different companies and compare their services before making your final choice. The idea situation is to work with someone who is willing to take you through the experience step by step from explaining the process to you in detail to examining the gown and making recommendations for the best preservation method.
While services vary from vendor to vendor, most preservation companies will clean any stains, steam the gown, press it and preserve it in an acid-free, sealed box or container.
Whether you choose to keep, donate, reuse in some creative fashion, or sell the wedding dress, there's no denying the emotions that are connected to the perfect dress for that perfect day. Before you make a final (and perhaps irrevocable decision) about what to do with the dress after the wedding is over, make sure to take some time to consider all your options and any future ramifications of your ultimate decision.
References and Image Credits
Sachse, Anna, "What to do with your wedding dress after the big day," Daily News, (02/15/2009),
https://articles.nydailynews.com/2009-02-15/entertainment/17916130_1_wedding-dress-brides-against-breast-cancer-wedding-etiquette
Blumberg, Deborah Lynn, "After 'I Do," Can This Wedding Dress Be Saved?," July 6, 2011, The Wall Street Journal, https://online.wsj.com/article/SB10001424052702304760604576427881302862532.html
Preowned Wedding Dresses, https://www.preownedweddingdresses.com/general-information/about.html
Making Memories Breast Cancer Foundation, https://bridesagainstbreastcancer.org/
I Do Foundation, https://www.idofoundation.org/
The Bridal Garden, https://bridalgarden.org/about.html
Mary Madeline Project, https://marymadelineproject.org/
Kandel, Bethany, "With This Dress I Thee Wed and Wed and Wed," The New York Times, https://www.nytimes.com/2009/02/01/fashion/weddings/01fieldnotes.html
Image: Wedding Dress by fairy angel used under SXC's image license agreement