Wardrobe Remix: Why Investing in Mix and Match Separates Is a Smart Way to Build a Better Business Wardrobe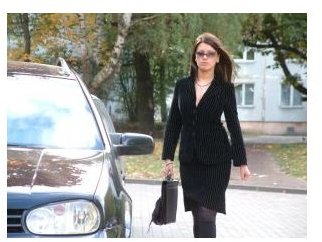 Career professionals at every level need versatile wardrobes to take them from boardrooms to brunches to family barbeques quickly and inexpensively.
To achieve this, you could opt to pay someone to pull together a working wardrobe for you in one neat but oh, so expensive package.
However, why not invest a little time and effort and learn how to do a wardrobe remix? This easy technique allows you to create a mix and match wardrobe that fits your lifestyle and your livelihood rather than settling for a one-size fits all cookie cutter plan. Here's how to get the look for less.
Stick to Basics
Purchasing basic corporate wear ensures that you always look stylish yet professional no matter where you are employed.
If you are working on an extremely tight budget, you can pull together a complete two-week working wardrobe with just two suits, which include slacks and skirts, some tops and an all-purpose dress.
Stick to neutral colors such as black, grey, khaki or navy for the suits. White suits are not a good option for small budget scenarios because they limit the mix and match combinations and do not look as professional as other neutrals.
If you are not currently employed but are interviewing for jobs, it's equally important to be dressed for success in the proper interview attire. Neutral colors and business suits are traditionally safe choices for such interviews and meetings.
Buy This, Not That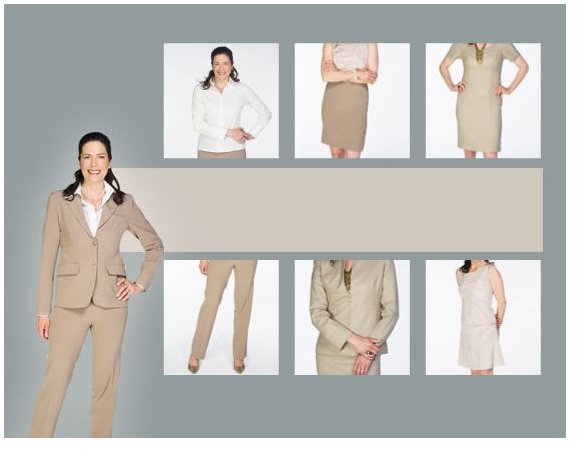 Perfectly Packed offers a complete eight piece wardrobe for about $1500:
Two jackets
Two suits
One pair of pants
Two tops
One dress
The price translates to an average garment cost of $188. Color choices include black and tan in sizes small, medium and large. The downside of this option is the narrow range of sizes, which does not accommodate the petite, tall or extended size woman.
Care for the individual pieces is dry clean or hand wash depending on the fabric. The garments are constructed with classic styling details such as notched labels and lined jackets. The fabrics are blends of wool, cotton and microfiber, which resist wrinkles and feels cool and comfortable.
Getting the Same for Cheaper
Let's see what it would cost to create our own version of this extremely versatile mix and match wardrobe by shopping at Lands' End. For the sake of an apple to apples comparison (as much as possible), we'll compare items from their suit separates line and regular inventory.

For an investment of approximately $658, we can buy:
One sleeveless shell in a choice of eight colors. Sizes range from regular to petite to plus, and prices from $26 to $35.
One long sleeve blouse in black, blue or white in sizes regular, petite, plus or maternity. Prices range from $28 to $32.
One pleat-front trousers in black or true navy. These slacks are available in a boot cut or plain front. Prices range from $90 to $95 and sizes from regular, petite, plus or maternity.
Two fully lined 24-inch skirts in black, true navy or light charcoal heather in sizes regular or plus. Prices range from $55 to $60.
Two blazers in black or true navy in sizes regular, petite, tall or plus (priced from $155 to $175). These blazers are available in one or two button styles.
One short sleeve dress in black or light charcoal heather in sizes regular, petite or plus. Prices range from $95 to $115.
As a plus, all the Lands' End garments are easy care machine washable wools.
Now that you know how the process works, you can design a wardrobe that fits your life and work style perfectly. For instance, if the corporate environment for your job is slanted toward slacks rather than suited skirts, plan your mix and match separates around blazers and pants.
If your budget allows, you can expand this bare-bones plan to include more tops in accent colors or prints, or add in a sweater or trench coat for added versatility and layering options.
If you like the idea of buying a total wardrobe that offers a multitude of combination variations but your finances won't stand a large initial cash outlay or you don't want to overload your credit card, consider buying from a merchant like QVC. You can pay for your purchases in convenient monthly installments and spread the cost over a longer period of time.
New Is Nice – But Not Necessary
It's always nice to get a new outfit and there are times when you just need some retail therapy. However, if you are building a working wardrobe on a budget, you may want to think twice about the cost effectiveness of purchasing new versus pre-worn garments. You can build a inexpensive mix and match wardrobe by shopping at local thrift or consignment shops.
While actual prices will vary depending on your geographic location, a pre-worn woman's suit from a thrift store can usually be purchased for under $10 or from a consignment shop for around $25 to $50.
To find the highest end bargains at the best price points, shop at thrift, secondhand and consignment shops located in upscale areas. Check the garment carefully and look for items easily repaired (think missing buttons or broken zippers) or altered (sleeve lengths or hemlines).
Look for designer labels such as:
Alexander McQueen
Anna Sui
Balenciaga
Burberry
Chanel
Chloe
Dior
DKNY
Dolce & Gabbana
Avoid garments with trendy designer details like unusual hemlines (think asymmetric or handkerchief hems) or extra wide lapels, piping or trims as these tend to date the look of apparel. Instead, focus on classic, timeless styles and designs that will be serviceable for years to come.
Take Virtual Shopping Sprees
Online browsing offers a lot more benefits than the convenience of being available 24/7 and avoiding the hassle of finding a parking space. With just a few clicks of the mouse, you can compare prices and find the lowest possible price point on the suit of your choice.
What's more, it gives you chance to become familiar with the signature styling techniques of a wide range of different fashion designers so you can train your eye. Once you know what features to look for, you can easily decide if a bargain garment is a good choice because of its classically tailored lines or a trendy style that will not have much fashion endurance.
Finally, because you are shopping online rather than in person, you avoid any high pressure sales techniques that might intimidate you into buying something you did not need or want.
Off-Price Bargains and Shopping Incentives
Off-price stores like Marshalls or T.J. Maxx are other venues to consider when you are building your business wardrobe as prices at these types of stores are typically about 50 to 75 percent off retail.
If you time your shopping trip at the right time of year, you can save even more on top of these already low prices because you'll be shopping when these merchants are moving out one season's inventory to prepare for the next. As a rule, you'll get the best prices on spring and summer fashions by shopping for them on the clearance racks during fall and winter and vice versa.
Other frugal ways to drive down your costs and get the most fashion for the least amount of money is by subscribing to e-mail lists and joining shopper's clubs. Many retailers offer web-only specials and sales or coupons for free shipping to their e-mail subscribers. Loyalty clubs where individuals buy a predetermined amount of garments and then get one free are thrifty ways to save.
The bottom line is you don't have to spend a million bucks to look fashionable and well-put together. By applying some or all of these tips and techniques to do a wardrobe remix, you can put together a hard-working wardrobe that will give you years of wear and enjoyment. With the money you save, you can afford to indulge in some luxury accessories like statement necklaces, designer scarves or matching handbags and shoes.
References and Image Credits
Author's personal experience as a Certified Image Consultant and personal shopper for corporate clients
Never Pay Retail edited by Sid Kirchheimer, Rodale Press (1996)
Images:
SXC, Stock photo by proc used under standard license agreement
Wardrobe, Perfectly Packed, https://perfectlypackedinc.com/
Land's End, https://www.landsend.com/pp/WashableWool1buttonBlazer~217276_59.html?bcc=y&action=order_more&sku_0=::BLA&CM_MERCH=IDX_Women-_-JacketsBlazers