How Do I Check My Bank Account Online? Learn How to Establish Your Online Account & Protect Your Data

Along with ATMs and direct deposit, Intenet banking makes it possible to conduct nearly all your banking business without ever setting foot inside a bank or credit union facility. Although you may be drawn toward the convenience of Internet banking, you may still have misgivings. Is banking online safe? What if my private information is abused?
In fact, most financial institutions have taken significant measures to ensure the security of their customers' online transactions. These measures, along with practicing common sense in handling your online banking business, often make online banking safer than traditional banking, according to ConsumerReports.org.
Checking Your Account Online
Before you can check your bank account online, you will probably need to regsiter your account or establish a profile. The process usually involves entering your bank account information and establishing a username, password and perhaps a security question to retrieve a lost password. If you have more than one account, you may need to establish profiles for each account, although this is not always the case.
Once you've established your online banking profile or username, checking your bank account is as easy as logging into your bank's online banking website. Your bank balances will be instantly visible. A few clicks of the mouse will bring up records of transactions made with your debit card, ATM transactions and cleared checks. You will also be able to access statements for past months and copies of check images. If you need copies for your financial or tax records, download the statement or check image and print it out. Check images are accepted as proof of payment by the IRS and in court. If your bank does not supply check images, you can request them if needed.
Many banks also feature online bill payment. You will probably need to register the account number for each of your bills with the bank's online banking website. To establish automatic bill payment, set a date each month for a withdrawal from your checking account. Electronic payments usually post within one or two days, but payments where the bank sends a physical check may require a week or longer, which means setting the withdrawal date well in advance of the due date for the bill. Your bank may also allow you to set up your online banking profile to authorize internal transfers between accounts. You can set up automatic transfers to take place on certain days of the month or when your checking account falls below a certain level. You may also manually transfer money between accounts or authorize external money transfers.
Safety Measures
Individual banks employ an array of security features for online banking. Besides basic features such as requiring passwords to log into the website, many banks employ 128-bit encryption for web-based transactions, and guarantee zero financial liabiity if your account is compromised, Consumer Reports states. Many banks require customers to establish profiles prior to conducting transactions online. You may be asked to register your computer so that it is "recognized" by the website for subsequent log-in sessions.
Customers may also be required to follow a sprecific sequence of steps every time they access their accounts, such as verifying a specific image they have chosen to associate with the account or answering security questions to which they have previously supplied responses. Other online websites will automatically log out customers whose browser windows remain idle for a specified length of time.
Keeping Your Online Banking Information Safe
No matter how well a financial institution protects its Internet banking operations, consumers bear some responsibility for keeping their own accounts safe. Only do do business with reputable banking institutions where your qualified deposits are insured against loss. The Federal Deposit Insurance Corporation (FDIC) and the National Credit Union Administration (NCUA) provide search engines on their respective websites to allow consumers to find information about individual institutions.
Before conducting any banking business online, consumers can employ a few simple cautions can minimize the risk of unauthorized transactions.
Never conduct banking business on a public computer. Avoid conducting online banking on your work computer or on your own computer anywhere but at home, Your Banking Guide warns. When you've finished your banking business, clear your browser cache and close the browser window you were using.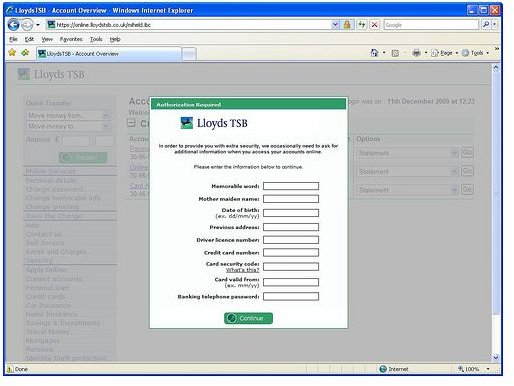 Install a firewall along with anti-virus and anti-spyware software on your computer and keep them up-to-date. Do not use personal information such as your birthday, name or any common words as the password to your online banking profile, and do not share your password with anyone.
If you receive an email message that claims to be from your bank, do not click on any links. Instead, type the URL of your bank's online banking website into the address bar of your browser and log in to check on your account. If you have questions after you log in, call your bank directly and alert them to the email message. If you suspect that your account has been compromised, contact the bank immediately and run a full virus check on your computer.
There you have it, you've learned how to set up and check your bank account online as well as protect yourself and your private data. Enjoy the ease and convenience of online banking!
References
Image credits: