Review Online Brokerage OptionsXpress Trading Web Platform
OptionXPress Review (5 out of 5)
Like many online brokerage firms, OptionsXpress is a discount brokerage service that provides an online trading platform primarily to investors who make their own investment decisions. Also like many online discount brokerage platforms it does provide limited trading advice and the ability to interact with a live person for those traders who seem cocky in the morning, but when it comes time to choose an online trading account, get squeamish at the thought of not having live broker backup.
Still, at its essence, OptionsXpress is designed to be a do it yourself trading platform, complete with multiple tools and utilities for the investor to use to help make investing decisions. Where OptionsXpress stands out from many other online trading firms is that those tools don't just stop at stock screeners and a retirement planner. While OptionsXpress does offer full stock trading services, it also is a premier online options trading company.
OptionsXpress has all the usual status screens with profit/loss, up/down status, account balance, trading power, real-time quotes and so on. It also has all the usual trading screens including market orders, limit orders, stop orders, stop limit orders, GTC, and so on. Again, as an options trading platform it has one of the easiest order entry screens in the industry for trading options, especially if you are looking to get a little fancier than just writing covered calls. Easy input for all the common option trades like spreads and straddles.
OptionsXpress also has some nice advanced trading features for both stock and options traders including the ability to enter trailing stops (which then automatically ratchet up or down) as well as triggering orders where one order triggers another order, or cancels another order.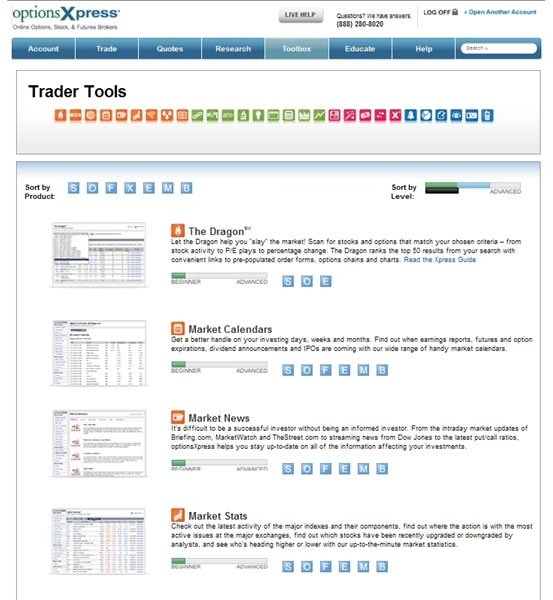 Where OptionsXpress really comes to play is with all of the tools and calculators it offers for traders who want to dig deep into the markets and find well researched trades, instead of just betting whether or not Google will go up.
They have all the usual stock screeners, of course, but what really sets the bar higher are how they go beyond the basics. The Dragon tool, for example, is a standard screen for investments that meet a trader's criteria, but what isn't standard are the number of things that can be screened against including percentage-based movement screens. Of course, The Dragon screens for options criteria too.
There are numerous tools aimed at options traders including Chains which allows an investor to view real-time quotes on each leg of almost any options strategy. No more opening up a dozen windows and clicking back and forth to see how thing are looking on a round-trip basis.
Various calculators and utilities calculate the profit or loss on your complicated trades for you so that you don't have to do it in the heat of the battle. Gone are those days where you thought that straddle would marry nicely with a put you have going elsewhere only to realize you didn't calculate it out quite right.
OptionsXpress new Xtend2 trading screen mimics those that sit on broker's desks all over the country. Load it up with whatever you need to keep an eye on, and then sit back and wait for it to choke your bandwidth (kidding, it doesn't seem to do that).
Barron's has given OptionsXpress its top rating every year since 2005, except one (2006). SmartMoney just ranked it 5 Stars (highest) for Trading Tools. No surprise there.
The great part about this is that despite all of the extras, OptionsXpress is priced competitively with other online trading platforms. Stock trades go down at $14.95 and Option trades come in at $15.00 with an exercise/assignment tack-on of $14.95 (like a regular stock trade). Opening an account to trade options or anything else involves the usual paperwork and signatures.
If you are looking for an online trading platform that offers everything you need not only to execute your trades, but also to find them, OptionsXpress deserves a serious look.