Stock Investing: Finding Stock Symbols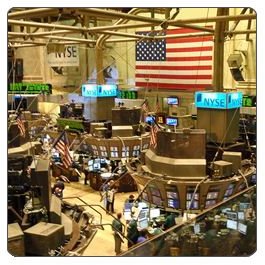 New Investors and Stock Symbols
For the beginning stock market investor, finding stock symbols for individual companies will speed up the process of finding stock prices and doing research. Most of the financial websites will help you find a particular stock symbol through their search function. However, these searches can give confusing results the the global nature of stock trading may leave you looking at a stock price tradint on a foreign exchange priced in a different currency.
A streaming stock ticker will only show stock symbols and the last trade price. Finding the stocks behind the symbols will make the ticker understandable. Also, once you get your brokerage account set up and some stocks purchased you will want to know the symbols for your holdings and companies that catch your interest for future investing.
U.S. Stock Symbols
Stock symbols in the United States are composed entirely of letters and can be differentiated between the two major stock exchanges: the New York Stock Exchange and the NASDAQ stock exchange. NYSE stock symbols can be composed of one, two or three letters. Stocks of old established companies may have one or two letter symbols. Examples are T for AT&T, F for Ford, C for Citigroup and GE for General Electric. The majority of NYSE listed companies will have three letter stock symbols. Large NYSE companies include Walmart, symbol WMT and Caterpillar, stock symbol CAT.
NASDAQ listed stock usually have a four letter stock symbol such as MSFT for Microsoft and AAPL for Apple. NASDAQ stocks may have a fifth letter, which is an indicator for a special circumstance for the listed shares. For example, fith letters A and B indicate class A and class B shares. The letter F indicates foreign stock shares and Y is the fifth letter for American depository receipt – ADR – shares.
Stock Symbol Resources
As noted above, the finacial websites like Yahoo Finance or Google Finance have pretty good search capability for finding stock symbols. However, there are a couple of resources that allow you to look up stock symbols by designated stock exchanges, alphabetically or reverse lookup using the symbol.
The NASDAQ website has a symbol lookup that covers NYSE, NASDAQ and over-the-counter stocks. The system also allows searching for mutual fund and option symbols. Here is the link for the NASDAQ Find Stock Symbols webpage.
Another very useful resource for stock symbol information is the eodata.com website. The site's Home Page has links for stock symbol lists for the major U.S. stock exchanges, foreign stock exchanges, futures trading, mutual funds and options.
Both of these stock symbol resources offer the ability to download the selected lists of symbols. For someone doing in-depth research into companies and their stock symbols, the download feature would allow the data to be used in different ways.
Resources
Quote.com: Symbol Help: https://www.quote.com/help/symhelp.jsp#nasdaq
eodata.com https://www.eoddata.com/Default.aspx
Image Credit: BlatantNews.com on Flickr, Creative Commons Attribution