Learn What Cyclical Stocks are and Understand Their Relationship to the Business Cycle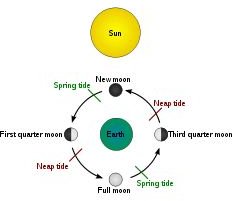 Many things in nature occur in cycles that can't be controlled by man, and have frequencies, magnitudes, and durations that can be similar to previous ones of the same order. The weather has the four seasons, the oceans have the ebbing and flowing of the tides
coinciding with the orbit of the moon, and the economy has business cycles that it repeatedly goes through, although the parameters of each cycle do have some variations from previous ones. Cyclical stocks are stock investments that react very sensitively to the economy's business cycle, and can be fortuitous for the knowledgeable, or disastrous for the ignorant.
What is the Business Cycle?
Cyclical stocks follow the rising and falling of the business cycle and the key to understanding them is knowing what the business cycle is and how it behaves. A business cycle goes through five stages:
growth (expansion)
peak
recession (contraction)
trough
recovery
The Growth Stage (Expansion)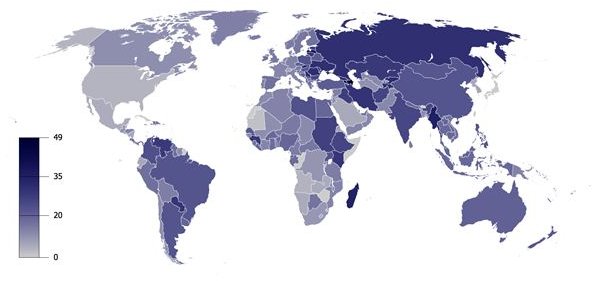 The growth, or expansion, stage of the business cycle is the movement of the economy from a trough to a peak, and is marked by relative stability as prices in the markets rise. Output increases in manufacturing and construction, wholesale-retail sales, and employment rises as unemployment falls. Stock market prices for cyclical stocks are reaching higher highs, and lows.
Expansions usually last more than one year. Four years are typical, but they have lasted up to ten years.
Peaks
The peak stage occurs when the economic expansion is ending and economic activity starts declining. It is usually the month before leading economic indicators like employment, output of goods and services, and retail sales begin falling. Stock market prices for cyclical stocks also stop climbing, no longer reaching higher highs and lows, and begin falling.
Recessions. What Everyone Dreads.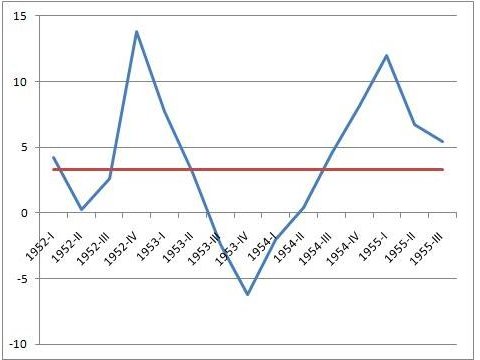 Recessions are the period of declining economic activity that follows the end of a peak. Economic indicators, such as, employment, retail sales, and the output of goods and services begin to fall. Unemployment rises, new construction slows down, incomes can decline, and the dollar can actually begin to lose value. Cyclical stocks also follow this pattern. Their prices start trending downward reaching lower highs and lows.
A recession lasts longer than two or three months and can last longer than a year.
Trough
The trough stage is an opposite, almost mirror image of what happens during a peak. The slowdown of business activity begins to halt and eventually reverse (bottom out) into a recovery period. Cyclical stock prices also stop declining, and begin hovering for awhile at an unsteady point of equilibrium before they begin to reverse.
Recovery
The recovery stage is the beginning of an increase in economic activity that follows the "bottom out" of a trough. Economic indicators begin to rise, indicating increases in employment, output of goods and services, and wholesale-retail sales. As consumers gain more confidence in the economy, they will most likely begin spending and further bolster a recovery into another growth (expansion) stage.
Once again, cyclical stocks will follow an economic recovery. Prices will begin to trend upward to reach higher highs, and lows.
Cyclical stocks are very important for investors to recognize when planning an investment strategy for a portfolio, and substantial profits can be realized from them. They also can generate devastating losses in some years if a portfolio is left unchanged.
References
Christina D. Romer, "Business Cycles," The Concise Encyclopedia on Economics, 2010. Library of Economics and Liberty, Retrieved October 7,2010 from the World Wide Web: https://www.econolib.org/cgi-bin/printcee.pl
undisclosed, "Cyclical Stock," Dictionary, 2010. Investiopedia, 2010. Retrieved October 17, 2010 from the World Wide Web: https://investopedia.com/terms/b/busiinesscycle.asp
undisclosed, "Expansion," Dictionary, 2010. Investiopedia, 2010. Retrieved October 17, 2010 from the World Wide Web: https://www.investopedia.com/terms/e/expansion.asp
undisclosed, "Peak", Dictionary, 2010. Investopedia, 2010. Retrieved October 17, 2010 from the World Wide Web: https://www.investopedia.com/terms/p/peak.asp
undisclosed, "Recession," Recession, 2010. Investiopedia, 2010. Retrieved October 17, 2010 from the World Wide Web: https://investopedia.com/terms/r/recession.asp
undisclosed, "Trough", Dictionary, 2010. Investopedia, 2010. Retrieved October 17, 2010 from the World Wide Web: https://www.investopedia.com/terms/t/trough.asp
undisclosed, "Business Cycle Indicators," 2010. Investopedia, 2010. Investiopedia, 2010. Retrieved October 17, 2010 from the World Wide Web: https://investopedia.com/terms/b/bci.asp
undisclosed, "Cyclical Versus Non-Cyclical Stocks," 2010. Investopedia, 2010. Retrieved October 17, 2010 from the World Wide Web: https://investopedia.com/articles/00/082800.asp