Oil Futures: History of Oil Futures Prices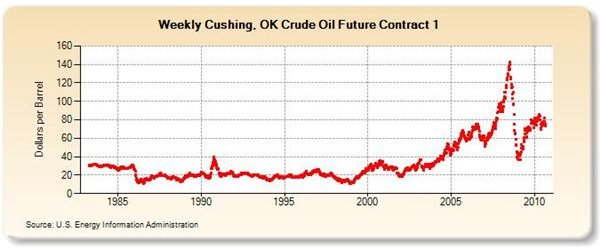 Importance of Oil Futures
The major financial cable channels, newspapers and websites all provide quotes on the current price of oil futures. A knowledge of the history of the price of oil futures can be used to judge many aspects of the economy and in what direction it might be headed. The U.S. consumes approximately 20 million barrels of oil every day. At $100 a barrel that is $2 billion worth of daily economic activity even before the oil is turned into gasoline, diesel fuel, heating oil and chemicals.
Crude oil futures pricing data provided by the U.S. Energy Information Administration starts in April 1983. Through 2010, this is 28 years worth of oil price information. Oil futures contracts are on the price of West Texas Intermediate crude oil.
Oil Futures – The 1980's and 1990's
The price data on oil futures starts with crude oil at $30.50 per barrel. This was halfway through the first term for President Reagan. Oil remained in a range of $25 to $30 until the end of 1985. In early 1986, the oil futures contract dropped below $20 per barrel and did not permanently move above $20 again until mid 1990. During this period oil traded below $15, a significant amount of time.The low price of the 1980's was in July of 1986, when the weekly price data shows an average contract price of $11.11 for a barrel of oil.
The first Gulf War caused a spike in the oil futures that started in August 1990. The price went from around $20 up to over $39 per barrel in about 10 weeks. The spike was short lived and oil futures were back below $20 by February of 1991. The balance of the 1990's saw oil mostly around $20 per barrel. The price dropped back below $15 for a few months in 1998 and oil futures closed out 1999 at $26.31.
Oil Futures in the 21st Century
Oil futures stayed in the $25 to $35 per barrel range until early 2004. The $40 level was first breached in May of 2004. This marked the start of a record setting price climb that peaked four years later in May 2008. Here are the months when the oil futures price hit significant price levels:
$50 per barrel: February 2005.
$60 per barrel: July 2005.
$80 per barrel: Sept 2007.
$100 per barrel: February 2008.
$130 per barrel: May 2008.
The oil futures contract peaked at $145.29 on July 3, 2008. At that point the bubble in oil prices burst and the price was back under $100 by October and Christmas 2008 saw the oil futures under $40 per barrel. 2009 saw the oil futures steadily climb back up to $75 and the first nine months of 2010 had the futures in a trading range of $70 into the low $80's.
Resources
CIA World Factbook: Oil Consumption: https://www.cia.gov/library/publications/the-world-factbook/rankorder/2174rank.html
U.S. Energy Information Administration: https://www.eia.doe.gov/dnav/pet/hist/LeafHandler.ashx?n=pet&s=rclc1&f=m
Photo Credit: U.S. Energy Information Administration