Best Organic Food Stocks - Investing in Organic Companies and the Niche Market for Natural Food Products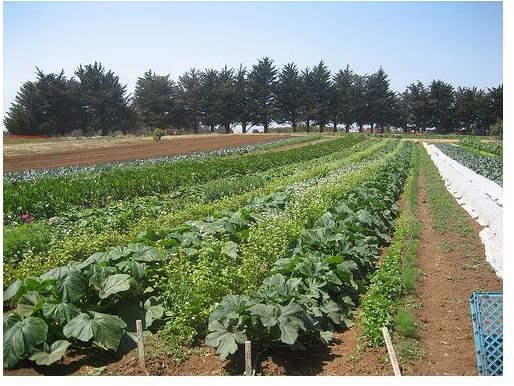 What is Organic? - Understanding the Organic Food Chain
Investors thinking about buying the best organic food stocks should first make sure that they understand what the term organic means. To be classified as an organic food in the United States, organic production, handling, and labeling must meet the requirements of the Organic Foods Production Act of 1990 and the standards established by the National Organic Program. These standards require that organic growers and handlers be certified by third-party state or private agencies or other organizations that are accredited by United States Department of Agriculture (USDA).
To be labeled organic and authorized to display the USDA organic seal, the organic food must contain at least 95 percent organic ingredients. However, these restrictions do not apply if the label states that the product is "natural "or contains "natural ingredients," which has become a widely used marketing technique to entice health-conscience consumers to favorably view the product.
Image Credit: UCSC Organic Farm Rows by davidsilver at https://www.flickr.com/photos/66267550@N00/2699500145
The Investment Crave for Organic Food Stocks
The investment interest in the best organic food stocks is not surprising considering the remarkable rise in demand for organic foods during the last few years, and the expectations that organic foods will continue to appeal to the taste buds of consumers. A survey conducted in 2008 by the Organic Trade Association of over 200 manufacturers, distributors and retailers about the organic industry in 2008 showed that sales of organic products, both food and and non-food, have grown from $1 billion in 1990 to an estimated $24.6 billion in 2008, Organic food sales alone rose 15.8 percent, totaling $22.9 billion, and accounting for 93 percent of all organic product sales. These numbers suggest that people's perception of organics as "must haves" is beginning to gain traction. However, many critics still question whether organics are too expensive to hold onto more budget conscience consumers who have emerged as a result of one of the greatest recessions since the Great Depression,
Top Organic Food Stocks
In analyzing the food chain of the organic companies, it is important to note that many organic food brands are produced or distributed by well-known global food industry giants. Here are few examples of several well-known conventional food producers, who have recently been expanding their product selection into the organic realm.
Traditional Food Stocks with Organic Brand Extensions
Green Mountain Coffee Roasters, Inc. (Symbol: GMCR) is recognized for its award-winning coffees, popular single-cup brewing technology, and socially responsible business practices. Even during the recent recession Green Mountain's growth continued to percolate with net sales up 61 percent in 2009. The company roasts and packages over 40 certified organic and Fair Trade Certified coffee selections and their operations has penetrated into supermarkets, specialty food stores, restaurants, and offices.
Campbell Soup Company (Symbol: CPB), has a flagship of organic products, including Wolfgang Puck Organic Soups, Campbell's Organic Tomato Juice, Organic V8 Vegetable Juice, Organic Prego Pasta Sauces, Organic Pace Picante Sauces, Swanson's Organic Broths, and Campbell's Organic Select Soups. In 2009, sales of the organic product line rose 3%.
J.M. Smucker Company (Symbol: SJM) is the leading marketer and manufacturer of fruit spreads, retail packaged coffee, peanut butter, shortening and oils, ice cream toppings, sweetened condensed milk, and beverages in North America. The company offers an organic or natural food alternative for many of its popular products.
For investors with an appetite for companies that are exclusively focused on capturing the niche markets for organic and natural food products, the following list represents some of strongest participants in the sector:
Organic Food Stocks (Pure Plays)
Hain Celestial Group (Symbol: HAIN) sells under many well-recognized organic brands, including Arrowhead Mills, DeBoles, Garden of Eatin', Health Valley, and Spectrum.
United Natural Foods, Inc. (Symbol: UNFI) distributes natural, organic, and specialty foods throughout the United States and to more than 40 other countries.
Whole Foods Market (Symbol: WFMI) is the world's leading natural and organic foods supermarket and America's first national certified organic grocer.The company has 270 stores in North America and the United Kingdom.
Sun Opta, Inc. (Symbol: STKL) specializes in sourcing, processing and distribution of natural and organic food products integrated from seed through packaged products.
Because "everyone has to eat" and consumers have beome more "health-conscience," organic food stocks offer a compelling story for investors. However, investors may also want to adopt an a la carte strategy when buying the best organic food stocks until it becomes clearer what the consumers' palate is for organic foods following the recent recession.
Resources
National Organic Program, USDA Agricultural Marketing Service: https://www.ams.usda.gov/AMSv1.0/NOP
Organic Trade Association's Organic Food Pages: https://www.theorganicpages.com/topo/publiccompanies.html
This post is part of the series: Environmental Stocks
If you are interested in learning more about environmental stocks, such as green investments, wind energy, or organic foods then find your answers here.