Investing In Wind Turbines - Top Stock Picks of Manufacturers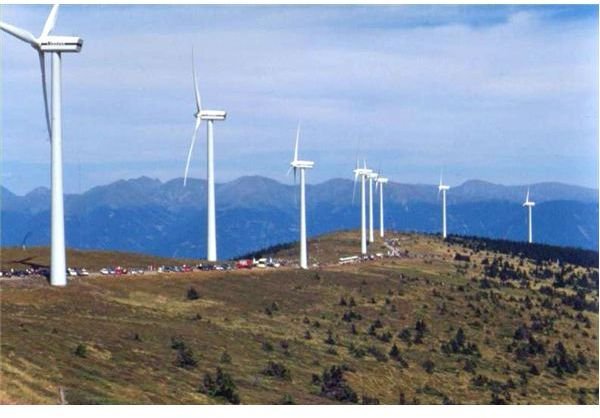 The Growth Potential for Investing in Wind Turbines
The wind power sector is the fastest growing electricity generation technology and gaining traction as the leading alternative energy choice. The level of annually installed capacity has grown at an average rate of 27.6% for the past five years, and for normally windy locations, wind power has reached parity with gas and "new coal-fired" electricity in terms of cost. One of the best ways for investors wanting to capture the windfall profits from this growing industry is to buy stocks in companies that manufacture wind turbines or certain key components of the wind turbine mechanism, such as the tower, ball bearings, gear boxes, and carbon filters.
Investors who want some exposure to wind energy may not have far to look as many global diversified companies now construct wind turbines as part of their portfolio of energy products and services. Diversified companies may offer certain advantages because of their financial strength, established customer basis, community presence, and a large research and development department, enabling the companies to continuously improve the reliability, performance, and flexibility of their wind turbine technology. However, for investors who are set on committing their capital to investing in wind turbines through manufacturers that exclusively construct and service these towers, there are many good pure play choices.
Top Ten Wind Turbine Stocks
---
Vestas Wind Systems (Symbol:VWSYF:PK**) is a Danish vertically integrated company whose core business comprises the development, manufacture, sale, and maintenance of wind technology. With over 40,000 wind turbines in service in 65 countries, they have rightfully earned their ranking as the world leader in delivering wind energy. In 2008, Vestas installed a new turbine every three hours worldwide, generating more than 60 million MWh a year, enough power to provide electricity for every household in a country the size of Spain, a population of 45 million.

GE Energy (Symbol:GE), as subsidiary of GE, another diversified global company, is the second leading manufacturer of large wind turbines and has been steadily gaining market share. The company has installed 13,500 wind turbine worldwide, comprising more than 218 million operating hours and 127,000 GWh of energy produced.

Siemens (Symbol:SI), a German integrated technology company, has a portfolio of 7,793 wind turbines products and leads the world in offshore technology.

Suzlon Energy (Symbol: 532667-India) is India's largest wind turbine generator manufacturer, a market leader in Asia, and the third largest wind turbine manufacturer in the world after its acquisition of German REpower in 2007.

Gamesa (Symbol: GAM-Spain), headquartered in Victoria Spain, is ranked fourth in market share and is a leader in Spain in the manufacture, sale, and installation of wind turbines.
Above right: Wind Turbine. (Supplied by Hydro at Wikimedia Commons; GNU Free Documentation License; https://commons.wikimedia.org/wiki/File:Tauernwindpark.jpg/Kwerdenker)
Broadwind Energy (Symbol:BWEN), is a leading supplier for the construction of wind turbines as a manufacturer of gearboxes. Recently the company announced its expansion plans to become the first independent supplier of wind energy products and services to offer enhanced MW gearbox repair and refurbishment capabilities in North America.

Kaydon Corp,(Symbol: KDN) produces a variety of light, medium, and heavy duty bearings used in many fields and applications, including aviation, aerospace, robotics, machine tools, construction, scanner and surveillance devices, and medical equipment. Kaydon is North America's leading supplier of wind turbine bearings.

Zoltek Companies, Inc. (Symbol: ZOLT), is a supplier of carbon filters which have been manufactured for the use in the aerospace industry and now have wide-range applications in the construction of wind turbine blades. The company recently announced that it has been named 2009 "Supplier of the Year" by Vestas Blades A/S, the blade manufacturing division of Vestas Wind Systems.

Thomas and Betts Corporation (Symbol: TNB) is not only well-known business in electrical industry but also moonlights in the production of the large wind towers, which comprises approximately 10 percent of its business.

Trinity Industries (Symbol: TRN) produces wind towers through a wholly owned subsidiary called Trinity Structural Towers Inc. The company also provides various steel turbine components, concrete and aggregates, product transportation and specialized coatings.
By investing in wind turbines through the addition of one or two of these stocks to your current portfolio, you will get exposure to one of the leading alternative energy resources with a potential annual growth rate of 15.7% through 2013. This strategic move may prove to be not only good for your financial health but also good for the health of the environment.
Resources
"World Market Update 2008," BTM Consult Aps: https://www.btm.dk/news/world+market+update+2008+forecast+2009-2013/?s=9&p=&n=6
Wind Energy Publicly Traded Companies in the World: https://energy.sourceguides.com/businesses/byP/wRP/byB/public/public.shtml
Environmental Stocks
If you are interested in learning more about environmental stocks, such as green investments and wind energy, then find your answers here.
Top Ten Stocks for Investing in Wind Turbines
This post is part of the series: Environmental Stocks
If you are interested in learning more about environmental stocks, such as green investments, wind energy, or organic foods then find your answers here.