Best Way to Invest a Small Amount of Money - Options Such as High-Yield Checking Accounts, Discount Broker Programs and Investing Into a 401(k)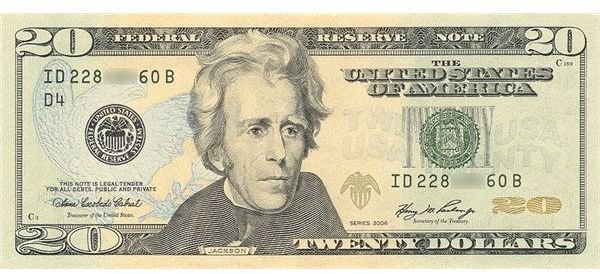 Discount Broker Investments
Not everyone can come up with the necessary funds to make larger investments into the stock market. However, the average return on investments into the market can garner as much as 11 percent. This means that the benefits of finding a way to place some money into securities may be the best way to invest small amount of money. If you find yourself with only a small amount of money each month, you may consider opening up an automatic investment program with a discount broker.
Many online options exist that can make use of as little as $100 per month. While companies still charge a brokerage fee for this option, the overall benefits can far outweigh the negatives in the long run. Plus, if you start early in your life, this can be a great option to build up the capital to make larger stock purchases down the road.
Above right: $20 bill. (Supplied by MikeSwanson at Wikimedia Commons; Public Domain; https://upload.wikimedia.org/wikipedia/commons/7/79/US_%2420_Series_2006_Obverse.jpg)
Invest in Education
Sometimes we find ourselves with just a little extra money one month. Maybe this comes in the form of a small bonus from work, birthday money from parents or even just an extra $100 in your bank account for which you have no plans. One of the best ways to invest small amount of money for long-term financial health is to invest in yourself. Taking a personal finance class or a seminar may be a great way to advance your knowledge about investing. You can learn new ways to control your spending habits or the best way to generate money for retirement.
Small Business Investment
In the modern age of the Internet and online sales, one of the best ways to invest small amount of money may be to set up a low-cost small business. This can come in the form of an informational website making use of advertising revenue, a small eBay-based business or even merging your money with others to make a long-term investment. These ideas usually take a lot of hard work and rarely result in a "turn-key" operation, but who knows what will happen down the road.
The thing to keep in mind with investing into a small business is that, while the money, may be limited, the commitment can be significant. Any sort of small business investment takes a certain amount of your time during the week and also can cost more money down the road. What most people do when investing into a small business, specifically with online or Internet-based entrepreneurship, is to reinvest the bulk of the profits back into the business. This has the benefit of creating more wealth in the long run, but also results in longer timelines for payouts.
Pay Off Debt as an Investment in the Future
What most people forget when attempting to start an investment program is the need to pay off any remaining debt that one may have. Whether it's credit cards or school loans, getting yourself balanced on the debt end of your finances is highly important. Many people have a hard time considering paying off debt as an investment, but in the world of personal financial security, nothing is more important.
Investing in a High-Yield Account
Many banks offer great options for high-yield checking and savings accounts. Some of these institutions will pay up to 4.75 percent depending on the amount of money invested into the bank. This can add up over time. If one simply has an extra $20 to $50 each month, high-yield checking or savings accounts can grow your money in a very positive and secured way.
Investing in Your 401(k)
Every financial adviser will tell you one of the most important things to do is invest in your company's 401(k). If you are not currently doing this, you should reconsider and check out your company's options. Most firms that offer this option will match, usually up to five percent. According to financial adviser Suze Orman, you should always take this option as it is free money. If you are already investing into a 401(k), you may want to consider increasing your monthly contributions. In the long run, with the tax deferral and gains over time, you will end up creating a nice nest egg for later in life.
Things to Consider About Small Investments
In all, the best way to invest small amount of money is up to you. However, it is always a wise decision to talk with a professional financial adviser before making decisions. Understandably, if you are just starting out with the concept of investing, you may no have enough money to make this worthwhile. But overall, be sure to do your research and find a good match for you and your small investment.
Resources
"Invest One Drip at a Time" MSN Money: https://articles.moneycentral.msn.com/Investing/SimpleStrategies/InvestOneDripAtaTime.aspx
"Start Investing with Just $100" MSN Money: https://articles.moneycentral.msn.com/Investing/StartInvesting/StartInvestingWithJust100.aspx