Tips on What to Look for When Buying Renovated Older Homes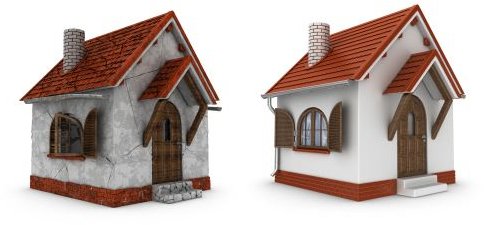 Common Hazards in Older Homes
If you are considering purchasing an older home, whether that home has been renovated or not, you would be wise to include specific contingency clauses in your purchase and sale agreement. While a renovated home may be wonderful to see, especially if you have seen it before renovation, it could be a pit of problems that could cause you considerable money in a very short period of time. You need to know what to look for when buying renovated older homes. Some of the hazards that may be associated with renovated homes include:
Lack of insulation - Older homes typically have very old insulation in them. If a home was renovated without new insulation, you could suffer from higher heating bills.
Electrical issues - Not all older homes have had their electric systems renovated. This could mean that older electric systems are not up to current electrical codes in your community.
Heating systems - If a renovated home does not have a newly added heating system, you may be facing the expense of having the heating system replaced. In some older homes, furnaces were made with asbestos linings and could result in considerable expenses in having it safely removed.
Septic systems - Many older homes have leech fields and septic systems. In some cases when a home is renovated, city or town sewer was connected but the septic system remained. This could involve filling leech fields and septic systems while in other cases, it may involve removal.
Lead paint - Today, by law, purchase and sale agreements must contain a ten (10) day period to allow for a lead paint inspection. Lead paint removal can be very expensive, and in most older homes use of lead paint was common.
Structural problems - The older a home is, the more likely the home is to have suffered structural damage including beams, foundation and other supportive structures. Proper home inspections should uncover many of these hazards.
These are only a few of the potential items that should be on your list of what to look for when buying renovated older homes.
Protecting Yourself From Hazards
While your best defense against the hidden hazards of buying a renovated home is a thorough home inspection, remember that most home inspections carry a clause that is called the "hidden hazards waiver." This means that if there are potential problems that are not easily identified during an inspection (such as lead pipes, asbestos, or radon) then they are not liable for failing to point out the hazard. It is important that when you speak with the seller of an older renovated home that you get specific information from them regarding the repair process. Depending on where you live, you may also have the right to request information from the contractors who renovated the home. Make sure that you not only know your rights when buying a home, but that you also know the history of the property renovations.
Sources and Image Credits
Sources:
National Association of Certified Home Inspectors - https://www.nachi.org/sellerinspections.htm
Bank Rate: https://www.bankrate.com/brm/news/real-estate/20040608a1.asp
Images:
Old and Renovated House: istockphoto.com/pagadesign