Top 5 Questions to Ask When Buying an Older Home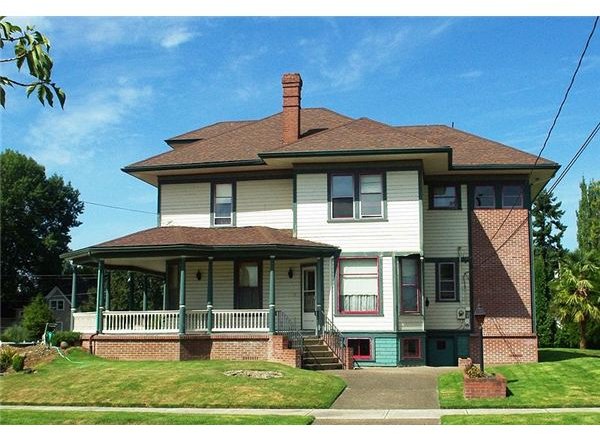 If you know what questions to ask when buying an older home, then you won't have to worry about the risks. Older homes are quaint and charming, but they can have their fair share of problems. At the same time, they can be more sturdy and reliable than new homes that are quickly built. Before you make an investment, ask the seller or Realtor the following 5 questions.
Image Credit (Wikimedia Commons)
1. Are There Maintenance or Structural Issues?
Older homes aren't a bad investment if they've been maintained well. Some owners have maintained their houses so well that they rival newer homes. Ask them about the maintenance history and if they can provide documentation, such as invoices and receipts. An older house that is maintained well helps to slow down its aging. Related to this question is whether there are any structural issues. Ask them about the roof, cracks or other problems in the foundation, and any other foundational or structural issues that they are aware of and may need some repairs.
2. How Current Are Electrical Components?
You may not get the answer to this when you ask about maintenance, or at least not a complete answer. You should ask whether there are three-pronged electrical outlets, and whether there are grounded outlets. Certain appliances and electronics will not work unless you have a grounded outlet, and that's an additional cost that you may have to factor in when negotiating a purchase price. Again, ask for documentation on the work that was done. If the seller is unable to provide any, hire a knowledgeable contractor to inspect the house, including electrical.
3. Are There Any Lead Paint Issues?
State laws require sellers to disclose any knowledge they have of lead paint in their homes, so it may seem like it doesn't need to be included among questions to ask when buying an older home. The seller has to submit a form with an explanation only, if necessary. However, it does make a difference when you can look the seller in the eye and ask them the question directly. The seller could lie to you, but an honest one could also give you more detailed information about lead paint issues than what's provided on the disclosure form. You must ask this question, because lead paint can pose a serious health risk.
4. Does the Plumbing Have Any Defects?
Asking about the plumbing is one of those key questions to ask when buying an older home, or any home for that matter. Older homes may have unique plumbing challenges, however, they may not be defective per se, but problematic for maintenance and repairs. For example, an older home might have copper plumbing which is not idealistic if they need to be serviced. Some owners have updated the plumbing, and it's better to shop around and compare older homes based in part on updated plumbing, because repairs can be costly.
5. What Is the Age of the Heating and Cooling System?
You may have to buy and install a whole new heating and air-cooling system because the one in place may be too old. Ask when the system was installed, and if you're looking at a system installed more than 15 years ago and never updated, you may want to consider other alternatives or other homes. New systems will help you conserve energy, which will translate into lower utility bills.
You can also address these questions to ask when buying an older home with your home inspector. Make sure you hire someone who has experience with inspecting older homes.