Where and How to Find Used FEMA Trailers for Sale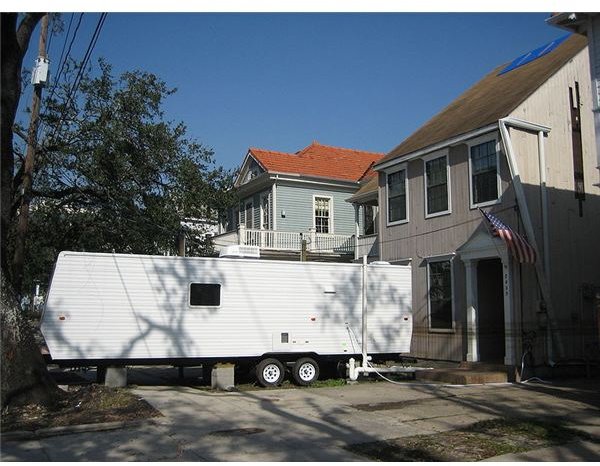 What are FEMA Trailers?
The Federal Emergency Management Agency (FEMA) relies on travel trailers to provide temporary housing for Americans who are temporarily displaced from their homes due to natural disasters. FEMA trailers most recently made the news when they served to house victims of Hurricane Katrina. Learning the nuts and bolts of buying one of these used FEMA trailers introduces the consumer to a niche of the used travel trailer business that potentially translates into significant savings opportunities – if usable models are available. This article will cover how to find FEMA trailers for sale.
Condition of Available Trailers
FEMA reports its goal to be the gradual sale of temporary housing trailers that have served their purposes. Not all trailers are in working condition. For example, some 1,150 units have already been sold via the GSA Auctions site as scrap. Another group of used FEMA trailers features semi-functional models, but only after the buyer undertakes repairs, some of which may be quite extensive and costly. Examples of such repairs include replacement of missing furnishings, mitigation of exterior and interior damage as well as water damage. FEMA estimates that it has an inventory of approximately 104,000 travel trailers that fit this description.
Buyer Responsibilities
All sales are final. The buyer may be getting a good deal on a used travel trailer but must understand that it is their sole responsibility to undertake any and all repairs needed to make the trailer useable, roadworthy and also street-legal. In addition, buyers must complete a certificate that specifically forbids used FEMA trailers from becoming housing units.
Where to Find Used FEMA Trailers for Sale
The agency contracts with GSA Auctions to sell its used trailers as scrap and repairable. Private companies, such as Government Auctions also offer FEMA trailers. Just as conditions of the available trailers vary, so do sizes and costs; for example, a 2006 Fleetwood 32-foot trailer without slide-out starts at about $900. It is interesting to note that FEMA auctions off their trailers; thus, it is possible to see a great deal for only $900 – only to end up paying more, depending on the number of other bids that come in.
What's the Catch?
In the wake of Hurricane Katrina there developed a sudden need for large numbers of temporary housing units. As a result, manufacture was rushed. News reports from 2008 reveal that increased levels of formaldehyde were present in a large number of FEMA trailers. This led to health problems of displaced residents and may also endanger future buyers of used units. Another point of contention is the manufacturer use of cheap and substandard materials to make the travel trailers. FEMA responds to the complaints by requiring full disclosure of potential formaldehyde-related health hazards associated with the purchase of its trailers.
Although discovering where and how to purchase used FEMA trailers is easy, the buyer must beware. Not only do potential repair costs elevate the actual expense of owning these trailers, but possible health concerns and likely shoddy construction materials and/or practices may greatly detract from the actual worth of the units.
Sources
Photo Credit: "FEMA Trailer" by Infrogmation/Wikimedia Commons at https://en.wikipedia.org/wiki/File:UptownNapoleonFEMAtrailerFlag.jpg