What Is the Purpose of Habitat for Humanity?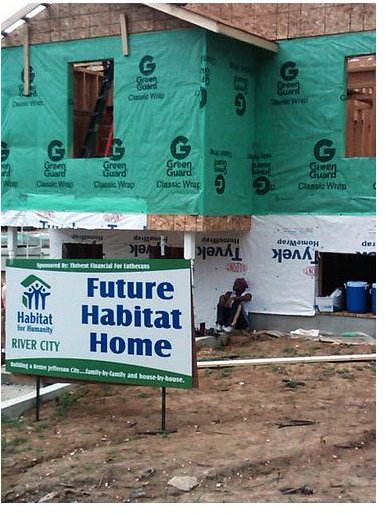 Habitat for Humanity is a nonprofit, Christian housing ministry that has been working towards affordable housing since 1976. How do they do this? By building homes. This organization has built more than 350,000 homes, providing shelter for families all over the world. Through donations of money and materials, volunteer work, and an efficient policy structure, it has not only provided shelter and empowered people, but it has set an example to society — a little bit of help can go a long way.
What is the purpose of Habitat for Humanity? To build livable, affordable homes, "so that there are decent houses in decent communities in which every person can experience God's love and can live and grow into all that God intends."
How It Works
So how does Habitat for Humanity accomplish these amazing goals? This nonprofit's success rests on a foundation of empowering people to get on their feet and then give back themselves as much as possible so more people can benefit. In this way, Habitat for Humanity is a community itself — people volunteer and those that benefit contribute as well so there is a uniting bond between everyone who has helped or who has been helped by the organization; everyone gives a helping hand.
How the process works is first families are selected to become partner families, based on need, willingness to become a partner, and ability to repay loan money. They have to commit to several hundred hours of volunteer work themselves. Homes are not simply built for someone, nor given away for free. They are built through the united effort of volunteers and homeowners, and they are paid for by the partner families/homeowners themselves.
The partner families have to put down a down payment and make mortgage payments, paying back the money that was used to build their house. What's missing from the equation is profit. No one makes money in this process. There is not interest on the loans. In fact, resources, including the mortgage payments, are only used to make more homes for other people. It is a revolving, flowing, positive network.
How Big Is Habitat for Humanity?
This nonprofit has built over 350,000 homes in 3,000 communities worldwide. It has operated in 90 countries and almost all 50 states. If someone is interested in supporting the work of this nonprofit they can donate money, materials, and perhaps most importantly, their time. Check out the Habitat for Humanity's website to find a nearby affiliate.
What is the purpose of Habitat for Humanity? How has this organization helped? By helping individual families, Habitat for Humanity benefits not only the 1.75 million people who now live in decent homes, but everyone. The more people who are surviving, empowered, and able to take care of themselves, the more the whole community, whether it is local, national, or global, thrives.
Photo by KOMUnews (CC/flickr)