Home Loans: What to do When Your Credit Score Less Than Perfect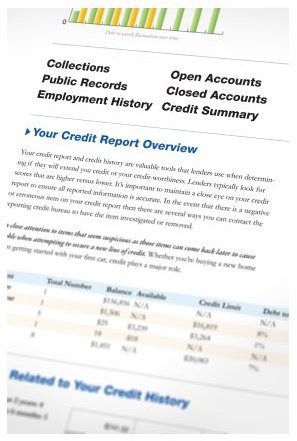 Understanding Credit Ratings
Before you enter the housing market, it is helpful to understand your credit rating and how that rating is viewed by lenders. Those who are considering purchasing a home should first request a copy of their credit report. This report is available annually at no cost to the consumer and may also be obtained free of charge if you have applied for credit and been rejected. Once you have obtained your credit report it is helpful to review it for accuracy. In general, lenders consider fair credit to be in the range of 580 to 650.
Improving credit scoring
Debtors can help improve their credit score by first ensuring that all of the information contained in their reports are accurate. Just because one credit reporting agency properly reflects payment history does not mean that all three of the major credit bureaus will show them accurately. Review each report carefully for payment history, outstanding balances and other items that may negatively impact your credit score such as judgments, co-signing on loans or an erratic work history.
Consumers should take immediate steps if they find any inaccurate statements on their credit report. This may be done by notifying the individual credit bureau in writing of the inaccuracy and providing proof. This information must be noted on the credit report once the agency has validated it.
Consumers who find that they have open accounts that they were unaware of should also take the needed steps to close the accounts and have the report of the closure reported to the credit reporting agencies. Another way to help improve your credit score is to begin paying on delinquent accounts. While the negative information will still be shown on your report, as you pay down the debt that is owed, your credit score will begin to increase. The goal is to have no payments more than 30 days in arrears. In general, six months of current payments (preferably 12 months) will help when applying for a mortgage.
Options when Credit Scores Remain Low
Some potential home buyers have had to file for bankruptcy for health, work related or other economic reasons. This does not mean that it is impossible for them to secure a mortgage loan. While they face challenges that potential buyers without these issues do not have to deal with, it can be beneficial to explore some of the possibilities.
One of the first things that buyers need to know is what the various rules are as they apply to various mortgage programs. For example, the FHA allows borrowers to have a credit score as low as 600 if they make a larger down payment even if they have had a bankruptcy. Bankruptcies must generally be discharged for 24 months before applying for an FHA mortgage. Some other options include:
Seller financing: Sellers who are motivated to sell their home may be willing to work with a home buyer to provide some financing. This can be a very effective method of not only improving a credit score but also getting the house of your dreams. Seller financing can be for the entire mortgage amount or a portion of the mortgage. Before using this method, it is important to meet with any additional lenders who you may consider using as there may be restrictions for this type of financing;
Rent with option: Another great method of building credit and still getting the home of your dreams is to rent with an option to buy. Those considering this method of home buying will not only be building their credit, but may also be building equity in the home. Those who use this method of dealing with fair credit for a home mortgage must be aware of the downsides. When the home buyer (e.g., the renter) decides to go for a more traditional loan, the portion of their monthly rent that is over and above "fair market rent" for the area will be the only amount used for the calculation of their down payment. This can be challenging for those who are living on a very tight budget and do not have a lot of additional resources;
Co-mortgagee: Home buyers who are struggling to get their credit scores higher may also consider a co-mortgagee. This may be a friend, family member or spouse who is trustworthy. This may be an extreme measure but in some cases, this allows the home buyer to get the home of their dreams and build up their credit score at the same time. It is important to remember that since the lender will still consider both credit scores in making their final determination, there may be a requirement for a higher down payment and you may pay a higher interest rate for a loan;
Sub-prime mortgage: While sub-prime mortgages have gotten a bad rap in the media and from the government, this does not mean they are 100 percent evil. In fact, potential home owners who take the time to carefully review the paperwork with a sub-prime mortgage and work closely with a reputable mortgage broker may find that this method of financing a mortgage is right for them. Sub-prime mortgages that have unusual restrictions on prepayment, balloon payments or severe interest rate spikes should not be used. However, there are fixed rate sub-prime mortgages that often do not contain prepayment clauses that can help a potential homeowner get on the right path to not only home ownership but also to mending their weak credit.
Nothing is Impossible
For those who have a low credit score or a medium grade credit score, while buying a home may present them with more of a challenge, it is not impossible. Understanding what steps to take to improve your credit score and what steps may be taken to get on the path to home ownership is the first place to start. Many people suffer from credit issues in the course of their lives. This does not mean that they should automatically be denied the benefits of owning a home. Weak and low credit scores will have an impact on home ownership, but it does not mean that a consumer will automatically be denied a home mortgage.
Resources
Sources:
FHA Loans who qualifies: https://fha.mortgageloanplace.com/fha_who_qualifies.html
Federal Trade Commission: https://www.ftc.gov/freereports
Free Credit Reports: https://www.annualcreditreport.com/cra/index.jsp
FHA Loan Information: https://fha.mortgageloanplace.com/
Author's experience in mortgage industry
Image credits: