Home Equity Loans Shopping: Get the Best Rates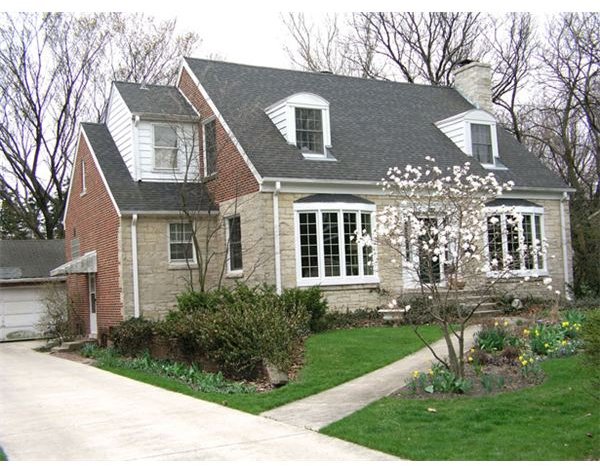 Home Equity
Home equity is simply the portion of the value of your home that you own and that is not tied down in debt. For example, if the value of your home is $250,000, and the balance on your mortgage is $150,000, you have $100,000 in equity. In other words, you own $100,000 of your home. Your home equity is a valuable asset that you can access under various circumstances.
Debt Associated with Your Home Equity
If you need cash for college tuition, unexpected medical expenses, financing a business, renovating your home, debt consolidation or another purpose, you can tap into your home equity. You do this by taking out a loan backed by the equity in your home. There are basically two kinds of these loans: a home equity loan and a home equity line of credit.
A home equity loan is a loan taken out against the equity in your home, for a definite time period, the maximum amount of which does not exceed the value of your home equity. Thus, following our example above, the maximum home equity loan you will be able to get will be the amount of $100,000. Once you get the loan, the amount is available to you as cash, it becomes a second mortgage against your home, and you make monthly mortgage payments just like your regular mortgage. This type of loan is best used to cover large lump-sum expenses such as a business investment.
A home equity line of credit, also known as a HELOC, is a fixed amount that is available to you whenever you need it and is also taken out against and does not exceed the value of the equity of your home. You make monthly payments, including interest only when you take money out of the HELOC. Many HELOCs have a variable interest, but it is always better to go with a fixed-rate HELOC. A HELOC is best for drawn-out expenses, such as college tuition.
Home Equity Loans Shopping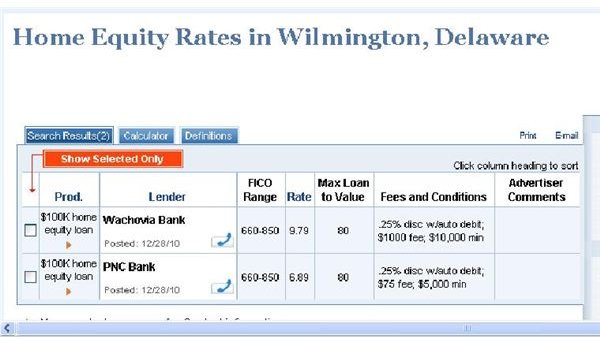 When shopping either for home equity loans or HELOCs, the most important factor is how much it the debt would end up costing you. Therefore, you need to look out for the interest rate as well as the fees involved. You should choose loans and HELOCs with the lowest rates and fees that will cost you the least amount of money over the life of the loan. You may be surprised at how much variation there can be between banks. For example, click on the screen capture to the left to see offers from two banks in the same area for a person with the same credit score.
It is always a good idea to start with financial institutions with which you already have a good relationship. Contact your local bank to see what options you will be offered. If you belong to a credit union, you are likely to get better rates there. It is also a good idea to check out local community banks in your area, because these kinds of banks have a commitment to serve local customers.
You may also want to use the internet to make your search easier. Bankrate is a good resource because you can search for home equity loans offered by financial institutions across the country as well as find offers from financial institutions you did not initially consider.
Also, you may want to consider using the services of a mortgage broker. In all, when you are comparing your options from these various sources, make sure to read the fine print and seek the advice of your lawyer, accountant, or financial advisor when necessary. Finally, your best bet at getting the best rates is having a very good credit history.
Photo Credits
House - Donna McNeely
Screen capture - Image by author