Monitor Your Windows Mobile Data Connections with PPC Interface Monitor
Freeware Network Traffic Monitor
PPC InterfaceMonitor is a graphical network traffic monitor for Windows Mobile, designed to show information on WLAN, GPRS, WAP, USB or other interfaces that exchange data with your Windows Phone.
Available as freeware, PPC InterfaceMonitor displays a range of information that can be used in various data analysis tasks.
Simple to use, PPC InterfaceMonitor possesses various information display options and runs without causing a noticeable resource footprint on your Windows Mobile device, thus providing a useful data monitoring solution.
Download and Install
Designed to run on any Windows Mobile handset or Windows Pocket PC device, PPC InterfaceMonitor requires Microsoft .NET Compact Framework 1.0 which can be downloaded free of charge from Microsoft.
This 14.5 MB download must be installed on your Windows Phone before you can run PPC InterfaceMonitor; you can download the app itself from FreewarePocketPC.net.
The PPC InterfaceMonitor is just 94.2 KB, so is suitable for downloading via your Windows Mobile's internet connection. Whether you're downloading to mobile or PC, the downloaded CAB file must be present on your WinMo device for installation to begin.
PPC InterfaceMonitor Screenshot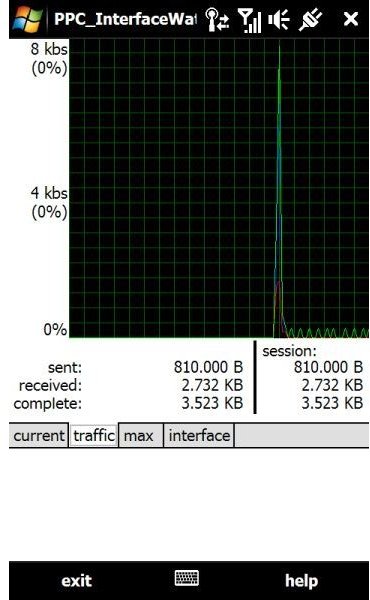 Simple to Use
The application displays sent, received and complete traffic in real-time graphical form, with further information such as current/maximum traffic, current usage, sent/received data and more also available.
Using PPC InterfaceMonitor is simple – a case of running the application and checking the output on the graph. Data transfer is represented by a line graph, with peaks indicating a lot of traffic, and troughs the quiet periods. That's really all there is to it, a very useful and at the same time simple application that provides the sort of information that the Windows Mobile OS should offer by default.
Old School (3 out of 5)
Although well programmed, informative, light and unlikely to bog your Windows Mobile phone down with unnecessary demands on its resources, PPC InterfaceMonitor is an "old school" WinMo app. The presentation and design date the app as being from the Windows CE/PPC era of the operating systems life time and while this doesn't affect the applications performance it does make it a little cumbersome to use. A modern approach is definitely needed to a tool like PPC InterfaceMonitor.
However the real issue with PPC InterfaceMonitor is not its layout or design but it's actual existence. The information it relates is firmly relevant to all Windows Mobile users, and the question has to be asked: why doesn't such a tool come packaged in Windows Mobile as a standard offering?